While the majority of metro stations serve a practical purpose as commuter hubs, some train terminals take their design to new artistic heights. Highlighted by unusual architecture, stunning mosaics, and even a few ancient relics, these metro stops have been transformed into vibrant art installations, adding an unexpected twist of culture to an otherwise mundane commute. Just be careful not to miss your train while basking in the architectural and artistic wonder of these six strikingly beautiful subway stations around the world.
T-Centralen Station – Stockholm, Sweden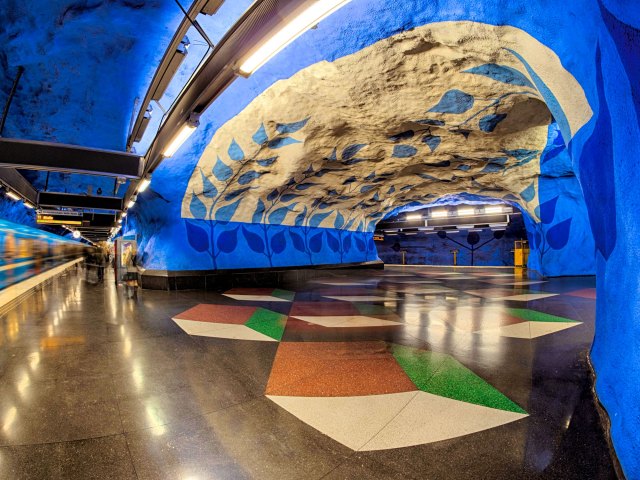 Nicknamed the "world's longest art gallery," the Stockholm Metro is famous for its picturesque subway stations, many of which incorporate the exposed underground rock into fantastic art displays. Since the 1950s, more than 150 artists have worked on transforming every station in the network. A highlight is Solna Centrum, which features a ceiling that's painted a bright red color and adorned with tiny houses and trees. Then there's Thorildsplan T-Bana, known for its bright mosaics designed to reflect classic eight-bit video game scenes. 
T-Centralen station, which opened in 1957, was the first station in the city to feature vibrant artwork. T-Centralen serves the city's blue line — an appropriate fact given that it's decorated with a striking combination of white and blue paint. Artist Per-Olof Ultvedt covered the station in murals which prominently feature leaves on the vine crawling up the walls. Located at the top of the escalator are a series of blue silhouettes painted onto the rock that depict the individuals who built the station.
Alisher Navoiy Station – Tashkent, Uzbekistan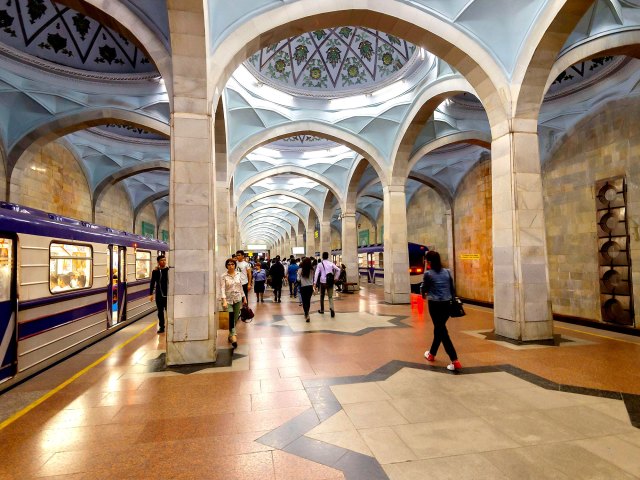 Serving Uzbekistan's capital city of Tashkent, Alisher Navoiy Station was named after the great 15th-century Uzbek poet who laid the groundwork for the development of the modern Uzbek language. Much like the poetry of Alisher Navoiy, this station is renowned for its beauty, highlighted by its marble columns that line the main platform and extend upwards. The main platform's roof is even grander, with floral-decorated domes that are reminiscent of Silk Road-era mosque designs that were built long before the railway existed.
The station's halls are lined with a series of turquoise ceramic murals that depict scenes from Navoiy's poetry collections, including images of mythical figures, ancient scholars, and legendary musicians. Alisher Navoiy Station first opened in 1984, though it took until 1997 for work to be completed.
Formosa Boulevard Station – Kaohsiung, Taiwan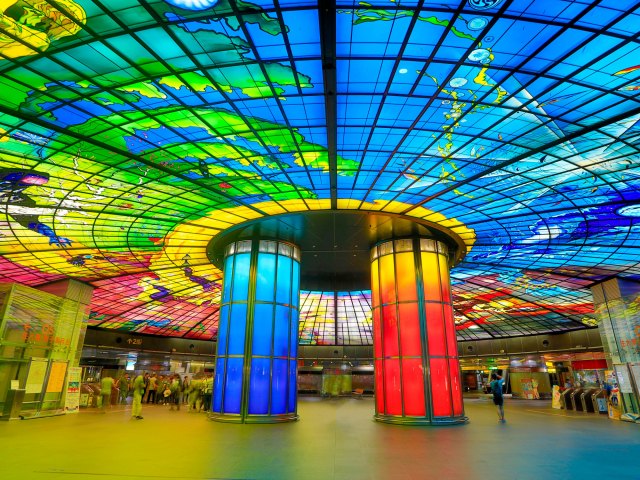 A miraculous Dome of Light looms above Formosa Boulevard's transit station, which serves the Taiwanese city of Kaohsiung. The station opened in 2008 after four years of painstaking development and design by artist Narcissus Quagliata. The artist used 4,500 glass panels to cover an area of 7,100 square feet — impressively, 1,152 of those panels are hand-painted.
The Dome of Light — one of the world's largest works of glass art —  showcases four elements of human life: water, earth, light, and fire. It can be viewed for free by commuters and art lovers alike. A point of pride for Kaohsiung, the station's opening catalyzed a city-wide cleanup effort that helped revitalize and rehabilitate the community.
Syntagma Metro Station – Athens, Greece
While perhaps lacking the same visual wow factor as other metro stops on this list, the Syntagma metro station in Athens is unique for its archeological value. The station is home to a free museum containing ancient Greek relics that date as far back as the fourth century BCE. 
Among the many highlights is a column that once stood within an ancient Greek temple and was later repurposed as a gameboard after the temple's destruction. Other notable pieces include terracotta vessels from the third century BCE and perfume vessels from the second century BCE. It's not just ancient works: Modern Greek art is found around every corner, including a clock sculpture from acclaimed Greek sculptor Thodoros Papadimitriou. Syntagma is among the city's busiest metro stations, which has been the case since it first opened in 2000 as part of a revitalization effort in anticipation of the 2004 Athens Olympic Games.
Station Arts et Métiers – Paris, France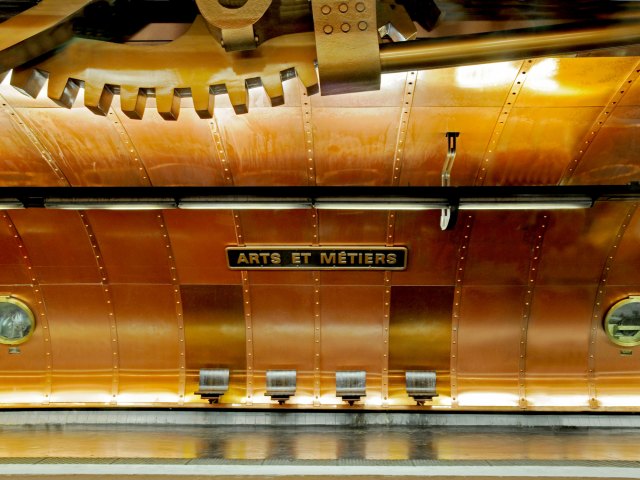 Prior to 1994, the Paris metro station Arts et Métiers wasn't much to write home about. But that year, the station underwent a massive renovation that transformed it into a scenic steampunk paradise. Under the watchful eye of Belgian comic artist François Schuite, the station was outfitted with copper paneling throughout. The platform was also lined with portholes that commuters can look through, each of which contains fantastical scenes straight out of a Jules Verne novel — from flying airships to steampunk style compasses.
Gazing up at the ceiling, it's hard not to be left in awe by the cogs and wheels hanging downward that make it seem like you're in a working steampunk submarine. This scene can be found on platform number 11 at the Arts et Métiers station.
Toledo Metro Station – Naples, Italy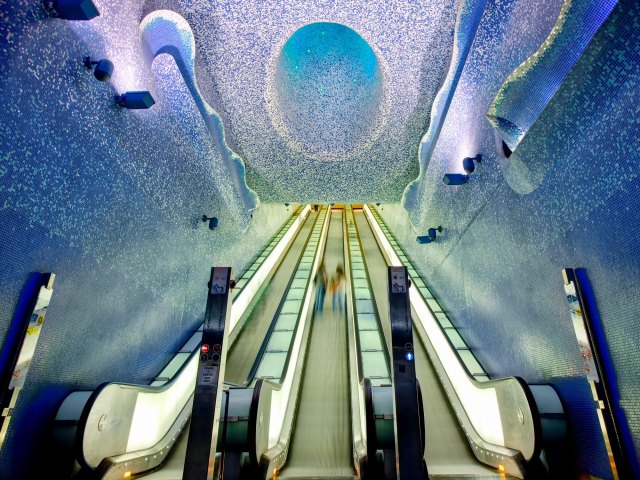 The redesigned Toledo metro station in Naples resulted from the citywide Stazioni dell'Arte project, in which contemporary Italian artists transformed several transit stations. Toledo's station was freshly adorned with work from artists William Kentridge and Robert Wilson, who worked alongside architect Oscar Tusquets Blanca to redesign the space.
At the top of the station are black walls that reflect the asphalt of modern civilization. The further you sink into the station, those colors transform to ochre and yellow, reflecting the natural beauty of the region's sun-soaked terrain. At the station's lowest level, two LED light boxes create a wavelike effect as the colors transform to blue and green, reflecting the sea. The station's centerpiece is a striking art installation called Crater de Luz (cone of light). Looming above the escalators, this bright, funnel-shaped mosaic structure draws light into the station, and is enhanced by an accompanying LED installation titled Relative Light from Robert Wilson.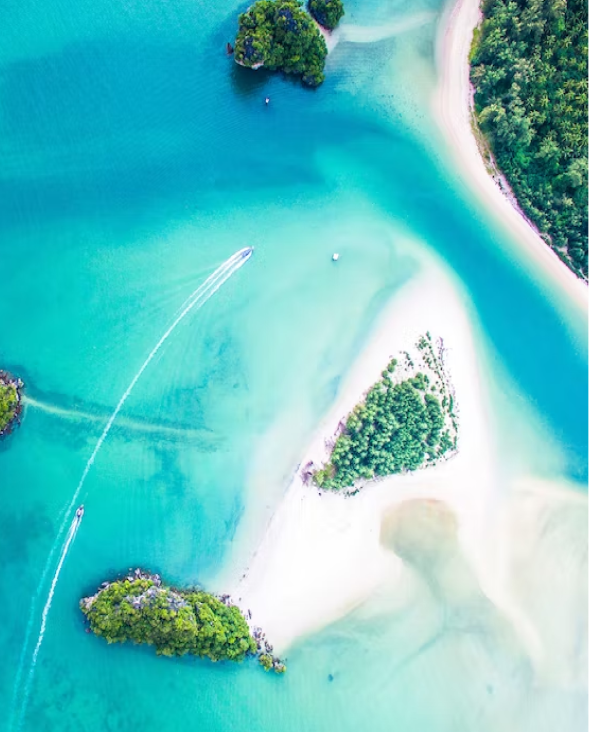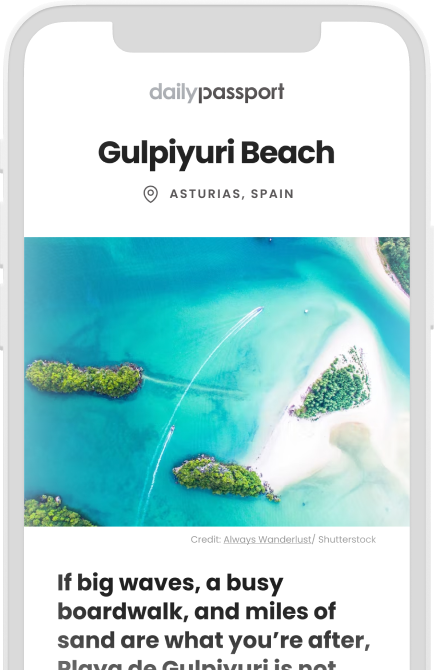 The world is waiting.
Daily Passport is your ticket to the four corners of the earth. Start exploring today.
Please enter valid email.
By subscribing you are agreeing to our Privacy Policy and Terms of Use.