From Australia and Argentina to Botswana and India, salt flats are found in arid regions all over the globe. Also known as salt pans, these flat expanses covered in salt and other minerals form when water evaporates from a lake or another body of water. The salt and minerals present in the water dissolve during the evaporation process, leaving behind a layer of simmering white earth that resembles something from another planet. Grab your camera and explore 15 of the world's largest salt flats.
Devils Golf Course – California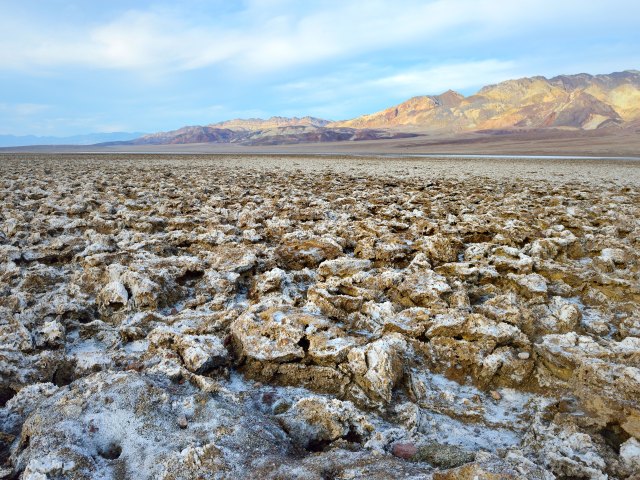 In a 1934 guide to Death Valley National Monument, the National Park Service quipped that "only the devil could play golf" on the rough surface of this salt pan in the Mojave Desert. That description inspired its name, and, indeed, it's no place you'd want to tee off. Thousands of spiky halite salt deposits rise up to create a terrain that's more reminiscent of the moon than lush greens and fairways. It wasn't always like this, though. Over 150,000 years ago, a lake fed by snowmelt from the Sierra Nevada mountains covered the area. After drying up, it left mineral deposits that have eroded, over time, into curiously shaped spires. They grow extremely slowly — as little as an inch in 35 years — and are constantly sculpted by the elements.
Salineras de Maras – Peru
Peru's Sacred Valley of the Incas is a place of mystical landscapes and 15th-century archaeological sites from one of the world's most fascinating civilizations. Amid rugged cliffs and towering mountainsides stands a unique, terraced salt pan called Salineras de Maras. The natural wonder consists of some 3,000 tiered salt-encrusted wells, which are fed by a subterranean hyper-saline spring that formed during the creation of the Andes Mountains. When the water evaporates, families from the nearby town of Maras come to harvest the pink-hued salt just like their Incan ancestors did centuries ago. The salt, known locally as the "white gold of the Andes," is recognized for its health benefits and is sold at markets and as a salty tourist souvenir.
Bonneville Salt Flats – Utah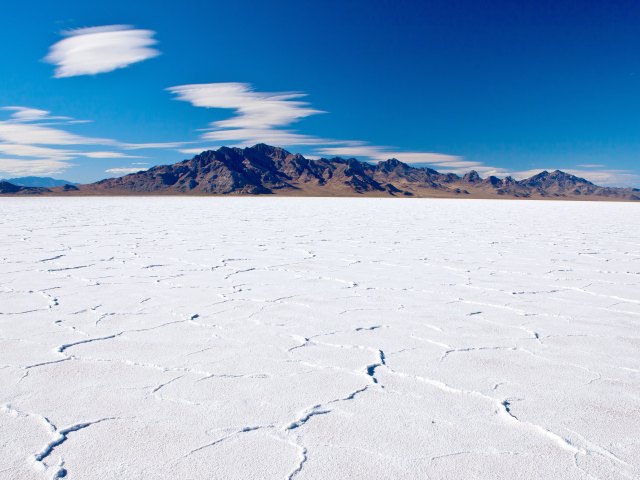 Bonneville Salt Flats cover about 47 square miles in northwest Utah. They were formed, together with the nearby Great Salt Lake, when the waters of the Ice Age-era Lake Bonneville evaporated. Today, the brilliant white salt deposits that remain resemble a lake bed covered in a layer of snow. When the temperature rises in summertime, heat waves can create mirages and make this dry region of western Utah look even more like an actual lake. Since 1912, the salt flats have been a venue for motorsports events. It was at the Bonneville Speedway in 1960 that Mickey Thompson became the first American to break a land speed of 400 mph. To this day, racing fans meet every August to watch world record attempts during the Bonneville Speed Week. Scenes from the movies Con Air and Independence Day were also filmed here.
Lake Amadeus – Australia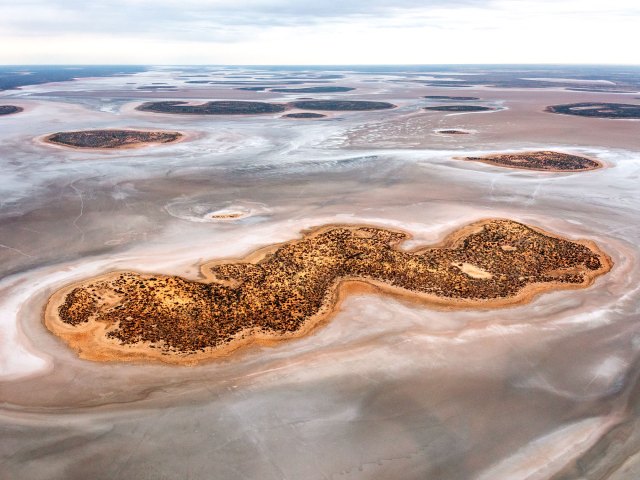 In Australia's remote and unforgiving Outback region, Lake Amadeus is a salty mud basin that's thought to contain approximately 600 million metric tons of salt. It's peppered with dozens of small islands, formed from sediments that are washed down from nearby mountain ranges and then break through the salt crust. Occasionally, rains fill the lake with a few inches of water and connect it to a drainage system that links up with the Finke River. The water then flows south for hundreds of miles to the country's largest salt lake, Lake Eyre. From Mount Conner Lookout, the lake resembles a lunar-like mirage as it comes into view beyond the encompassing sand dunes. Australia's famous Uluru (Ayers Rock) is located 30 miles to the south.
Badwater Basin – California
The geometric salt formations of Badwater Basin occupy 200 square miles of Death Valley National Park. Set at 282 feet below sea level, the basin is the lowest point in North America. The polygon-shaped salt rocks are created when groundwater pushes up through the salt deposits and then evaporates. According to legend, the Badwater name comes from an early explorer whose mule stubbornly refused to drink the salty water of a pool. A boardwalk and trail lead visitors directly onto the salt-covered basin surrounded by the arid desert landscape of Death Valley. To its west is Telescope Peak, whose 11,049-foot-high summit rises over two miles above the floor of the basin for a spectacular view.
Salar de Arizaro – Argentina
Argentina's second-largest salt flat is located in the dry wilderness and high plateau of the country's northwestern Salta province, in the foothills of the eastern Andes. Salar de Arizaro features approximately 600 square miles of dry rock covered in salt. Millions of years ago, the area was notable for a landscape of lakes; however, the water eventually dried up thanks to a combination of scorching temperatures and intense winds. What remains is an inland sea rich in salt and chemical elements such as copper, iron, and potassium. Among the most notable features is the Cono de Arita, a perfectly formed natural pyramid that rises 650 feet above the salt flat. It's the summit of a volcano that was too weak to break the Earth's crust, so it has never erupted.
Namak Lake – Iran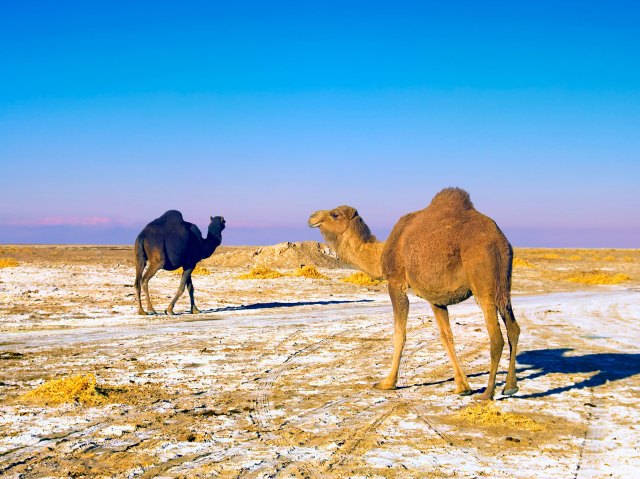 Set against a backdrop of rugged hills in northern-central Iran is the 695-square-mile Namak Lake. It's a relic of the Paratethys, a shallow inland sea that began to dry up in the Pliocene epoch (5.3 million to 2.6 million years ago) and created significant bodies of water such as the Black Sea and Caspian Sea. Several streams cross the lake's brackish surface, although less than one square mile is permanently covered with water. Large quantities of halite, magnesium, and sylvite have been extracted here and are used for agriculture, steel, and aluminum production. Stretching across a remote desert and rolling sand dunes from the lake's eastern shoreline is Kavir National Park — Iran's largest protected ecological zone and a home of the endangered Asiatic cheetah.
Salinas Grandes – Argentina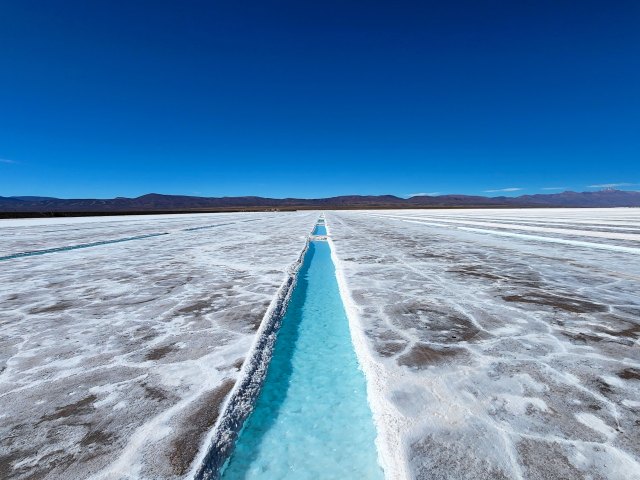 Argentina's largest salt flat sits at the foot of the Sierras de Córdoba mountain range. Salinas Grandes covers 773 square miles and extends into the provinces of Córdoba, Catamarca, La Rioja, and Santiago del Estero in the north-central part of the country. This enormous white terrain is located on the site of a prehistoric seabed, and the minerals that were left behind are now extracted for commercial purposes. Visitors to this salt flat will experience views of a never-ending horizon and magical sunsets that sparkle on the brilliant white desert floor. The area is also home to the Monte de las Barrancas Wildlife Refuge, a natural habitat for animals such as flamingos, guanacos, pumas, and several species of snakes.
Etosha Pan – Namibia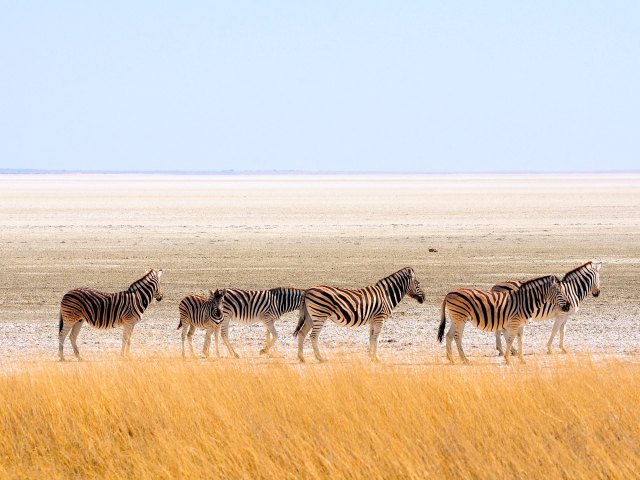 Etosha Pan is a huge, oval-shaped salt pan positioned in the center of Namibia's greatest wildlife reserve, Etosha National Park. The site covers approximately 1,800 square miles, which is about a quarter of the entire park. According to a legend of the San people, the pan formed when a village was attacked and only the women were spared. One was so upset by the events that her tears created a lake, which later dried up. Despite a distinct lack of vegetation, the pan serves as an important breeding ground for migrating flamingos. They arrive in the wet season, when small pools appear. Herds of other species — such as antelope, elephants, giraffes, and wildebeest — come to graze in the surrounding grasslands and shrubs.
Chott el Djerid – Tunisia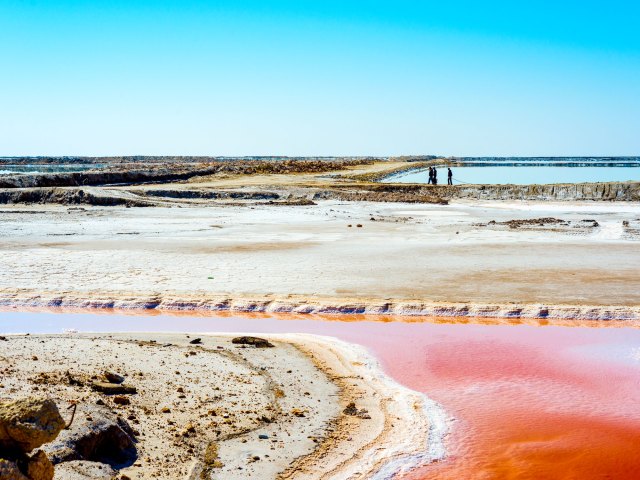 In Tunisia's Sahara Desert region is a 2,700-square-mile saline lake that's famous for its interesting cultural and historical connections. Jules Verne mentioned it in his novel Invasion of the Sea. It was also used as a filming location for the Star Wars series, namely Luke Skywalker's Tatooine homeand the Mos Espa hometown of Anakin Skywalker. Some even claim that it's the location of the ancient Lake Tritonis, which was the birthplace of the Greek goddess Athena. The unpredictability of the salt crust makes this inland sea dangerous to cross, even by four-wheel-drive vehicle. Visitors can best observe its alluring charm via a roadway that links the desert towns of Dguache and Fatnassa.
Great Rann of Kutch – India
At the western edge of India is a pure white desert called the Great Rann of Kutch, the country's largest salt flat, which covers 2,900 square miles. It was once an arm of the Arabian Sea; however, the area turned into a salt marsh when a geological shift closed off its outlet. During the monsoon season, this sprawling salt flat is covered in a layer of water; as the rains disappear, the expansive salt bed begins to reappear. A great time to visit is from November through February for the Rann Utsav festival — a colorful celebration of the arts, cultures, and traditions of the Kutch region of the state of Gujarat. ATV rides, camel treks, full moon tours, music, and dancing are among the many activities.
Salar de Atacama – Chile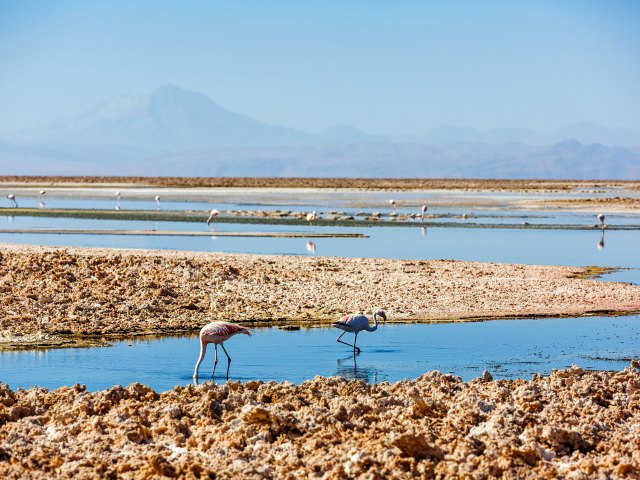 Salar de Atacama is set in the heart of the otherworldly and volcanic landscapes of Chile's high-altitude Atacama Desert. This 3,000-square-mile salt flat was formed when water that flowed down from the surrounding mountain peaks evaporated and left large mineral deposits. Small and shallow saline lagoons form in holes in the salt-encrusted layer and provide a habitat for a number of animals. Most notable are the resident Andean, Chilean, and James's flamingos, which feed on brine shrimp. Birds such as owls, plovers, and seagulls also thrive in the desert's harsh environment. Another fascinating geological feature of the desert is the emerald-colored Laguna Cejar, where swimmers can float weightlessly thanks to a salt concentration that rivals the Dead Sea.
Lake Eyre – Australia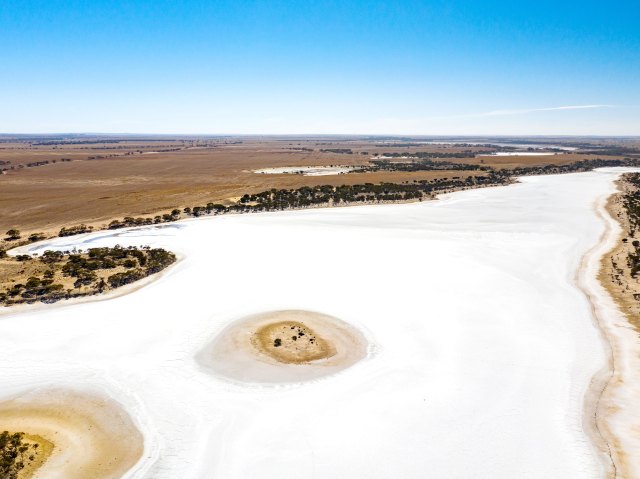 South Australia's Kati Thanda-Lake Eyre National Park is a region of fascinating geological contrasts. It's home to both the scorched landscapes of the Tirari Desert and the country's largest salt lake. The lowest point on mainland Australia, Lake Eyre (officially known as Kati Thanda-Lake Eyre) spans 89 miles long and 48 miles wide. Once a flourishing lake, the site now mostly appears as a never-ending expanse of sparkling salt crystals. That is, until it rains enough for the channels, streams, and floodplains of the national park to overflow and turn the lake into a desert oasis. When this happens — on average, once every few years — the lake attracts thousands of waterbirds, including pelicans and red-necked avocets. As the water levels begin to subside again, the lake displays mesmerizing hues of pink and orange.
Salar de Uyuni – Bolivia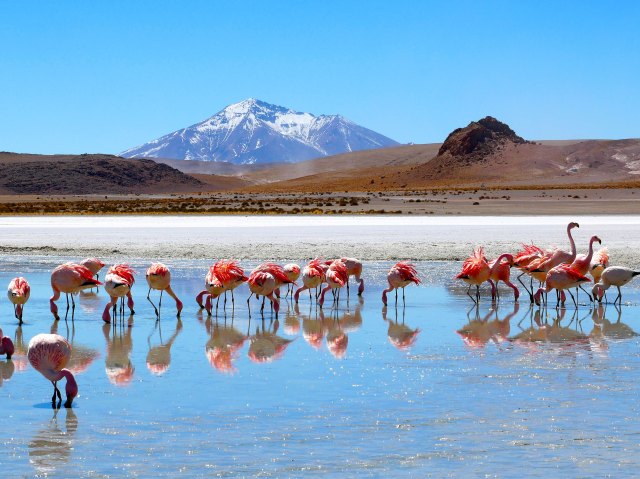 A chance to set foot on the world's largest single salt flat is among the main reasons why travelers visit Bolivia. Located in the country's southwestern region at almost 12,000 feet above sea level, Salar de Uyuni covers an expanse of 4,000 square miles. The area was once part of the prehistoric Lake Minchin, which dried out between 30,000 and 40,000 years ago and left behind two modern lakes (Poopó and Uru Uru) and two salt flats — Salar de Coposa and the larger Salar de Uyuni. The latter contains an estimated 10 billion metric tons of salt and the planet's largest lithium deposit. A great time to visit is between December and April, when rain causes nearby lakes to overflow and send a thin layer of water across the salt. This produces a magical mirror effect that can be captured with playful photo shoots.
Makgadikgadi Pans – Botswana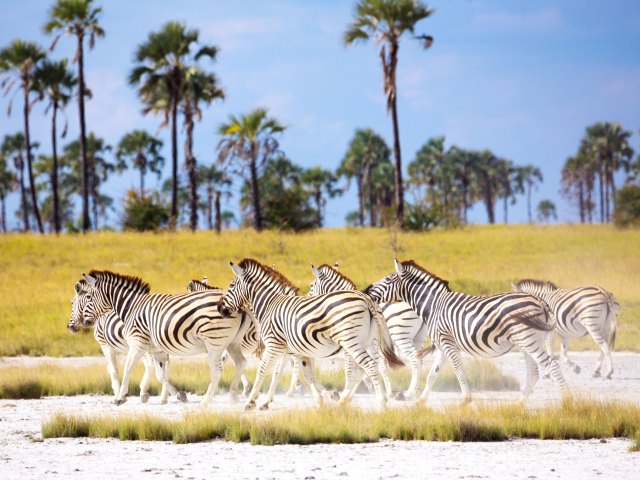 The Makgadikgadi Pans are a collection of salt pans — most notably Ntwetwe Pan and Sowa Pan — located in northeastern Botswana. They cover more than 4,600 square miles of desolate terrain between the Kalahari Desert and Okavango Delta. Throughout most of the year, this former inland sea is extremely arid and devoid of wildlife. Following periods of heavy rainfall, however, the pans attract wildlife such as flamingos, wildebeest, and zebras. British explorer David Livingstone famously crossed this once-uncharted territory in the 1800s. At the western edge of Ntwetwe Pan is Makgadikgadi Pans National Park, where zebras and wildebeest start their great westward migration in the wet (summer) season. The park also offers a natural habitat for elephants, giraffes, hippos, and several species of antelope.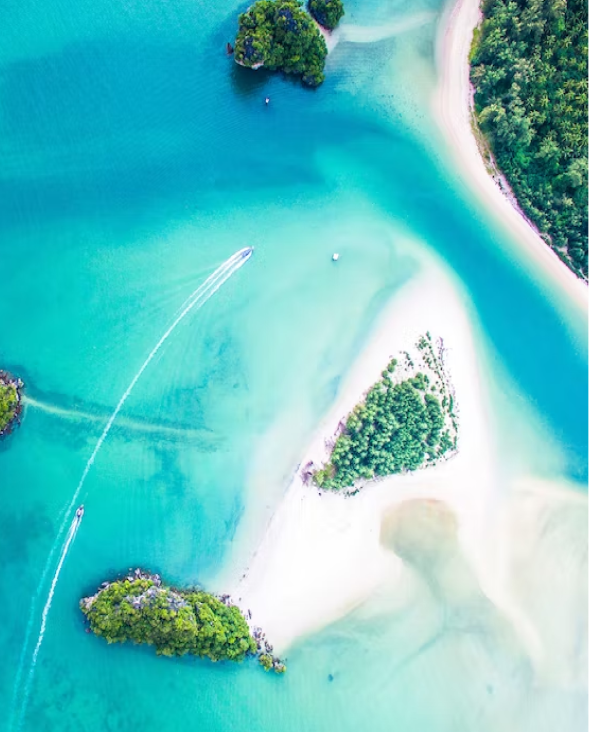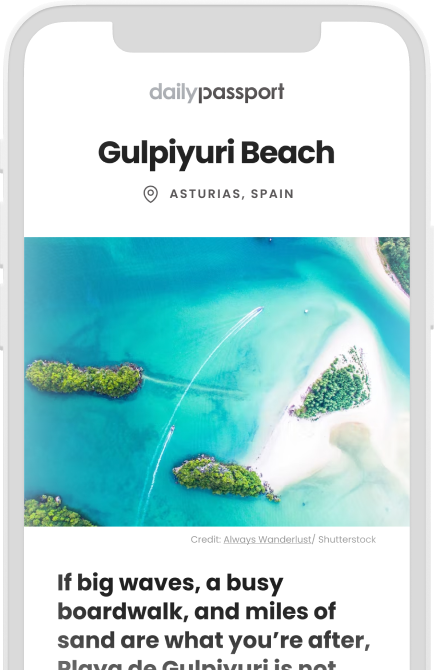 The world is waiting.
Daily Passport is your ticket to the four corners of the earth. Start exploring today.
Please enter valid email.
By subscribing you are agreeing to our Privacy Policy and Terms of Use.