The long, warm summer days may be gone, but the good news is so are the crowds from America's most popular coastal towns. And you don't have to let the cooler weather stop you from soaking up the fantastic food, interesting architecture, nature activities, and cultural events that these scenic destinations have to offer. Discover a new way to fall in love with these six U.S. beach towns in the off-season. 
Mystic, Connecticut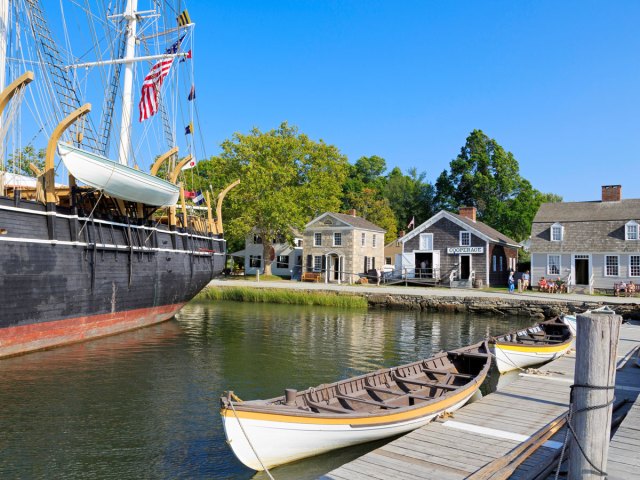 Mystic — located on the east end of Connecticut's coast — is a quintessentially charming New England town rich in maritime history. Founded in 1654, the city was a hub of shipbuilding in the era of clipper ships. The Mystic Seaport complex, the largest maritime museum in the country, includes a collection of historic clipper ships and sailboats across dozens of preserved period buildings. Beyond boats, the complex offers stunning Mystic River views, charming gardens, a working shipyard, and a living history coastal village that will transport you back to the 19th century.  
All that said, Mystic may still be best known for Mystic Pizza, the iconic 1980s film starring Julia Roberts. Well, movie fans will be happy to know that Mystic Pizza is a real, memorabilia-filled pizzeria — and a delicious one at that. While downtown, you'll have plenty more charming eateries and shops to choose from. And don't miss the fantastic views of the century-old Mystic River Bascule Bridge, which swings upward each hour for boat traffic below.
Asbury Park, New Jersey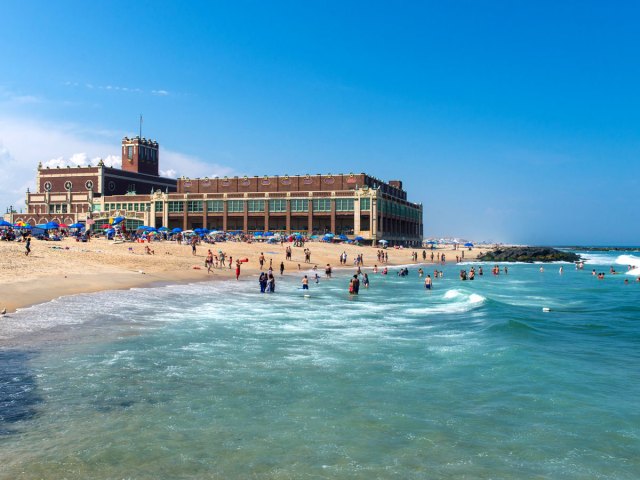 Asbury Park, on the Jersey Shore, is famous for launching the career of Bruce Springsteen, and maintains a thriving music scene with iconic venues such as the Stone Pony and Asbury Lanes. Bruce is still known to stop by for impromptu performances, but the city also hosts everything from legacy musicians to upstart punk bands, as well as Sea Hear Now, an annual music and surf-culture festival at the end of September. Events continue throughout winter and early spring, culminating in April with the Asbury Park Music + Film Festival and RunAPalooza, which includes multiple running and relay events for athletes from all over the country.
Beyond Asbury Park's stages, the city has enjoyed somewhat of a renaissance in recent years, with new boutique hotels, quirky shops and galleries, and an impressive array of restaurants that offer old-school Italian options, Korean tacos, and, of course, terrific seafood. Asbury Park's boardwalk is also a must-see. You'll find the usual soft serve, taffy, and souvenir tee shirts, as well as historic architecture, palm reading, fusion food, and the Silverball Museum Arcade, a time capsule of vintage arcade games.
Seaside, Florida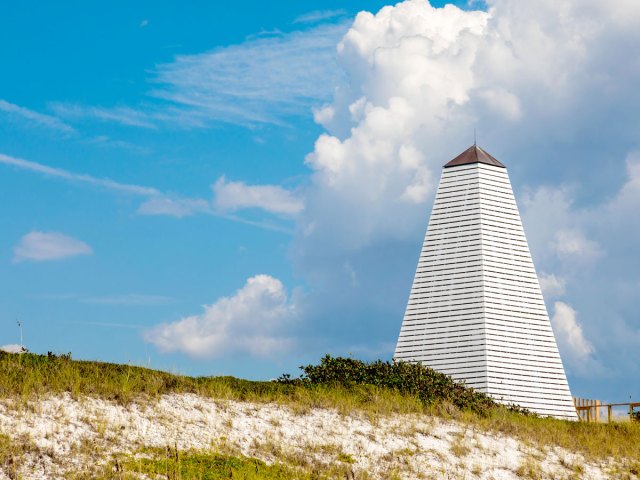 Seaside, located on Florida's panhandle on the Gulf Coast, served as the picture-perfect backdrop in the film The Truman Show, starring Jim Carrey. The town's charm is no accident: Seaside is a planned community that prioritizes pedestrian travel and a neighborly feeling, thanks to narrower streets, front porches, and spaces to gather. Plus, winter in Seaside is mild, ideal for exploring the town's sandy alleys, native plantings, open spaces, and — of course — white sand beaches.
Seaside is centered around a town plaza, and its buildings primarily feature southern-coastal architecture in soft, pastel colors. The architecturally significant beach pavilions and Seaside Chapel are worth visiting, as is Airstream Row, a collection of independent food vendors in iconic Airstream trailers.
The artsy town also is home to a delightful collection of boutique shops, galleries, and eateries famous for Florida seafood, Southern staples, and over-the-top pastries. A weekly farmer's market, an amphitheater, and a repertory theater group offer ongoing events. Plus, the off-season is peppered with marathons, wine festivals, and the Annual 30A Songwriters Festival in January — when the town hosts dozens of musicians to fundraise for a local non-profit art organization.
Sea Ranch, California
Sea Ranch, a small Pacific coast city at the north end of California's Sonoma County, is another planned community. Founded in the 1960s as an eco-utopia resort on former grazing land for sheep, Sea Ranch is known for unfussy homes that blend into the area's breathtakingly rugged coastline.
While Sea Ranch is popular year-round, there's something special about visiting post-summer. Sonoma's famous wineries harvest their grapes in early fall, so it's a great time for area tastings and festivals. And as autumn progresses, the vines turn maroon and orange, echoing the area's aspen trees and creating some incredible photo opportunities.
Of course, superb food and wine abounds in and around Sea Ranch, but the main draw of this 10-mile strip is nature. Six public trails meander along the cliffs and hillsides, occasionally surprising dedicated hikers with incredible views of the ocean. Some trails offer access to untouched inlets and beaches ideal for seashell collecting, birding, and whale watching. Humpback whale migration occurs in November and December, as the giant mammals travel south, and again in March and April, which coincides with the area's spring wildflower bloom.
Nantucket, Massachusetts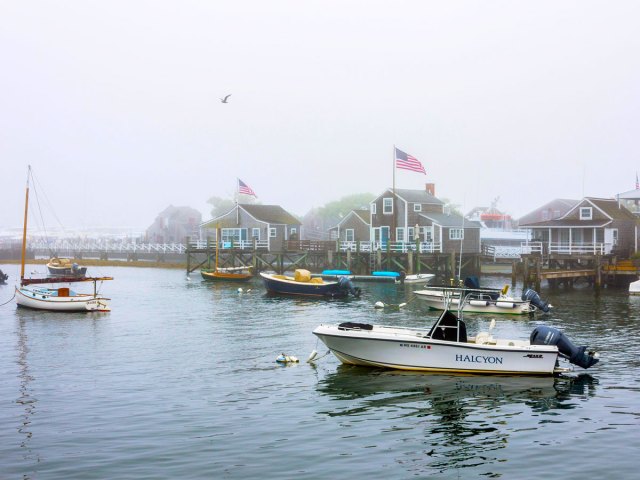 The town of Nantucket, on the island of the same name, is about 30 miles off the coast of Massachusetts' Cape Cod. The island's population swells from 11,000 to over 50,000 people during the summer. And for good reason, since the former fishing village is endlessly charming, with gorgeous sand dunes as a backdrop for its cedar-shingled homes and cobblestoned streets.
But there's a lot to love about off-season Nantucket, as well. The whaling museum is a must-visit for maritime history buffs, and fishing and lobstering excursions and scenic boat tours are available well past Labor Day. Come fall, you can enjoy the rare combination of beautiful beaches and stunning fall foliage. In October, a cranberry festival celebrates the island's famous harvest. November brings peak leaf-peeping season and the Thanksgiving morning Cold Turkey Plunge, when swimmers gather to take an icy dip in the ocean.
Cannon Beach, Oregon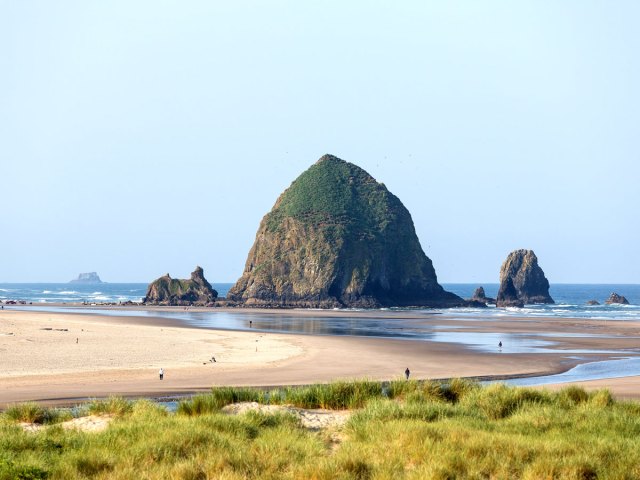 Cannon Beach, on the Oregon coast northwest of Portland, often sees dramatic weather in the fall and winter — but that's part of what makes it so alluring. Visitors can expect surreal sunrises and sunsets, roaring ocean waves, sunshowers breaking to reveal spectacular rainbows, and otherworldly mists hugging the shoreline.
Beyond the storms, Cannon Beach is a well-known destination for the arts, home to numerous art galleries and abundant live music. All that art culminates each November with the Stormy Weather Arts Festival, when visitors can enjoy live musical performances and wander among several galleries admiring art.
Nature lovers won't want to miss the top-notch wildlife sightings here, including resident bald eagles, a local herd of elk that often ends up grazing in area parks or on beaches, or the incredible migration of up to 20,000 gray whales passing through the area each December and January. And, for a holiday escape, Cannon Beach goes all-out with a special lamp-lighting ceremony, winter concerts, charming winter decorations, and plenty of independent shops to search for gifts.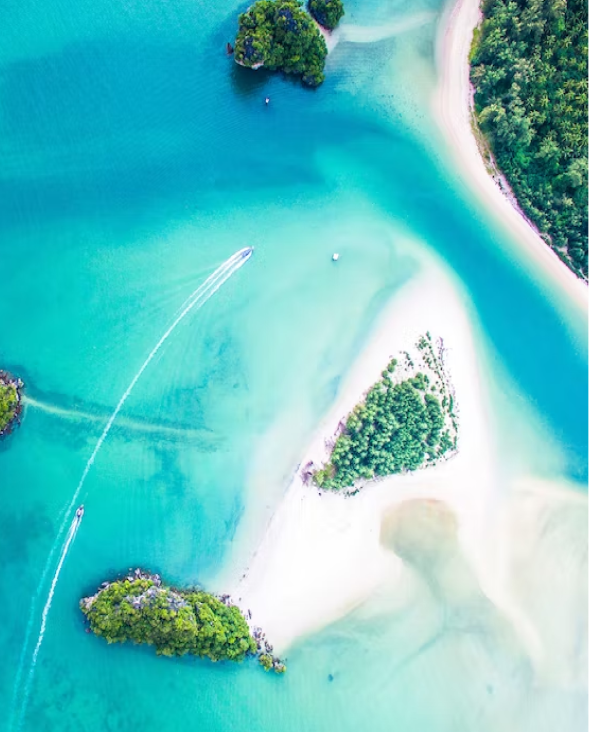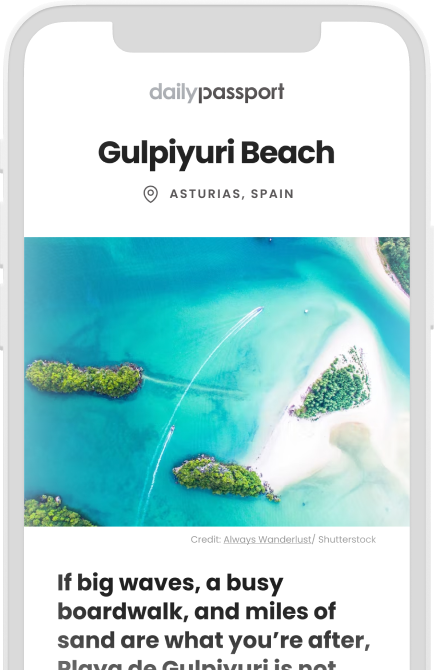 The world is waiting.
Daily Passport is your ticket to the four corners of the earth. Start exploring today.
Please enter valid email.
By subscribing you are agreeing to our Privacy Policy and Terms of Use.