Many travelers look forward to fall as a time to take advantage of cooler temperatures and a colorful change of scenery. In autumn, many towns in the U.S. go through a fleeting transformation, as leaves on trees start to crinkle up and turn from green to fiery reds, oranges, and yellows. This is a leaf peeper's favorite time of year — a time when hunting down the most spectacular fall foliage becomes a full-blown sport. Take a peak at six of the best leaf peeping locations around the U.S. 
Stowe, Vermont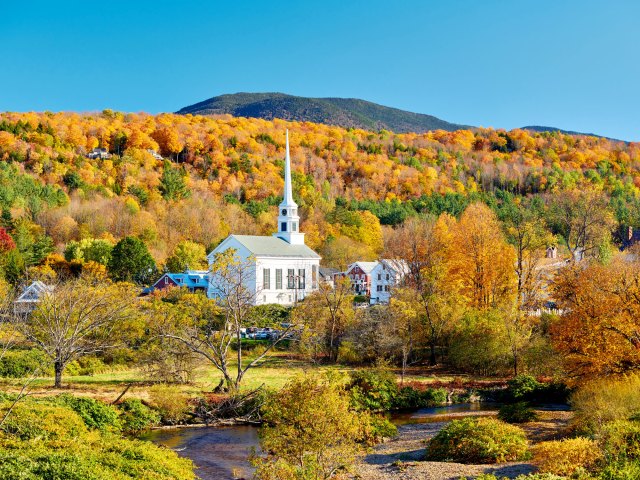 Stowe packs a big punch when it comes to outdoor pursuits — and fall is when the tiny town of 5,000 truly comes alive. In autumn, the abundance of sugar maple trees surrounding this popular northern Vermont ski area put on a spectacular color show. Visitors can enjoy it all while hiking up Elmore Mountain or Stowe Pinnacle, taking a scenic drive along the backcountry roads, or venturing out into the Waterbury Reservoir on a private boat cruise. In Stowe, the best time for fall foliage viewing starts in early September and runs through late October.
Bar Harbor, Maine
As the gateway to stunning Acadia National Park, the small coastal town of Bar Harbor is already on many tourists' radars. Peak tourist season is July and August, but it's well-worth holding off a few months to experience a slice of Maine magic in autumn. Hiking and biking the carriage trails within the park is often the best way to see the vibrant colors of fall, or you could embark on a kayak tour or whale watching excursion along Maine's rugged coast. Don't delay too long, though —  prime foliage season is short-lived in Maine, typically kicking into gear in the last week of September and lasting into the first or second week of October.
Catskills Mountains, New York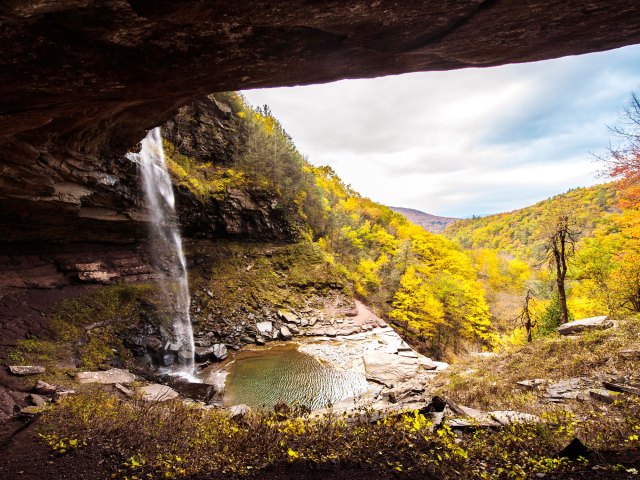 Upstate New York is known for its pristine mountains, crystalline waterfalls and rivers, and a rich profusion of trees. As you might guess, when summer fades into fall, the Catskills Mountains — located about midway between New York City and Albany — turn into a leaf peeper's dream. Hiking and taking scenic drives are the most popular way to see the fiery fall leaves, but visitors who prefer a more unique experience can hop aboard the Delaware & Ulster Railroad to cruise through the mountain landscape aboard a vintage train. Be sure to also visit Vernooy Kill Falls to see one of the area's most picturesque waterfalls adorned in autumn colors. Leaf-peeping season in the Catskills usually peaks during the first few weeks in October. 
Columbia River Gorge, Oregon and Washington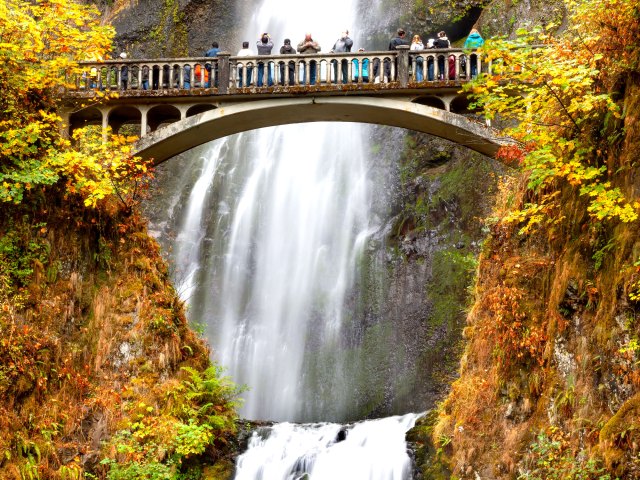 New England is stacked with idyllic leaf-peeping destinations, but discounting the West Coast would be a mistake. Columbia River Gorge is stunning in any season, but the fall foliage bloom is nothing short of spectacular. Running along the boundary of Oregon and Washington, the river canyon stretches 80 miles long and reaches 4,000 feet deep in places, creating a breathtaking natural landscape that draws visitors from across the nation.
There's plenty of fall foliage to admire on a hike through the rocky cliffs and Cascade Mountains surrounding the gorge, but you can also hop onto Highway 30 and soak up the spectacular views on the drive between Rowena and Mosier. Or cruise down the Historic Columbia River Highway, aptly dubbed "the King of Roads" for its stunning scenery. Time your visit for late September to mid-October for peak leaf peeping.
Munising, Michigan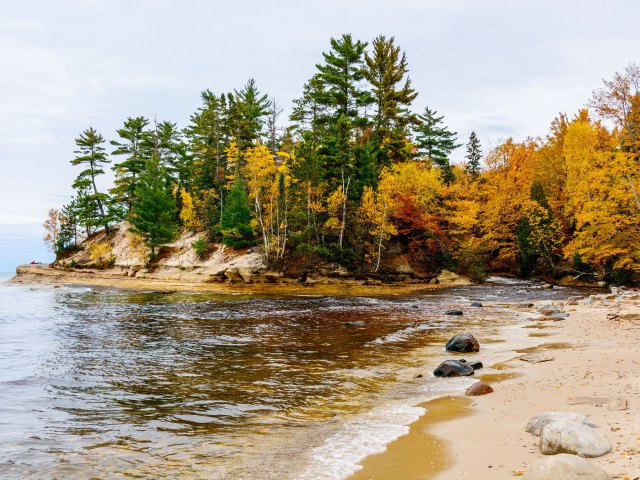 Leaf peeping usually conjures images of dense forests flush with color. What makes Munising special is the burst of fall color along the waterscape of the Pictured Rocks National Lakeshore, located on Michigan's Upper Peninsula. Visitors can take to the 100 or so miles of hiking trails along Lake Superior's shore, mountain bike or ATV through an extensive trail system, hike the famous Chapel Basin Loop, or glide out onto the chilly waters of the lake on a boat tour. No matter how you decide to see the foliage, the fiery trees that top the soaring lakeside cliffs are a sight to behold. Plan your visit during the first two to three weeks of October to catch the most colorful show. 
Breckenridge, Colorado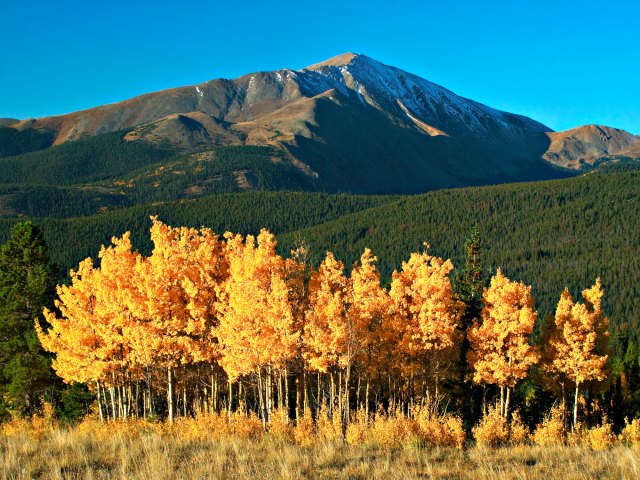 Famed for its hiking, biking, and skiing trails that criss-cross the Rocky Mountains, Breckenridge is a nature lover's dream. When the temperatures start to dip in autumn, though, the area's beauty is showcased in a whole new way. Visitors can start wandering around Breckenridge's charming downtown, set against a picturesque mountain backdrop, and then venture off on one of the 100-plus hiking trails nearby. Aspen Alley is a popular hike in fall, or opt for a scenic drive along Boreas Pass Road. After a day on the trail, take a load off at a fall festival or event in town. Just be sure to consider Breckenridge's location prior to planning your trip — due to the high elevation (9,600 feet above sea level), leaves start to change here in early September.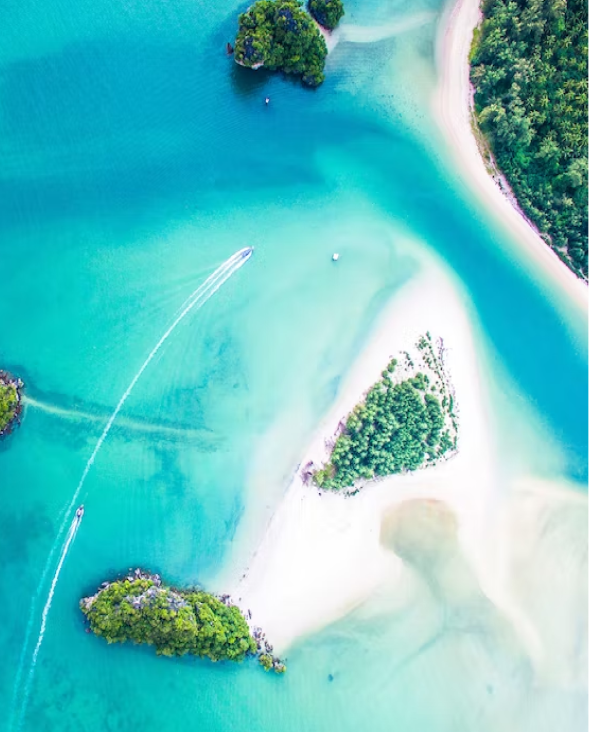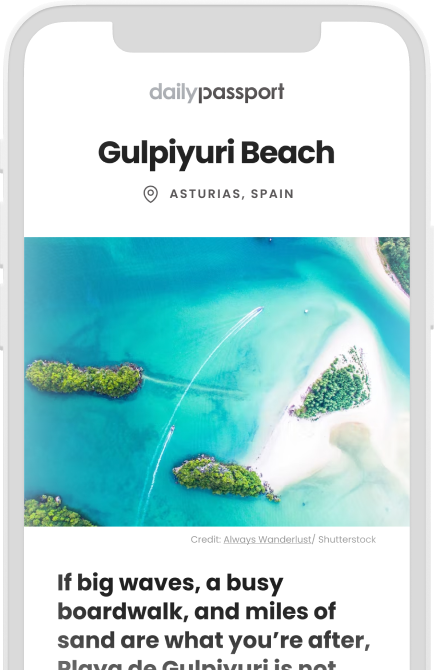 The world is waiting.
Daily Passport is your ticket to the four corners of the earth. Start exploring today.
Please enter valid email.
By subscribing you are agreeing to our Privacy Policy and Terms of Use.