In the 19th century, miners looking to strike gold established settlements throughout the American West. Once bustling with people and businesses, these towns have long been abandoned, and their empty buildings and idle streets have become dusty time capsules of days gone by. Although many former mining boom towns have fallen into ruin, others are remarkably well-preserved. Below, discover the histories of seven of America's most interesting ghost towns you can still visit today.
Bodie, California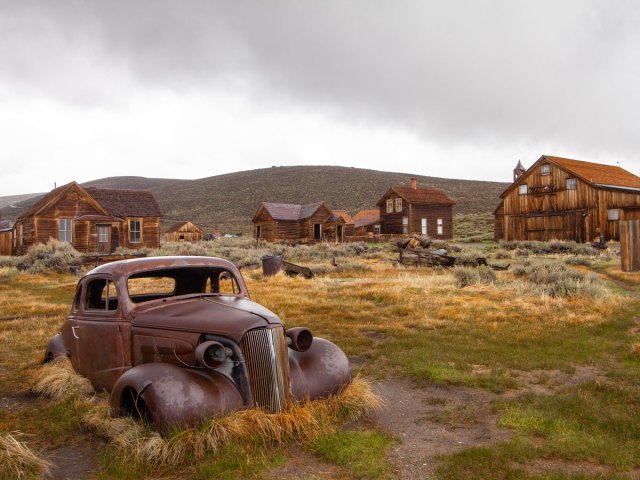 Now one of the best-preserved ghost towns in the U.S., Bodie was once a booming gold town near the Nevada border. Prospector William Bodey discovered gold there in 1859, and within a few years, the area had a mill, stores, and a continual influx of would-be miners. By the 1880s, the town's population had swelled to 10,000 residents.
Although some families settled there, Bodie also had its fair share of saloons (in 1877, there were reported to be 65 of them), casinos, and brothels where the miners could spend their earnings. This would lead to one local preacher referring to the town as "a sea of sin." It was not, unfortunately for the miners, a sea of gold — there was only so much to be found, and by the 1890s, the town was starting to fade. Several fires destroyed much of what was left.
What remained of the once-bustling Bodie became a state park in 1962. The dry desert air has helped to delay any further decay of the 200 buildings that are still standing. The park is open year-round to visitors, but its mountain elevation means it is accessible only by snow vehicles in the winter months. If you do visit, be warned: It is said there is a curse on anyone who takes any mementos away from Bodie, so you're advised to leave everything as you find it.
Garnet, Montana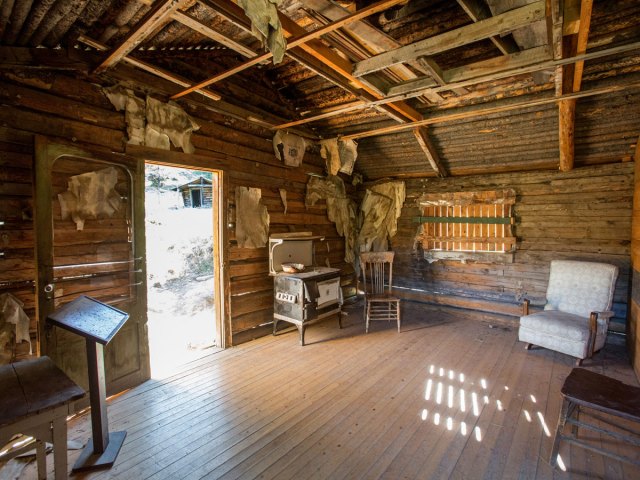 Most of us tend to imagine ghost towns as dry, dusty, desert locales, but some had much greener surroundings. One such location is Garnet, Montana, which sits at 6,000 feet above sea level. Despite the fact that the town was named for a semi-precious ruby-colored stone, gold was what attracted people to set up claims in these remote mountains east of present-day Missoula. In fact, a lot of silver was discarded in the search for more valuable metal. When prospectors finally struck gold in 1862, a small town grew around the site.
Once the railroad came to a nearby town and allowed for easier movement of goods, the population started to boom, and by the 1880s, about 1,000 people called Garnet home. However, by 1905 that figure had shrunk to only about 200 residents. Fire destroyed many of the wooden buildings in 1912, and there were no attempts to rebuild, though the post office remained open until 1928.
The Bureau of Land Management has managed the site since 1970. Visitors can see the old jail (although records seem to show only one arrest), the town's sole hotel, a saloon, a schoolhouse, and several homes. On the edge of Garnet, a walking trail passes through several mining areas, with explanations of the mining process. Those feeling adventurous can even spend the night here: Several cabins are open to overnight guests, but only in winter, so you'll need to ski in and make do with propane and wood fires.
Chloride, Arizona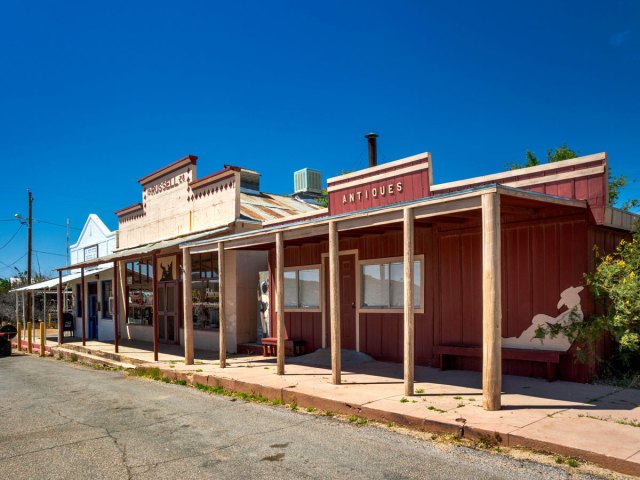 Although nowhere near as busy as it was in its heyday, Chloride, Arizona, stands out from the rest of the towns on this list as a sort of living ghost town. Among the abandoned buildings, there are still a handful of occupied residences and businesses, determined to keep going in this remote part of the Mojave Desert in northwest Arizona. The 2010 census listed its official population as 271. The town was named for the silver chloride mined there, although the area was also a source of lead, gold, zinc, and copper. Soon after it was settled in 1862, business boomed until World War II, when a lack of both workers and ore led to Chloride's decline from its population peak of around 5,000 residents.
Today, Chloride has an eccentric funky vibe to it, largely due to the collection of junk art that is on display around town. After visiting the cemetery, jail house, former railroad station, and Arizona's oldest continually operating post office, pick up a map so you can see all of the murals and sculptures that decorate the residents' gardens. If you visit on weekends, mock gunfights are held in the main street. Before you go, be sure to stop by Digger Dave's café and bar for a drink and a chance to admire the memorabilia that covers every inch of wall space.
Rhyolite, Nevada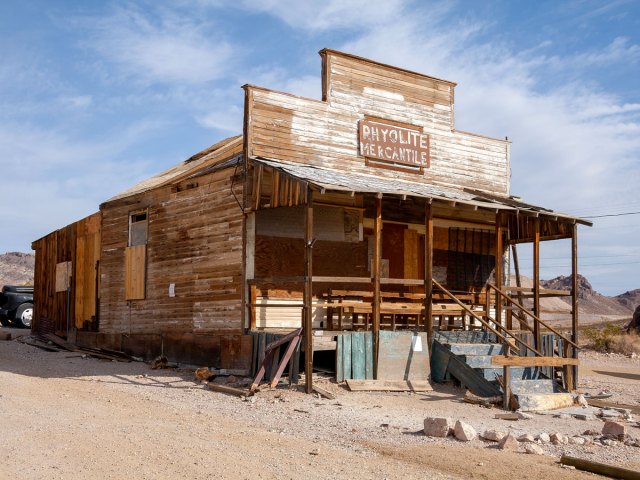 Located just outside the boundaries of Death Valley National Park, Rhyolite, Nevada, is another example of a true boom-and-bust town. Gold ore was discovered in the area in 1904, and Rhyolite (named for the silica-rich volcanic rock in the area) was one of the mining camps established in the Bullfrog Mining District, about 120 miles northwest of Las Vegas. A significant amount was invested in the town — unlike Garnet, which had wooden huts, Rhyolite had multilevel concrete buildings, electricity, and a telephone system.
However, a financial panic in 1907 marked the start of the town's decline. By 1916, the electricity was cut off, and by 1920, the former city of 6,000 was a ghost of its once-proud self, with just 14 residents.
Fortunately for visitors, the desert air and the solid structure of the buildings mean that the bulk of the town is still in good condition. Headstones in the nearby graveyard tell the stories of those who came here from far and wide. Also of interest are a bottle house, constructed entirely of empty beer bottles, and the ghostly sculptures at the Goldwell Open Air Museum on the edge of town.
Kennecott, Alaska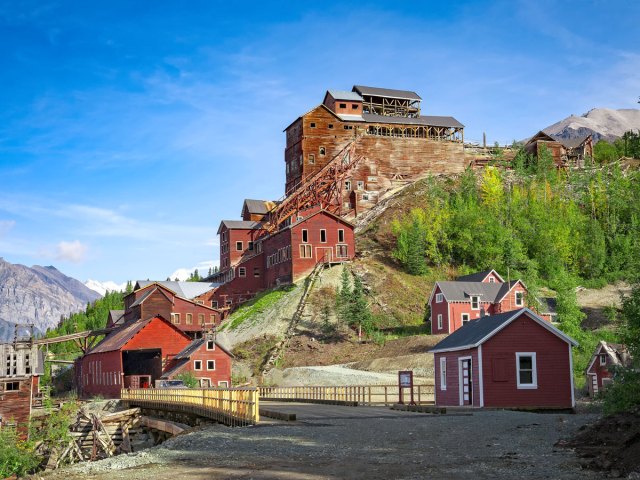 Situated in the heart of Alaska's Wrangell-St. Elias National Park, America's largest national park, Kennecott (or Kennicott, as it is sometimes spelled) is a National Historic Landmark. It is believed to be the best-preserved example of 20th-century copper mining.
Kennecott consisted of the copper mines and the nearby mill town where the mined ore was processed. Although the town itself was relatively small compared to other ghost towns (approximately 200 worked in the town and another 300 in the mines), Kennecott had its own hospital, store, skating rink, school, dairy, and other facilities. It is estimated that $200 million worth of copper was mined here between 1911 and 1938, making it the world's richest copper mine.
Eventually, the Kennecott company opened more profitable mines in Chile, and the Alaska settlement wound down. By 1950, it was deserted, the buildings left to fall into decay. Now under management of the National Park Service, the town is being carefully restored so that visitors can continue to enjoy and learn for decades to come.
Frisco, Utah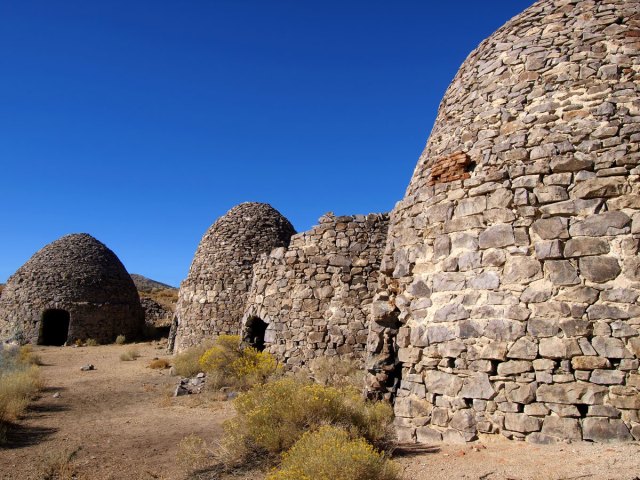 In addition to the remains of old buildings and the cemetery containing Frisco's former residents, one notable attraction alone makes Frisco worth visiting. The town, located in Beaver County in southwest Utah, is dotted with dome-shaped stone kilns that resemble giant honeybee hives. These kilns were used to process silver ore, and have earned the town its place on the National Register of Historic Places. Silver was first discovered here in 1875, and in its heyday, Frisco was home to around 6,000 people.
The decline of Frisco came earlier than that of most other mining towns, largely due to a mine collapse in 1885. The resulting earthquake was felt 10 miles away, and the town never quite recovered afterward. A few attempts were made to reopen the mines, but by the 1920s, hardly anyone was left to work in them.
Visitors today can walk among the old buildings and kilns, but less is known about Frisco than the other ghost towns on this list, something that adds to the eerie atmosphere of this once-booming place in the Utah desert.
St. Elmo, Colorado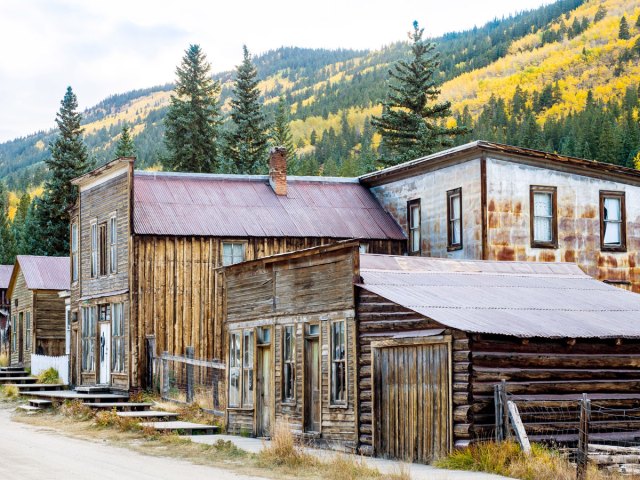 If you want to visit a ghost town that still has a few ghosts of its own, you might want to head to St. Elmo, Colorado, one of the best-preserved ghost towns in the West. Located at about 10,000 feet above sea level near the town of Buena Vista, St. Elmo was, like so many other ghost towns, created around the mines. In this case, both gold and silver were discovered in the 1870s, leading to the town's official founding in 1880. The town was originally called Forest City, but since another Forest City already existed, residents were forced to choose a different name. One decided on St. Elmo, after a novel he was reading at the time.
With the railroad passing through, the town was a popular supply hub for nearby settlements and prospectors. However, with decreasing demand, the railroad closed in 1922. By 1930, St. Elmo's once-prosperous population of 2,000 people had fallen to just seven, enough to run the hotel and store. Many claim to have seen the ghost of one of these last residents, Dirty Annie Stark. In fact, ghost hunters say that St. Elmo is one of the most haunted places in the entire state of Colorado. Visitors to the town, which is open from May through September, can explore the former homes and other buildings, including the general store.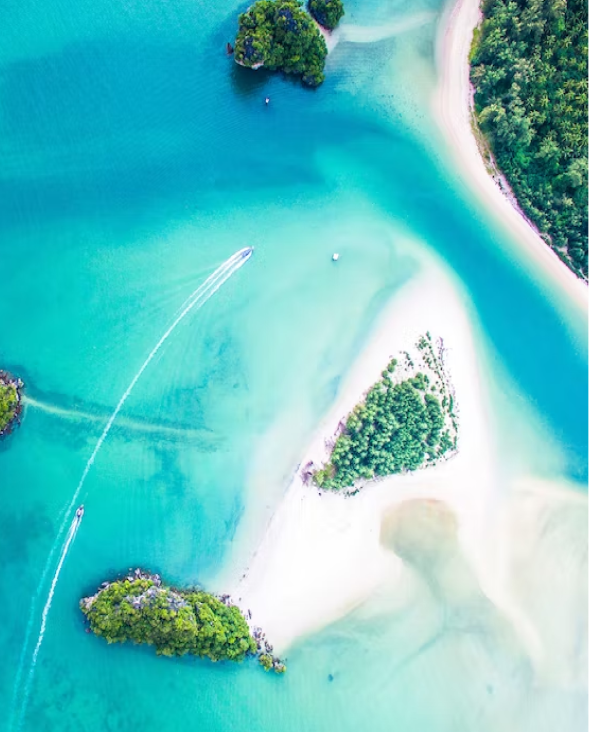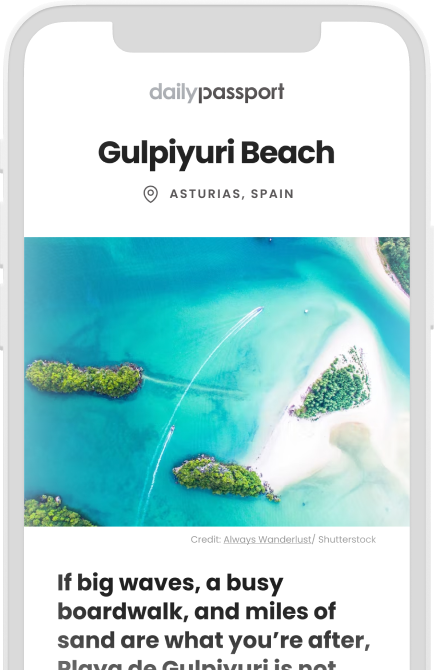 The world is waiting.
Daily Passport is your ticket to the four corners of the earth. Start exploring today.
Please enter valid email.
By subscribing you are agreeing to our Privacy Policy and Terms of Use.