While many iconic landmarks (like the Statue of Liberty, the Great Pyramids, Niagara Falls, or Rome's Colosseum) are relatively easy to visit, there are other places around the globe that are undeniably special, but require some extra effort to reach. From a stunning mountainside monastery to a legendary 15th-century citadel, here are five bucket-list landmarks around the world that are worth the trek.
Tiger's Nest Monastery – Bhutan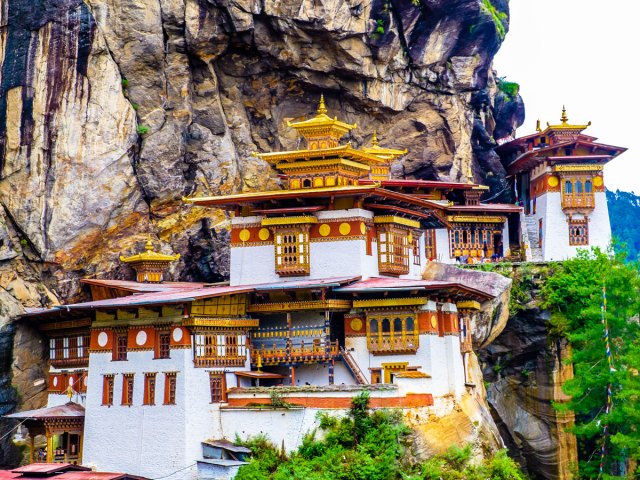 Legend has it that, in the eighth century, Buddhist master Guru Rinpoche arrived at this breathtaking mountainside locale overlooking Bhutan's Paro Valley by flying in on the back of a tigress. Without a flying tigress, visitors to the Tiger's Nest Monastery today will need to fly into Paro — the only international airport in the Kingdom of Bhutan. From Paro, it's about a 25-minute drive to the place where you'll begin your four-mile hike to the monastery. Guru Rinpoche, a central figure in Buddhism, meditated here for three years, three months, three days, and three hours to subdue the demons at the site — however, your trek should only take about two hours, including a steep path that takes you up to 10,000 feet.
The monastery is both the holiest Buddhist site and the most-visited attraction in Bhutan, so it's recommended to leave early (around 6 a.m.) and bring pants or a long skirt, as visitors will not be admitted wearing shorts. Photography and phones inside the temples are not permitted, but you can get a spectacular picture at the famous viewpoint and then walk down 780 steps to the monastery itself. 
Angel Falls – Venezuela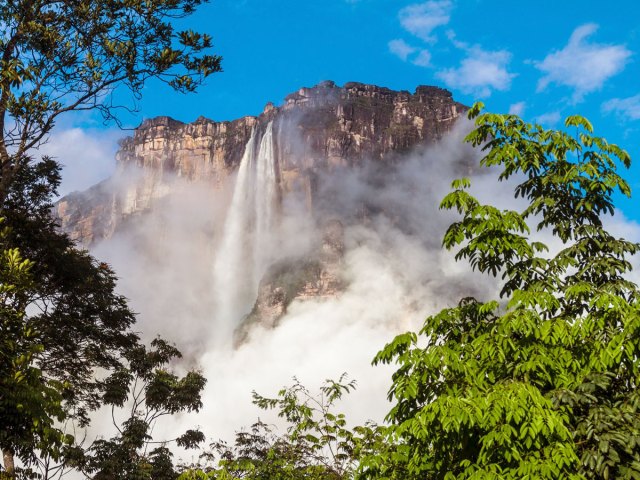 Hidden in the dense jungle of Venezuela's Canaima National Park is the world's highest uninterrupted waterfall, the 3,212-foot Angel Falls. But it takes considerable effort to get there. It's a two-day journey once you reach the town of Canaima, after flying on a small plane from Puerto Ordaz, Caracas, or Ciudad Bolívar. The following morning, you'll board a curiara (small boat) for the four-hour ride up the Rio Carrao to a staging point. From there, you'll hike to the base of the falls and camp overnight, sleeping in hammocks before setting off on your return to Canaima.
A travel advisory to Venezuela has reduced the number of visitors, and it's recommended to choose a reputable tour operator wisely and remember to carry cash, as Canaima does not have ATMs. Your reward for the journey will be a once-in-a-lifetime adventure to the world's highest falls, surrounded by stunning landscapes filled with the sound of birds and monkeys who call the jungle canopy home. 
The Moai – Easter Island, Chile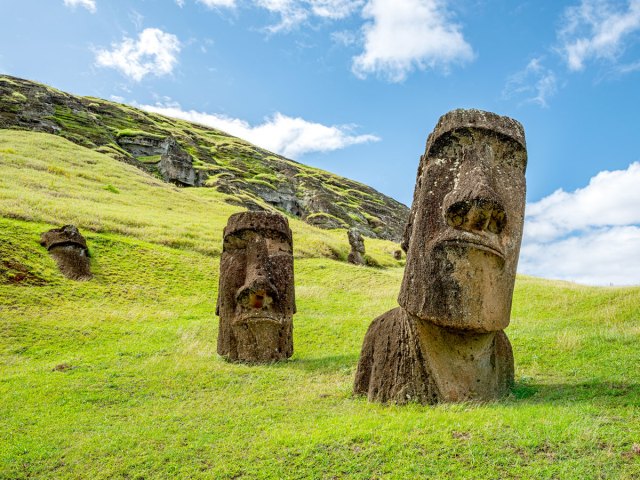 You'll need a lot more than a long weekend to visit Easter Island's noble moai, the enormous monolithic stone statues that have made this one of the world's most instantly recognizable landmarks. One of the most remote inhabited places on the planet, Easter Island is located in the middle of the Pacific Ocean, more than 2,000 miles off the western coast of South America. The Rapa Nui peoples — who carved these immense figures from volcanic stone around 1400 to 1600 CE — considered them sacred, and it is still forbidden to lay hands upon the monuments.
Around a thousand moai are scattered across the island half-buried in the earth. Each of the giant hand-carved stone statues weighs around 14 tons and stands 13 feet tall on average, and their purpose has also been the subject of much debate. To reach them, you can take a luxurious cruise — Seabourn and Silversea offer sailings — or take a 5.5-hour flight from Santiago.
Machu Picchu – Peru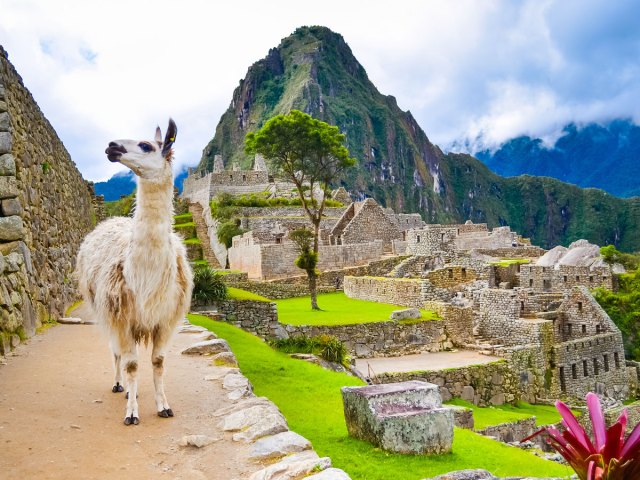 There are a number of ways to make the journey to legendary Machu Picchu, the majestic 15th-century citadel constructed by the Inca peoples high in the Andes mountains. Topping seemingly every adventure traveler's "must-see" list, Machu Picchu is a glory of archaeology in a stunning natural setting. The UNESCO World Heritage Site was built at the height of Incan influence, when their empire stretched from northern Ecuador to central Chile and ruled over 12 million inhabitants. Discovered by the outside world in 1911, Machu Picchu has 200 ceremonial, religious, and astronomical structures that are crisscrossed by stone terraces along with agricultural areas.
Intrepid travelers can hike the iconic Inca Trail over a period of four days, while others may choose a luxury train journey. The low-cost local train is not available for foreigners, but bus service is offered from Aguas Calientes. With thermal baths, lively restaurants, and a great crafts market, the town and surrounding area is worth a few days in its own right.
Ciudad Perdida – Colombia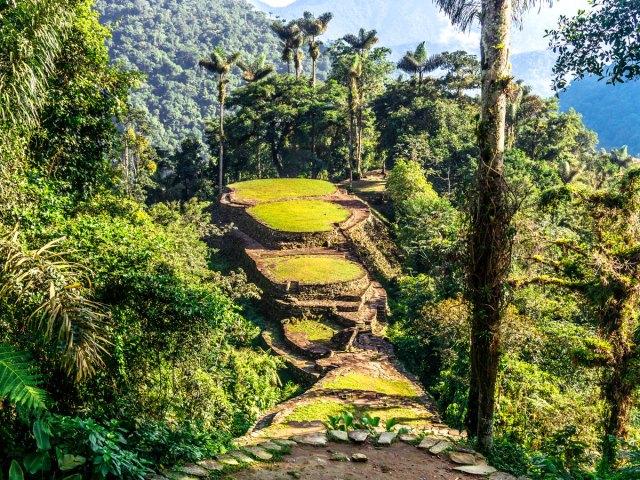 Hundreds of years before the construction of Machu Picchu, the people of the Tairona civilization built their own settlements deep in the jungle of the Sierra Nevada Mountains, in what is now Colombia. The largest of these, located at 19,000 feet above sea level, was hidden by thick jungle for over 400 years.
This magnificent real-life "lost city" was only rediscovered in 1972 by a group of local treasure hunters, who found a series of stone steps rising up a mountainside and followed them to the abandoned city. To date, only a sliver of the site has been excavated, finding mud and stone terraces and excavations along with gold and pottery. To experience Ciudad Perdida, visitors must make a strenuous 30-mile round-trip trek along the Buritaca River, braving steamy jungle and many mosquitoes. Facilities are extremely basic, although camps and snack shacks are starting to spring up along the route, and the payoff of exploring this mystical jungle-surrounded slice of history is well-worth the effort.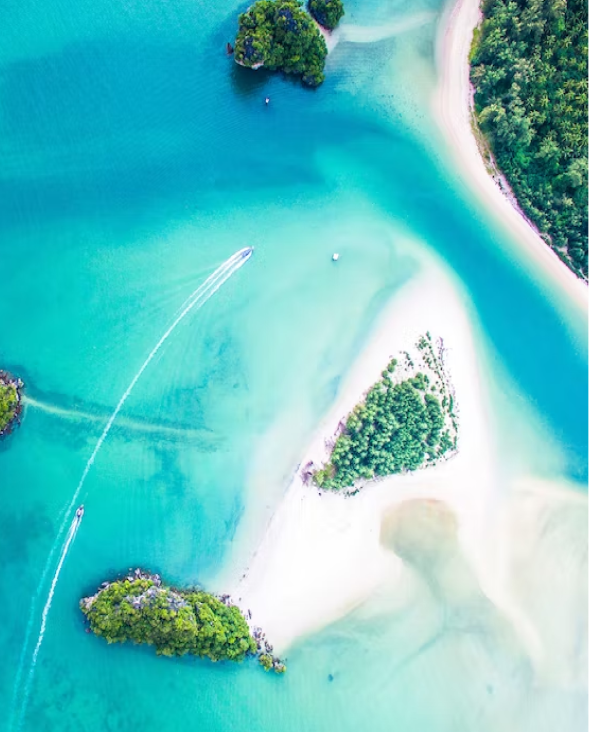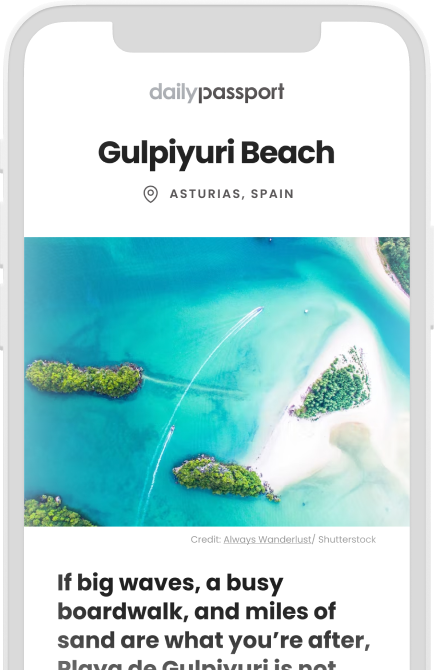 The world is waiting.
Daily Passport is your ticket to the four corners of the earth. Start exploring today.
Please enter valid email.
By subscribing you are agreeing to our Privacy Policy and Terms of Use.