Route 66 is the stuff of legends. Completed in 1938, it was the first all-weather highway between Chicago and Los Angeles. Stretching some 2,400 miles, Route 66 became popular thanks to clever advertising by the U.S. 66 Highway Association, which called it the "shortest, best, and most scenic route from Chicago through St. Louis to Los Angeles." The roadway soon cemented its place in popular culture, inspiring the likes of author John Steinbeck (who dubbed it "the Mother Road") and the classic 1946 song "Get Your Kicks on Route 66." Today, those who traverse the preserved sections of the historic route can look forward to all kinds of interesting attractions along the way, from kitschy roadside museums to retro motels, bizarre art installations, and stunning national parks.
Route 66 Association Hall of Fame and Museum – Pontiac, Illinois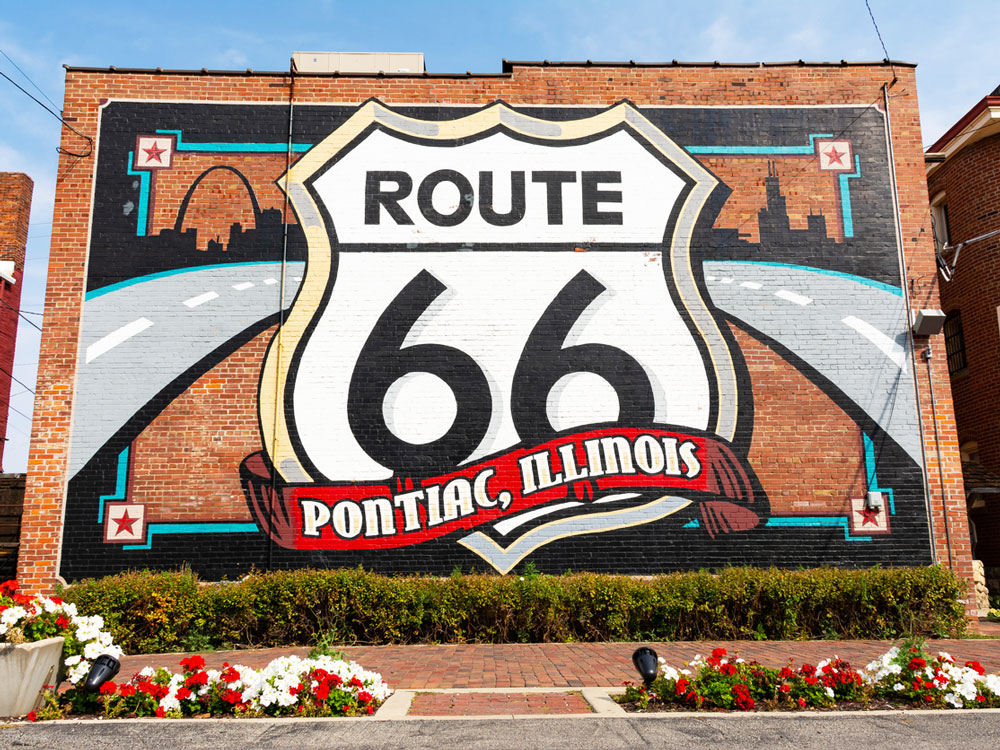 After kicking off your epic Route 66 road trip in Chicago, your first stop should be the Route 66 Association Hall of Fame and Museum, about 90 minutes into your drive. On display are thousands of memorabilia items related to the route's glory days and exhibits educating visitors about its important place in U.S. history. The museum is open seven days a week, and ticket proceeds go towards Route 66 preservation efforts in Illinois. On the back wall of the museum is the Route 66 Shield Mural, where many park their cars to capture a photo before heading back out on the road. Don't miss the chance to explore the rest of the colorful collection of murals in this charming town before you do so.
Gateway Arch National Park – St. Louis, Missouri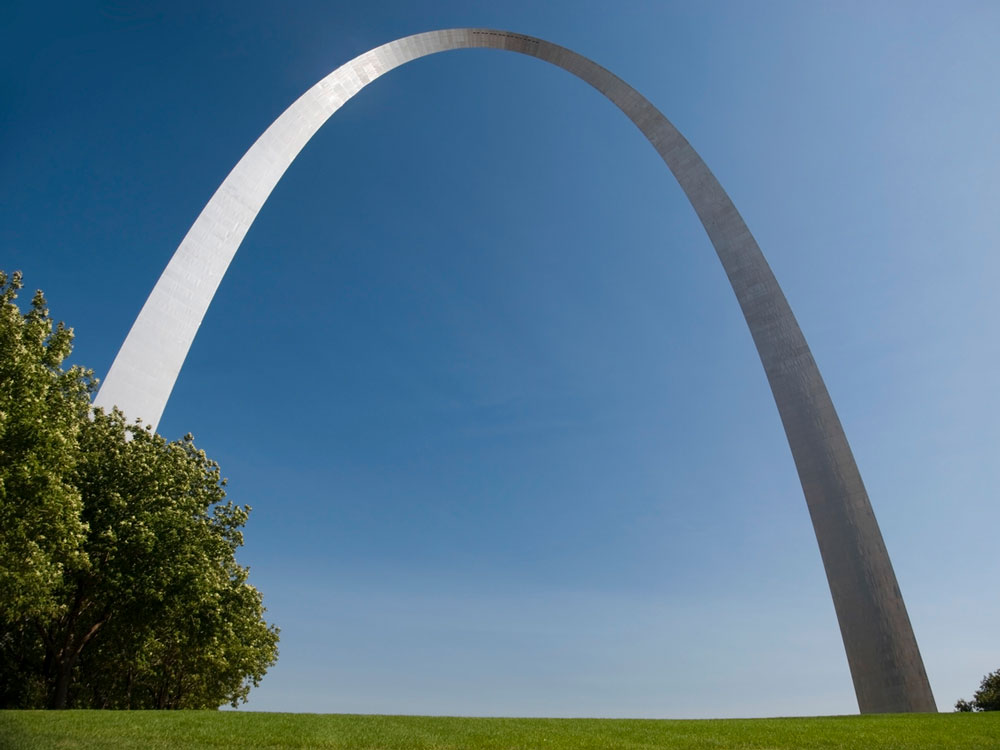 One of just two national parks along the historic Route 66, Gateway Arch National Park not only features the iconic Gateway Arch, but it is also the smallest national park in the country, covering just 91 acres. Take the unique tram 630 feet to the top of the country's tallest monument for a bird's-eye view of St. Louis, and learn more about its history at the on-site museum. The exhibits trace the story of pioneers, explorers, and Native Americans who helped build the country while celebrating America's pioneering spirit.
Meramec Caverns – Sullivan, Missouri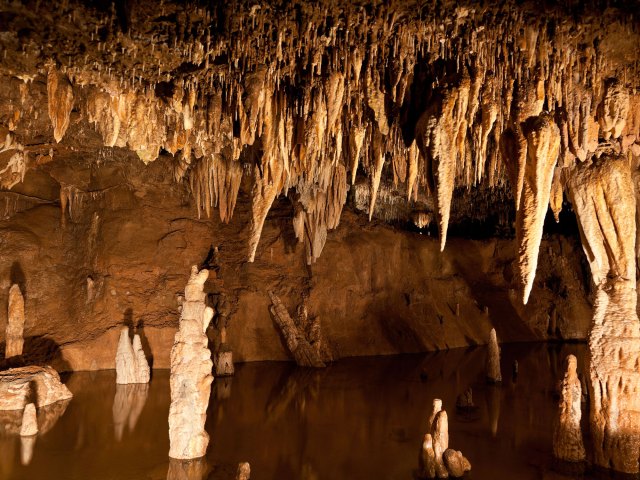 The breaktaking Meramec Caverns have been attracting Route 66 travelers for over 80 years, ever since the property's former owner Lester Benton Dill began offering tours of the 400-million-year old cave to the public. Road trippers will see the series of limestone caves advertised on barns and billboards throughout much of the route. A guided tour will bring visitors underground to discover this incredible natural wonder that outlaw Jesse James once used as a hideout. The attraction includes the impressive cave formations, along with some kitsch — like the sound-and-light show that concludes with Kate Smith's rendition of "God Bless America" as the flag is projected onto a limestone curtain.
Oklahoma Route 66 Museum – Clinton, Oklahoma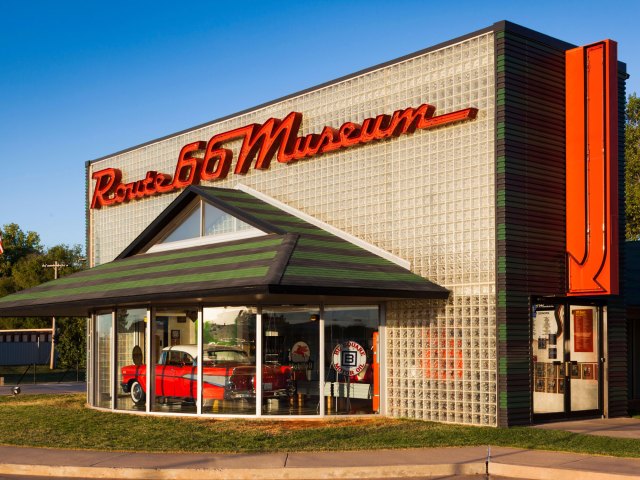 There are several Route 66 museums that are well worth a visit, and this one chronicles the section of the road bisecting Oklahoma. In fact, the Sooner State is home to Route 66's longest drivable stretch, which runs for over 400 miles. In the front window of the Oklahoma Route 66 Museum in Clinton, you'll see a neon sign and a vintage cherry red 1957 Chevy. Step inside to walk the "Main Street of America" and read displays with interesting tidbits about spots along the route that are no longer in existence.
Blue Whale of Catoosa, Oklahoma
As you come to a pair of side-by-side bridges in Catoosa, it's impossible to miss this unique Route 66 attraction: a giant, smiling blue whale. Built in 1972, the 80-foot-long creature rests in a pond that was once a popular place to swim. Hugh S. Davis, the zoologist responsible for the structure, envisioned it as a special place for his grandchildren to play, but after he passed, it fell into disrepair. Locals rallied together to restore it to its original glory, and these days, the toothy whale makes for a popular photo-op for Route 66 road trippers. Visitors can even walk through the whale's mouth and climb a ladder onto its tail.
Cadillac Ranch – Amarillo, Texas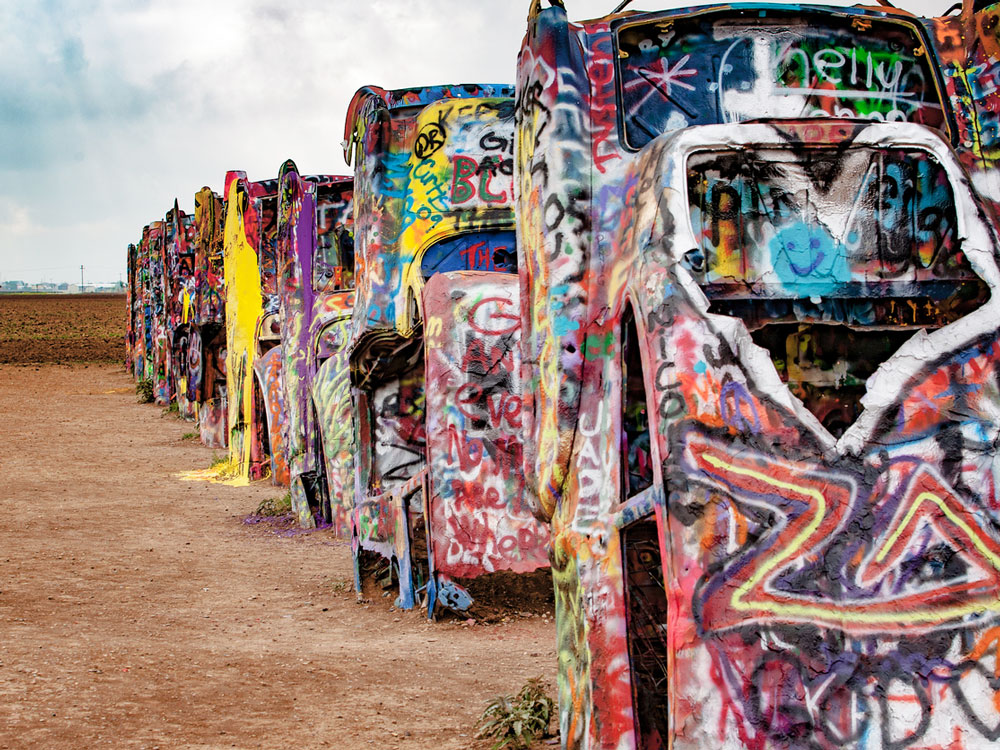 One of the most famous attractions along Route 66, Cadillac Ranch is an eye-catching art installation located about 10 miles west of Amarillo, Texas. Created in 1974 by a group of artists from San Francisco called the Ant Farm, it features 10 perfectly aligned Cadillacs half buried in the desert, with their graffiti-covered tail fins pointing skyward at the same angle as the Pyramids of Giza. Graffiti is welcome, with many coming to spray paint their initials or something unique on the unique public art installation.
Motel Safari – Tucumcari, New Mexico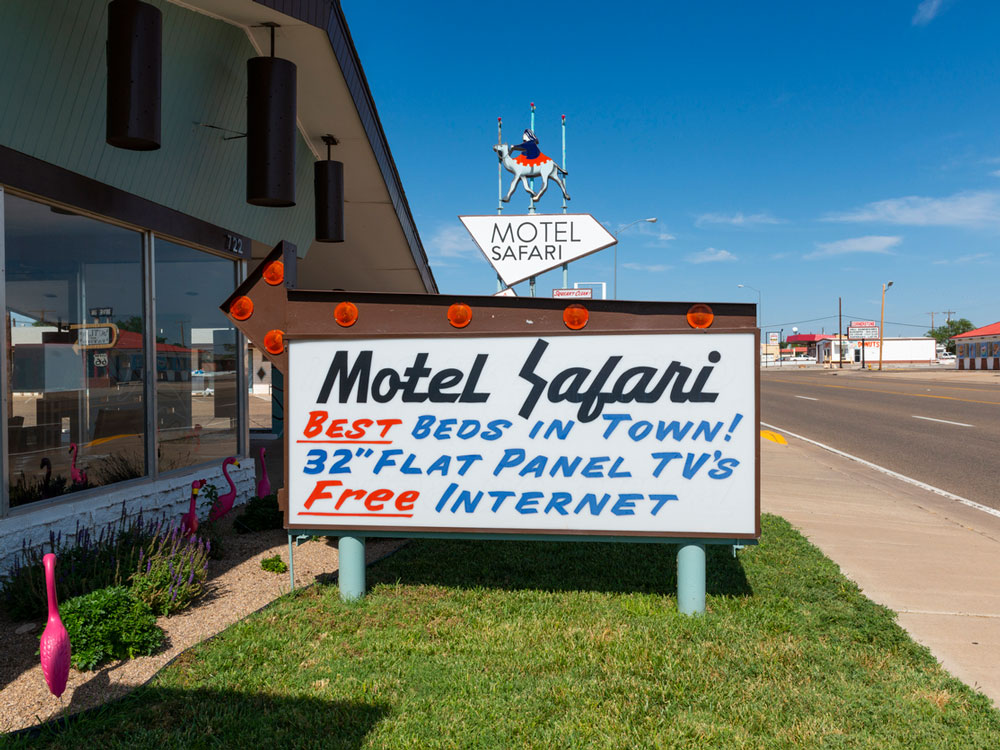 While there are quite a few retro motels along Route 66, one of the most popular is Motel Safari in Tucumcari, about 2.5 hours before you hit Albuquerque. A classic mid-century 1959 motor inn has a historic camel sign you can't miss, and features modernized replicas of technology from the era, such as retro radios with Bluetooth and "rotary" phones with buttons to push instead of the rotating dial. And as the hotel's website notes, "in classic motor court fashion, you can park right at your door."
Sandia Peak Aerial Tramway – Albuquerque, New Mexico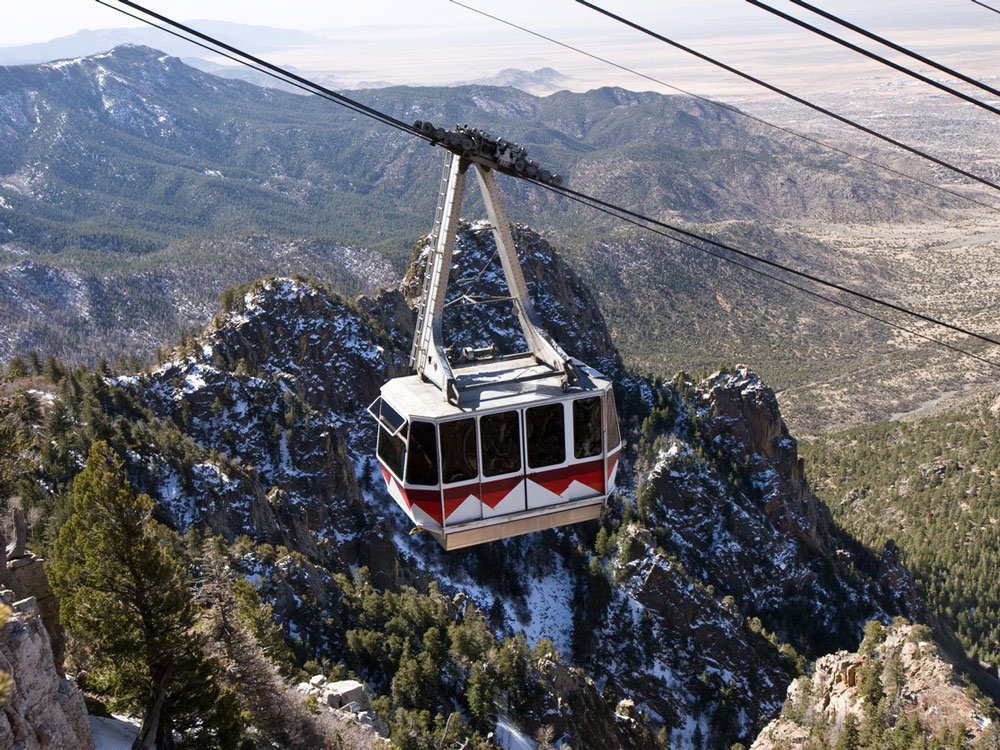 Just east of Albuquerque is the longest aerial tramway in the world. The Sandia Peak Aerial Tramway ascends 2.7 miles up the steep Sandia Mountains, and from the observation deck that sits at 10,378 feet above sea level, riders can see all the way to Santa Fe. After leaving, plan extra time for the many photo ops along the route's section between Albuquerque and Gallup. It's one of the most scenic stretches of Route 66, revealing why New Mexico's nickname is "the Land of Enchantment."
Petrified Forest National Park – Holbrook, Arizona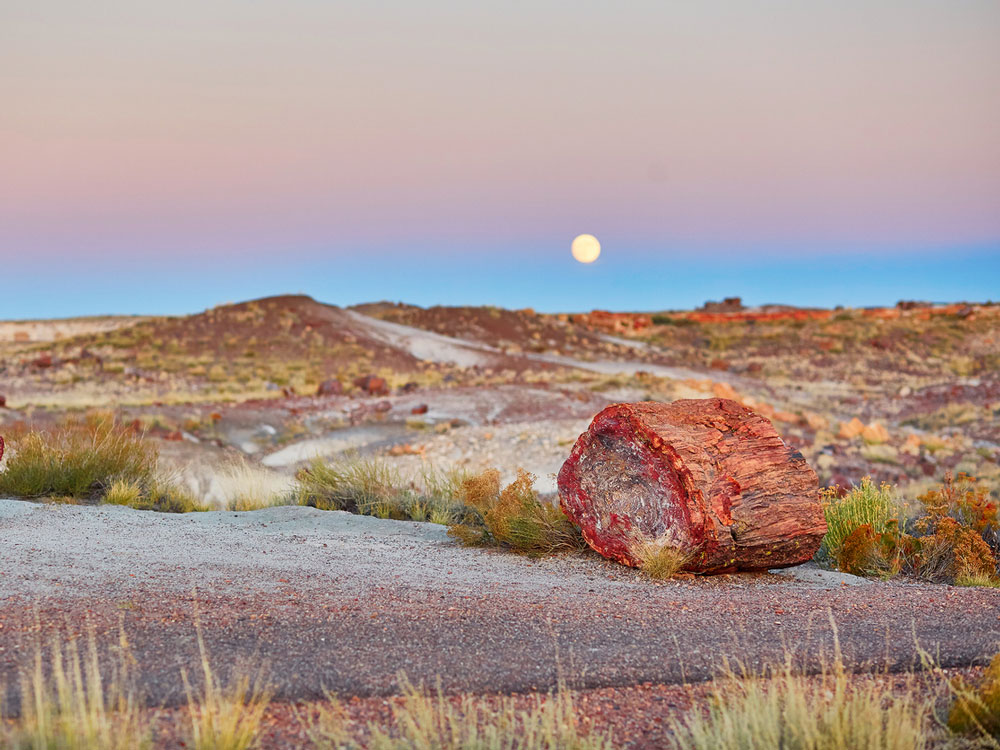 Covering 230 square miles in northeastern Arizona, Petrified Forest National Park protects one of the world's largest and most colorful collections of petrified wood, along with several fascinating historic structures and archaeological sites. The ancient "trees" are fossilized logs that are around 250 million years old, some spanning as much as six feet in diameter. Many come in a rainbow array of colors, and one even spans a ravine, forming a natural bridge.
Grand Canyon Railway – Williams, Arizona
The Grand Canyon is about a 55-mile detour off Route 66, but in Williams, you can catch the Grand Canyon Railway to visit the canyon and enjoy mesmerizing views along the way (and a break from being behind the wheel). The train departs daily at 9:30 a.m. and returns to Williams at 5:45 p.m. — just in time for the 7 p.m. Old West shootout that takes place every night between cowboys and outlaws downtown.
Featured image credit: Steve Wrzeszczynski/ Unsplash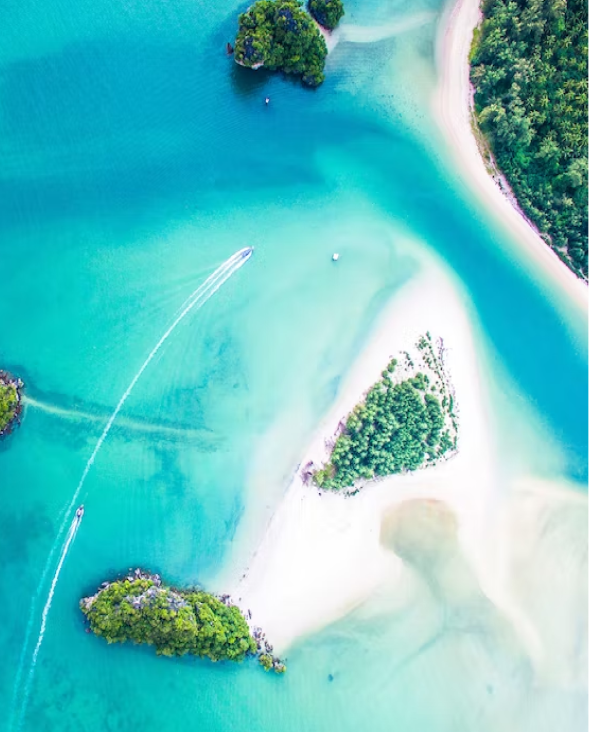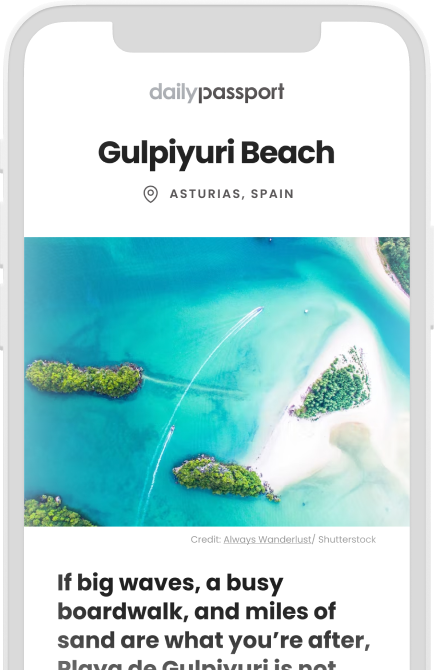 The world is waiting.
Daily Passport is your ticket to the four corners of the earth. Start exploring today.
Please enter valid email.
By subscribing you are agreeing to our Privacy Policy and Terms of Use.