Since the original mazes of ancient Egypt, our fascination with mazes has continued for centuries. In England, hedge mazes began to pop up in many royal gardens in the 1800s, but it wasn't until 1993 that the trend made its way to the United States. Don Frantz and Adrian Fisher created the country's first corn maze, called the "Amazing Maize Maze," in Annville, Pennsylvania. Today, North America claims some of the largest and most intricate corn mazes in the world. Here are five elaborate corn mazes you shouldn't miss.
Richardson Adventure Farm – Spring Grove, Illinois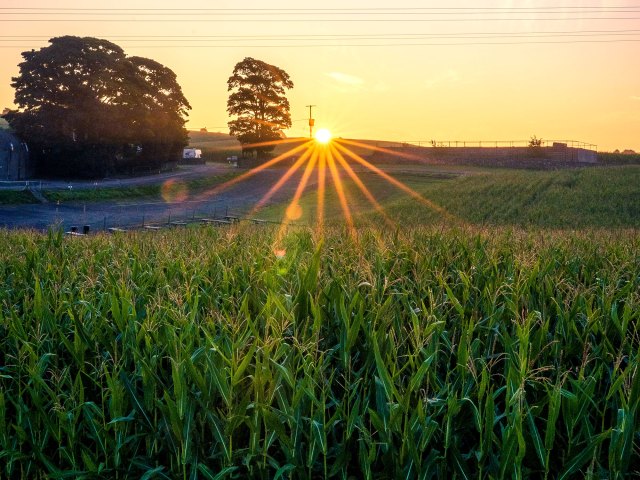 The small town of Spring Grove, Illinois, bills itself as the home of "world's most intricate corn maze." With four miniature mazes to conquer alone or to tackle as one giant puzzle, the Richardson Corn Maze — a family farm since 1836 — sits on 28 acres of corn fields. The farm includes 10 miles of trails that are sure to lead you astray at least once or twice. The corn fields are planted in May, and the mazes are created after months of collaboration with a full-time team of graphic artists and MazePlay owner Shawn Stolworthy. Maze themes change each year and have incorporated everything from the Beatles to Star Trek.
Great Vermont Corn Maze – Danville, Vermont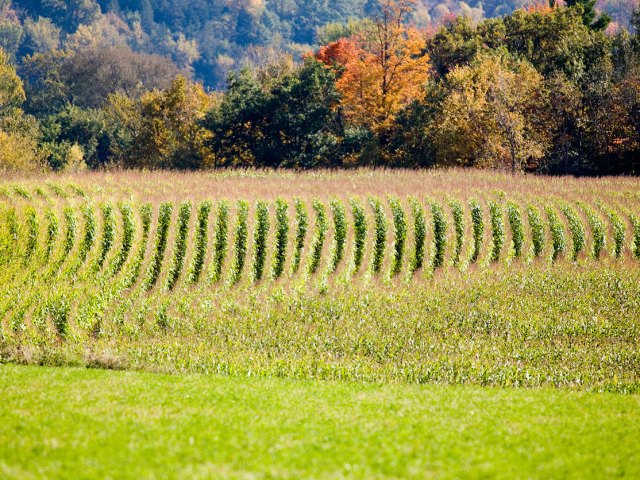 The largest maze in New England, the Great Vermont Corn Maze spans 24 acres in Danville, Vermont. The site's Big Maze requires a roughly three-hour commitment to navigate the miles of hilly terrain. (Be sure to wear comfortable walking shoes and bring a water bottle.) An underground tunnel, dinosaurs, numerous bridges with bird's-eye views, remnants of mazes-past, and new surprises wait within the 10-foot-tall cornfield walls. If you're not feeling up for the Big Maze, you can still hit all the highlights with a 40-minute, mapped-out stroll through the Scenic Maze.
Kraay Family Farm – Lacombe, Alberta, Canada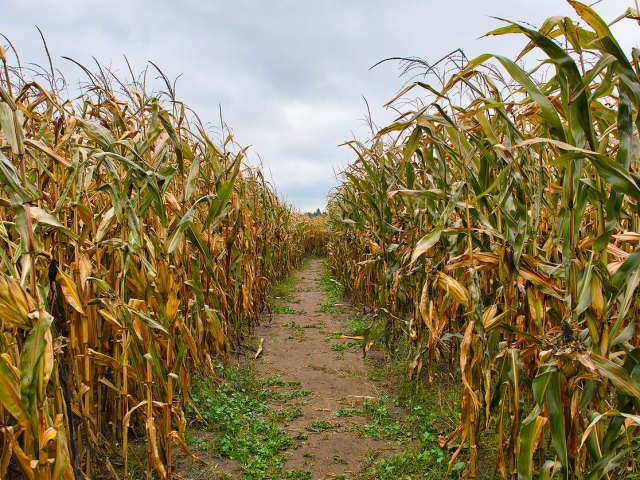 To call this place a "farm" is a perhaps an understatement. Kraay Family Farm has been operating for 30 years and features over 40 family-friendly attractions. The Kraays decided to open their farm to the public 15 years ago, and have enjoyed watching visitors learn more about farm life ever since. One of the most popular attractions is the 15-acre Lacombe Corn Maze, boasting over three miles of labyrinth pathways.
Challenge yourself by playing Flashlight Maze and try to find your way out with just the light from a torch, glow stick, or even the full moon. Other autumn-themed activities at the farm include mini golf, zip lines, pig races, and a pumpkin cannon that allows shooters to knock pumpkins off the top of a school bus with a kid-friendly cannon.
Cool Patch Pumpkins – Dixon, California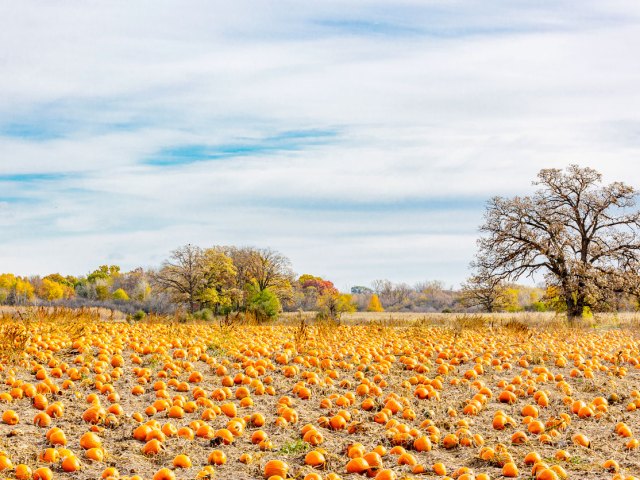 Cool Patch Pumpkins in Dixon, California, had a humble start. The idea formed after local Matt Cooley and his children found success selling pumpkins on the side of his pumpkin field. Matt and his brother Mark founded Cool Patch Pumpkins soon after in 2001. A few years later, the ambitious brothers set their sights on creating the world's largest corn maze and achieved this with a 40-acre corn maze in 2007.
The brothers went on to beat their own record in 2014 with a monstrous 63-acre maze. Today, the pumpkin patch and its impressive corn maze are among California's biggest and best fall attractions. This maze is family-friendly, but no one under 18 is allowed in without adult supervision due to the maze's size, complexity, and potential to confuse visitors. Amusingly, the Solano County Sheriff's Office says they receive calls every year from people unable to find their way out.
Cornbelly's – Lehi, Utah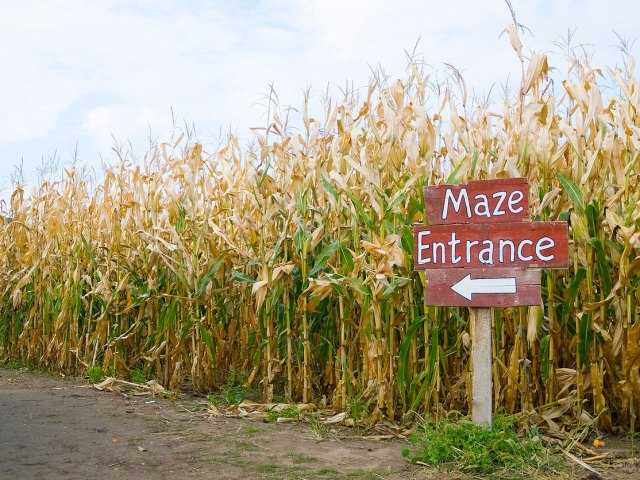 The two Cornbelly's locations at Thanksgiving Point and Spanish Forks in Utah offer 55-plus attractions that include four different corn mazes. Cornbelly's has been crafting mazes since 1996, using just a weed whacker and their imaginations in the early days. Now, over two decades and countless mazes later, computers and high-tech equipment help the staff plan and execute intricate and inventive mazes every year. The main corn maze at Thanksgiving Point sits on eight acres and takes about 30 minutes or more to complete. Maze explorers are also required to answer trivia questions with the help of an "interactive passport" to find their way out.
The smaller, self-guided maze at Spanish Forks is a five-acre maze and takes about 20 minutes to complete. Visitors can also hop aboard the "Grain Train" and take a ride through the network of trails to spot scarecrows and jack-o-lanterns along the way. The spirit of Halloween takes over at night, when Thanksgiving Point and Spanish Forks turn into Insanity Point. Adults and children aged 12 and up can check out the haunted barn, hay maze, and, of course, the haunted corn maze.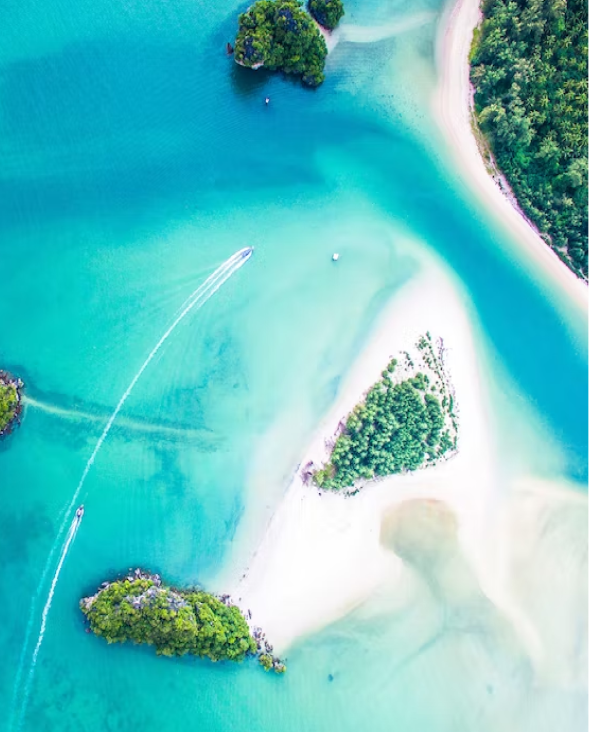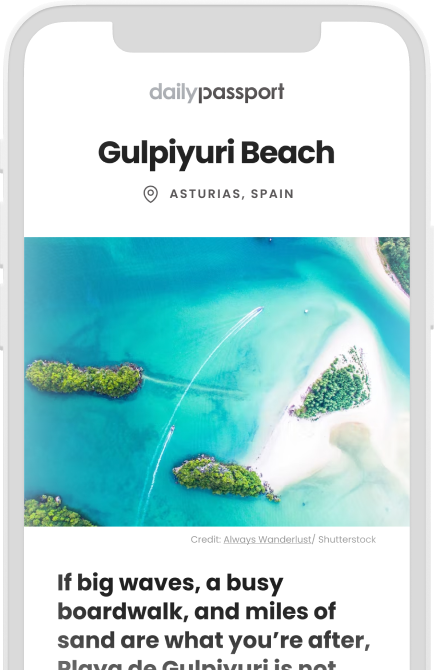 The world is waiting.
Daily Passport is your ticket to the four corners of the earth. Start exploring today.
Please enter valid email.
By subscribing you are agreeing to our Privacy Policy and Terms of Use.