Picture a beach and you'll probably think of sugar-white sands, warm blue waters, and maybe even a palm tree or two. There's certainly nothing wrong with this classic ideal of a beach, but the world is also filled with wonderfully weird beaches to soak in — ones with unusually colored sands, interesting rock formations, and even toasty hot waters. Grab your sunscreen and explore the 15 of the planet's most unique beaches.
Papakōlea Beach – Hawaii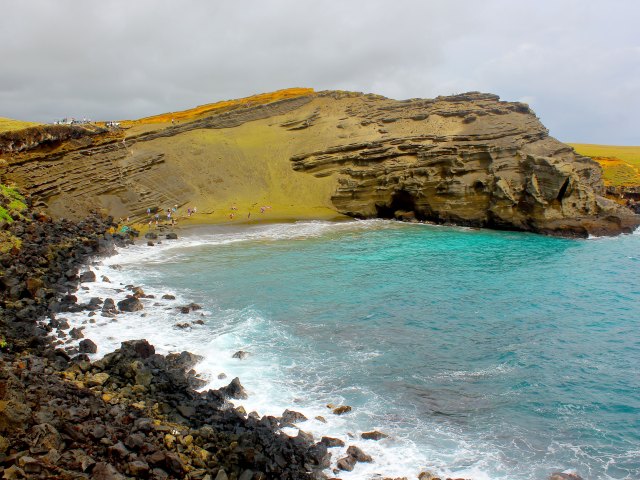 Color other beaches green with envy: This emerald-hued stretch on Hawaii's Big Island is one of only a handful of green sand beaches in the world. Papakōlea's stunning sands are the result of small crystalline particles that were formed when the Mauna Loa volcano erupted about 50,000 years ago. These olivine silicates are heavy and don't wash out to sea as easily as lighter crystals, tinting the beach a lovely deep green.
Lake Laugarvatn – Iceland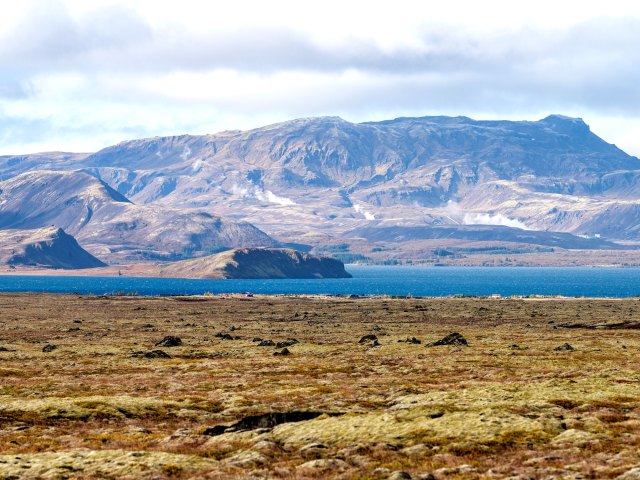 Eating sandwiches on the beach isn't uncommon, but sandwiches made with bread baked on the beach itself — in sands heated by volcanic lava — is something else. Lake Laugarvatn is located in a region of Iceland where cracks in the tectonic plates allow water scalded by the volcanic hotbed to make its way up to the lake's shore. Locals dig a hole in the boiling sands, nestle rye dough in a metal pan, and wait for the delicious results. Hardboiled eggs (also cooked in the sand), a bit of butter, and a slice of smoked fish make for an unusual — and tasty — picnic.
Playa del Amor – Mexico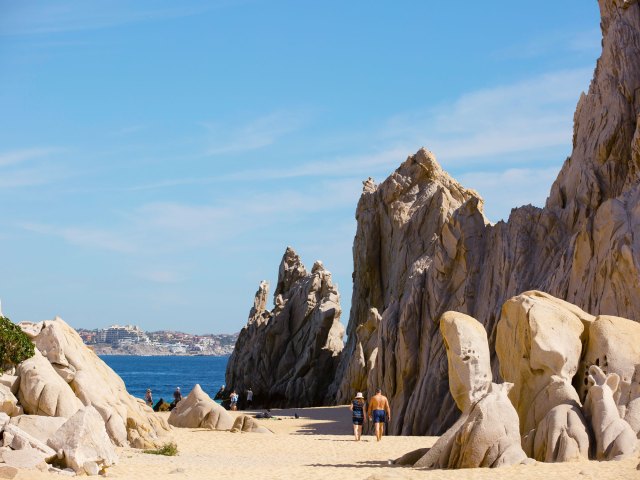 Playa del Amor wouldn't be out of place in a James Bond movie — in fact, this secluded strip of sand may be the world's most picturesque bomb site. Located on the Marietas Islands off the coast of Puerto Vallarta, the crater that reveals "Hidden Beach" is said to have been created when the Mexican military used the deserted islands for target practice. To access Playa del Amor, visitors must swim through a short tunnel before emerging onto the secret sands. Don't forget to bring a thermos of martinis (shaken, not stirred).
As Catedrais – Spain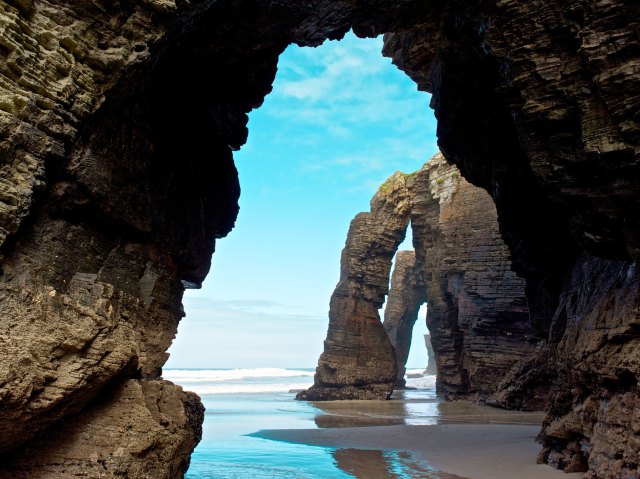 There are plenty of churches in the Lugo province of northwestern Spain, but only one Cathedral Beach. Over millennia, the Cantabrian Sea has sculpted the rocks into a natural monument of towering arches, flying buttresses, soaring stone pillars, and hidden caves, which can be explored when the tide is low.
Giant's Causeway – Ireland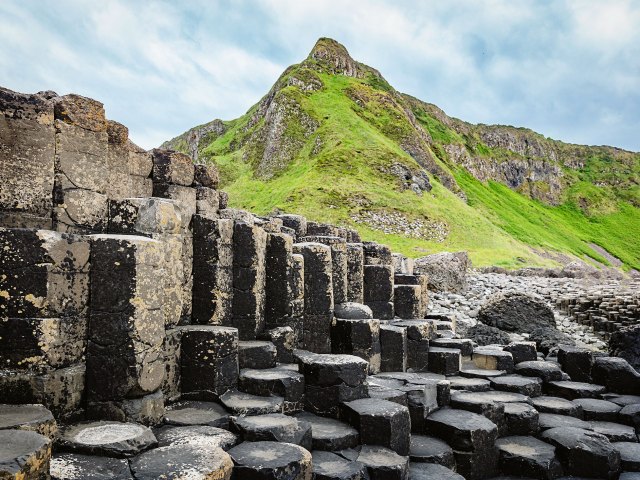 Legend has it that this unusual beach was formed by giants walking across the sea from Northern Ireland to Scotland. Geologists, however, say that this UNESCO World Heritage Site was formed 50 to 60 million years ago, when volcanic activity pushed up about 40,000 black basalt columns that jut from the sea. It resembles a carefully paved avenue — fit for a giant's jaunt off to the next pub.
Shell Beach – Australia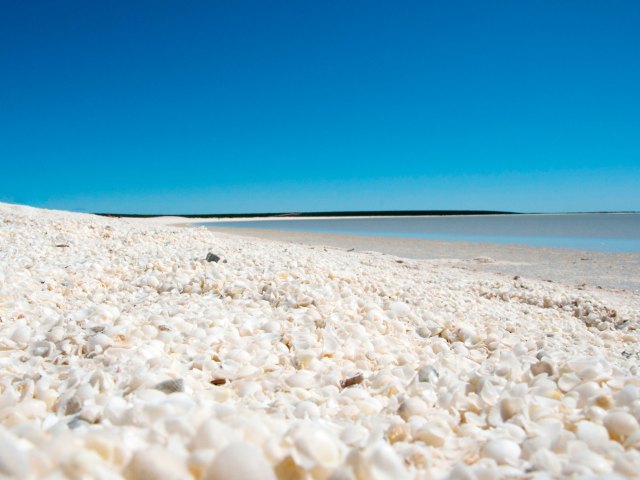 Don't even think of a barefoot stroll along this stretch of beach off Western Australia's Shark Bay — Shell Beach requires shoes, and sturdy ones at that. The waters off the coast of this UNESCO World Heritage Site contain just the right amount of salt for cockle clams to flourish without predators. This leaves Shell Beach blanketed with millions (billions, probably) of mollusk shells for a stretch almost 40 miles long and 30 feet deep.
Koekohe Beach – New Zealand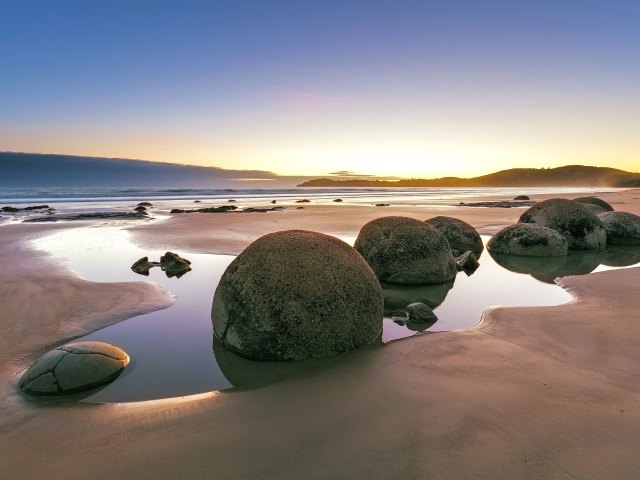 Game of Thrones fans will groove at the massive spherical boulders on this protected scientific reserve on New Zealand's Otago Coast. Created of mud, silt, and clay over five million years, the Moeraki boulders have a calcified outer layer that has cracked on top, giving rise to the nickname "Dragon's Egg Beach."
Cox's Bazar Beach – Bangladesh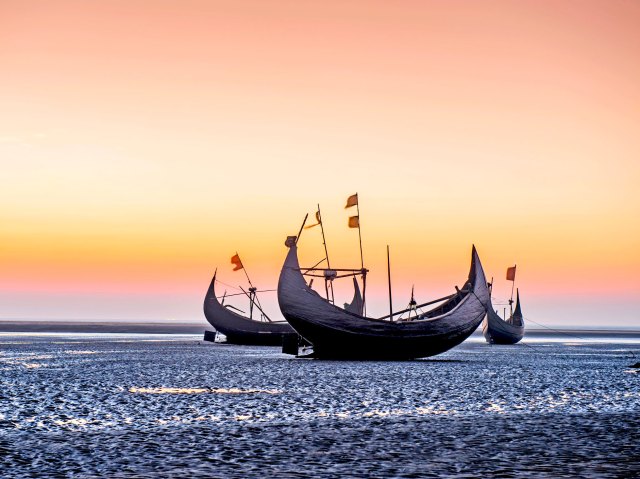 Love long walks on the beach? How about really long walks? Visitors to Cox's Bazar Beach on the Bay of Bengal can stroll 93 miles before reaching the end of one the world's longest beaches. Stretching 600 feet wide at high tide, the beach can also contain that childhood nightmare — quicksand — during ebb tides. As long as you carefully avoid it, the beach is otherwise lined with many hotels and restaurants interspersed with long miles of blissfully uninterrupted sand.
Skeleton Coast – Namibia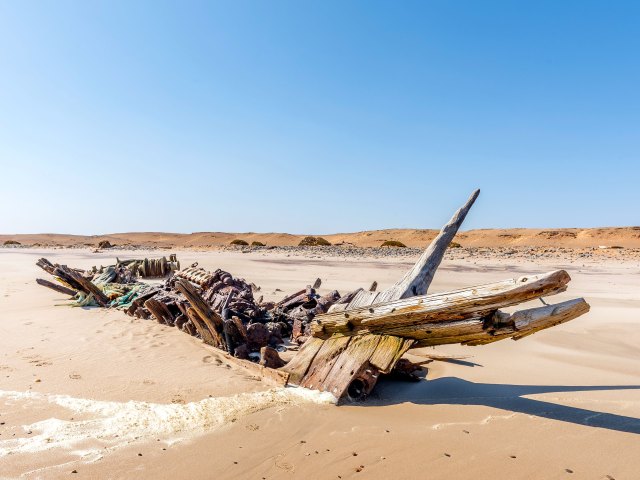 Butting up to the frigid waters of the Atlantic Ocean, western Namibia's Skeleton Coast runs 300 unforgiving miles of shipwrecks, skulls, and dense fog that rises up to obscure the desert dunes. This rarely visited and remote area is also home to an enormous colony of seals at Cape Cross, covering every available inch of sand. Rare desert lions prowl, taking down the fat seals and the occasional seabird. Because of the dense fog and inhospitable weather, this stretch of coast was the site of countless shipwrecks, with rusting remnants partially covered in the sands.
Sea of Stars – The Maldives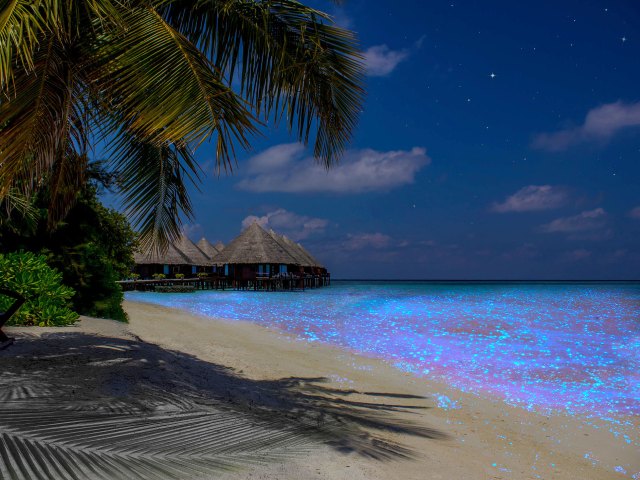 Tiny creatures about a millimeter long called ostracod crustaceans (also known as seed shrimp) create a magical nighttime show in the Maldives, illuminating the waves so that the glowing surf shimmering against the sand appears to contain a galaxy of stars. One of the best places to see this is Mudhdloo Island in the Baa Atoll. Visit in late summer to observe this unearthly phenomenon.
Maho Beach – St. Maarten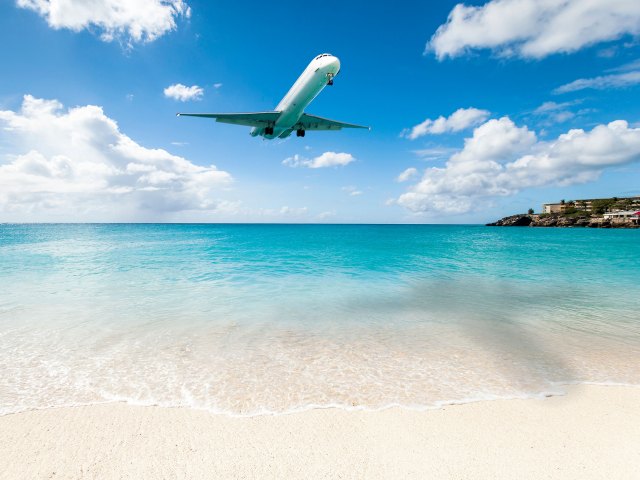 On the Dutch side of this Caribbean island, the beach is natural but the attraction is 100% human-made. Maho Beach is adjacent to Princess Juliana International Airport, close enough to the runway that beach goers can be blown about by the jet blast. This up-close-and-personal proximity makes the beach popular with aviation buffs as well as sun worshippers, and plane spotters come from all over the planet to take in the iconic site (and snap an incredible photo).
Hot Water Beach – New Zealand
On the east coast of the Coromandel Peninsula, thermal springs filter up through the sands of Hot Water Beach between high and low tides. Bring a shovel (or rent one) and dig your very own hot tub, right on the shore. Don't get too relaxed, though: The hot springs are quite close to the water even at low tide, and no one wants their soak interrupted by an unexpected breaking wave.
Rabida Island – Ecuador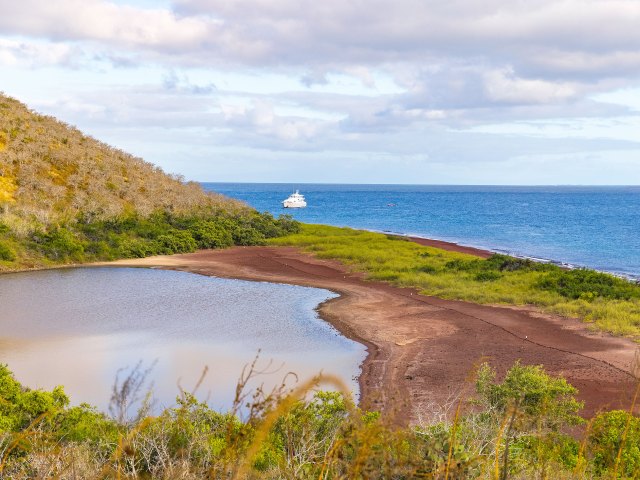 This small island is the only place in the Galápagos that is home to nine varieties of Charles Darwin's famous finches. Blue-footed boobies, sea lions, and brown pelicans share the deep red sands, which have their distinctive color due to the high iron content of Rabida's basaltic lava.
Boulders Bay – South Africa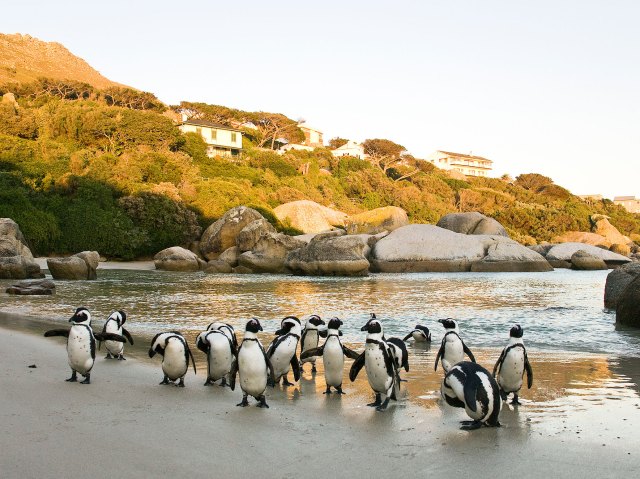 Whose lifelong dream isn't to swim with penguins? This secluded beach in a Cape Town suburb is the only place in the world to encounter endangered African penguins up close. You can splash (but not touch) our tuxedoed flightless friends who hang out on the sands here. Started from one breeding pair in 1982, the protected colony now numbers between 2,000 and 3,000, in all their waddling glory.
Horseshoe Bay Beach – Bermuda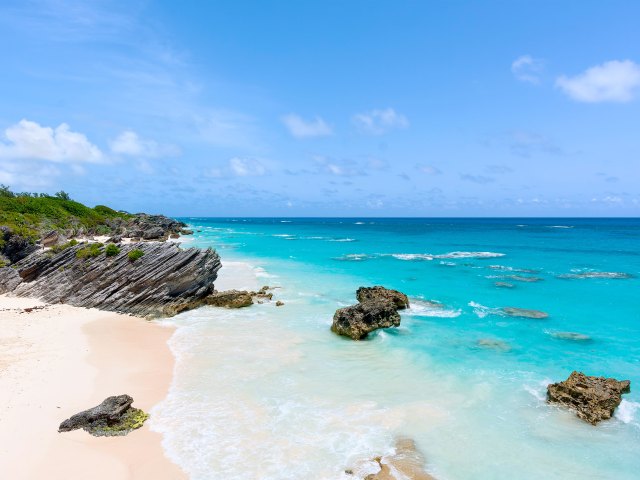 The phrase "pretty as a picture" — and pictures themselves — can't begin to do justice to Horseshoe Bay Beach, but that hasn't stopped it from becoming one of the world's most Instagrammed beaches. As soon as you see the bright turquoise water lapping against petal-pink sand, you'll understand why. The cotton candy coloring is a result of crushed microscopic marine insects, known as foraminifera, and shells.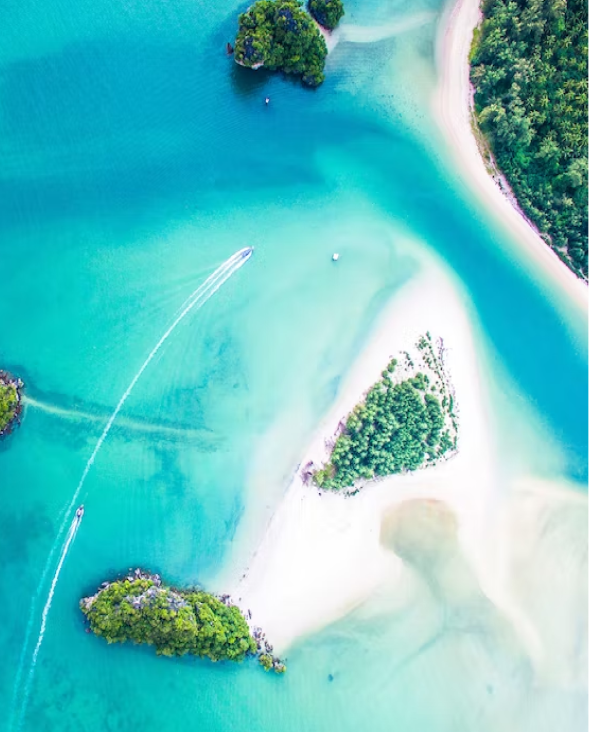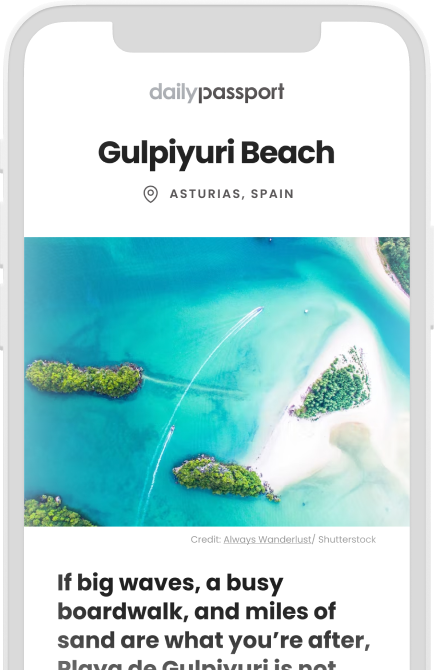 The world is waiting.
Daily Passport is your ticket to the four corners of the earth. Start exploring today.
Please enter valid email.
By subscribing you are agreeing to our Privacy Policy and Terms of Use.