From towers soaring over 2,700 feet into the sky to steel structures weighing in at more than 40,000 tons, modern architecture has given birth to some of the most impressive and inventive buildings ever constructed. These feats of design are found in all corners of the globe, adding flair to the modern skylines of cities like Dubai, London, and Singapore. Here are seven modern wonders that every architecture lover should know about.
Burj Khalifa – Dubai, United Arab Emirates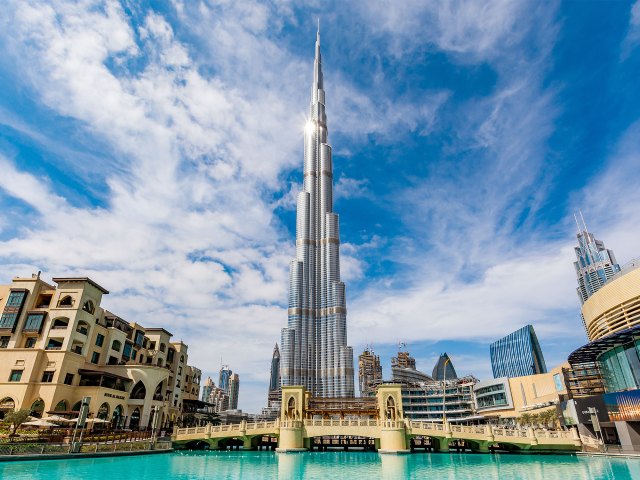 As of 2023, no building has ascended to greater heights than Dubai's Burj Khalifa, which reaches 2,720 feet tall and contains over 160 stories. This architectural marvel, the brainchild of American architect Adrian Smith, is the holder of several world records — including tallest building, highest outdoor observation deck (located on the 124th floor), and elevator with the longest travel distance (spanning a distance of 2,625 feet between its highest and lowest stops).
Construction began on the Burj Khalifa in January 2004 and was completed in September 2009, requiring 22 million human-hours of work to facilitate its creation. The Burj Khalifa hosts full-time office tenants and residents, but the mammoth structure also welcomes plenty of tourists to experience its many groundbreaking features. Whether you're interested in checking out the Dubai Fountain on the ground level, traveling up to the observation decks on levels 124 and 125, or relaxing at the world's highest lounge on levels 152 through 154, the Burj Khalifa is all but guaranteed to leave you awestruck.
The Shard – London, England
While the Burj Khalifa holds the global height record, the Shard in London stands 1,016 feet and 72 stories high, making it the tallest building in Western Europe. Much like its name suggests, the building is modeled after a shard of glass and boasts an expansive glass exterior to reflect the vision of Italian architect Renzo Piano. The building's glass facade is composed of 11,000 panels and encompasses an area of 602,779 square feet, making it equivalent in size to eight football pitches.
The Shard opened its doors on February 1, 2013, and began welcoming visitors to bask in the lofty "View from The Shard" observation deck. The observatory takes up the building's 68th, 69th, and 72nd floors, the latter of which features an open-air skydeck providing unobstructed views of London and its surroundings for up to 40 miles on a clear day.
Solomon R. Guggenheim Museum – Bilbao, Spain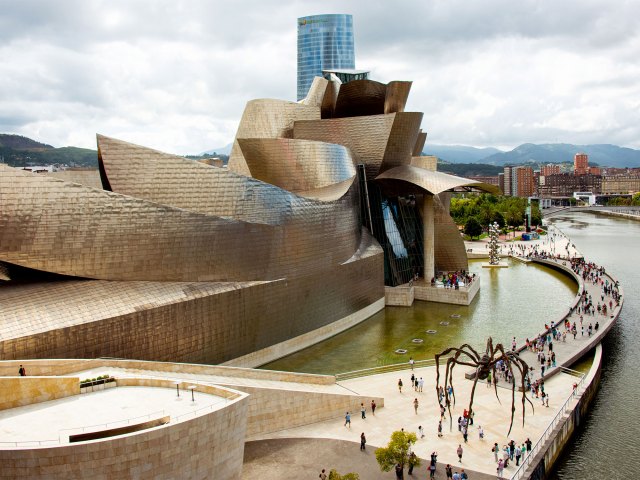 Famed American architect Frank Gehry brought his unique vision to life in 1997 with Bilbao's Guggenheim Museum. In 2005, the distinctive curvaceous building was voted by Gehry's architectural contemporaries as the most definitive and influential construction project of the late 20th century. Prior to the Guggenheim's construction, the site was a port area, but in 1991 the Spanish government allotted $170 million to revitalize the district and facilitate the museum's construction.
Bilbao's Guggenheim hosts an impressive 120,000 square feet of exhibition space and encompasses 260,000 square feet in total, which is further broken down into 20 galleries displayed over three floors. It's the exterior of the building, however, that's perhaps its most impressive feature. The curvy, titanium-coated structure was designed to catch the sunlight and produce a visual rippling effect. At the center of the museum sits a large, light-filled atrium to welcome visitors — an average of 4 million tourists came to Bilbao's Guggenheim during each of its first three years of operation.
Beijing National Stadium – Beijing, China
Nicknamed "the Bird's Nest" thanks to a striking design that mimics the natural appearance of a bird's nest, the Beijing National Stadium — built for the 2008 Summer Olympics — is the world's largest steel structure. The arena used 110,000 tons of steel during construction, though the steel serves no practical purpose and is entirely decorative. That wasn't its original intention, however, as the steel was initially added to support a stadium roof that was ultimately cut from the final design.
The stadium's joint architects, Jacques Herzog and Pierre de Meuron, were inspired by the idea of designing a building that looked akin to a single thread wrapped around a ball. The final product reaches 225 feet tall, spans a distance of 1,092 feet long by 971 feet wide, and features an outer facade that sits at a 13-degree incline. In all, the structure weighs in at a staggering 42,000 tons.
Palm Jumeirah – Dubai, United Arab Emirates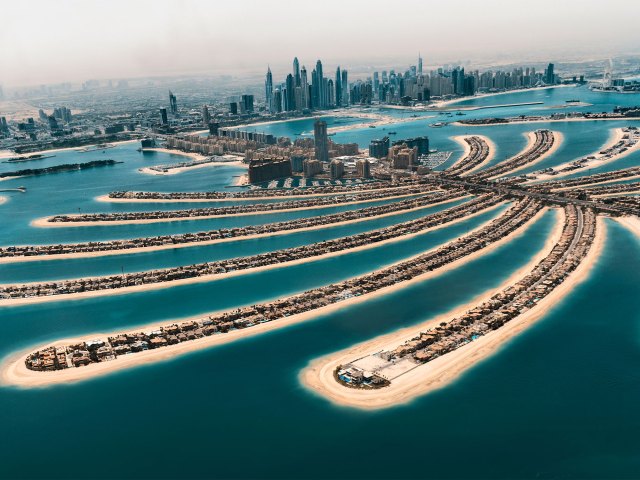 Emirati architecture isn't just known for its towering buildings. One of Dubai's most ambitious projects may be one that barely rises above sea level, instead jutting out into the Arabian Gulf where there was no land whatsoever to build upon just over two decades ago. Enter the Palm Jumeirah, a remarkable human-made island off the Dubai coast that forms the shape of a giant 17-fronded palm tree. With construction starting in 2001, the project utilized approximately 7 million tons of rock and over 4 billion cubic feet of sand and reportedly cost $12 billion to develop. After six years of work, Palm Jumeirah (the first of three planned islands) welcomed its first occupants in 2007.
The island's crescent landmass along its edge stretches 650 feet and 10.5 miles long, with 1,380 new acres created for the project. With apartments, retail, and hotels scattered along its "trunk," the Palm Jumeirah is not only a permanent home to over 10,000 residents, but also a must-visit site the next time you're in Dubai.
Marina Bay Sands Hotel – Singapore, Singapore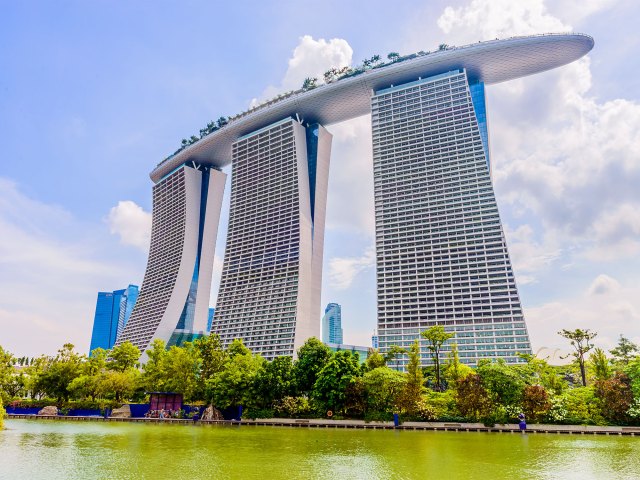 First opened in 2010, the Marina Bay Sands contains 2,561 hotel rooms, a casino, an exhibition center, a museum, a mall, and a theater. But perhaps most impressive of all an infinity pool at the top — it is the world's largest and highest pool, sitting 57 stories above the streets below and holding 376,000 gallons of water.
Designed by famed architect Moshe Safdie, Marina Bay Sands is made up of three separate towers ascending between 636 and 679 feet in the air, which are each connected by a 1,120-foot-long platform at the top. The platform, called the Sands SkyPark, is made up of over 7,000 tons of steel; it was assembled at ground level into 14 pieces, then hoisted into the air to form the final structure — which is longer than if the Eiffel Tower were laid on its side. Though it was an incredibly complex building to design, during construction, a new floor of the hotel was finished every four days, making it the most efficient and fast-paced development project of this scale in Singapore's history.
Tokyo SkyTree – Tokyo, Japan
Serving a dual purpose as a broadcasting and observation tower, the Tokyo SkyTree was built between 2008 and 2012. The 2,080-foot-tall tower — the world's third-tallest structure after the Burj Khalifa and Malaysia's Merdeka 118 — has two distinct observation decks. One is the Tembo Deck located at 1,148 feet high, and the other is the Tembo Gallery at 1,480 feet above ground. The tower is supported by a core 1,230-foot column which is intended to counteract sway in the event of an earthquake. The building nearly doubled the record height of Japan's previous tallest building, the Tokyo Tower, which extends 1,092 feet high.
The SkyTree was modeled after an ancient pagoda, making it uniquely reflective of Japan's history despite being such a technologically advanced structure. From the SkyTree's two observation decks, visitors can view the beauty of nearby Mt. Fuji and panoramic views of the world's most populous city.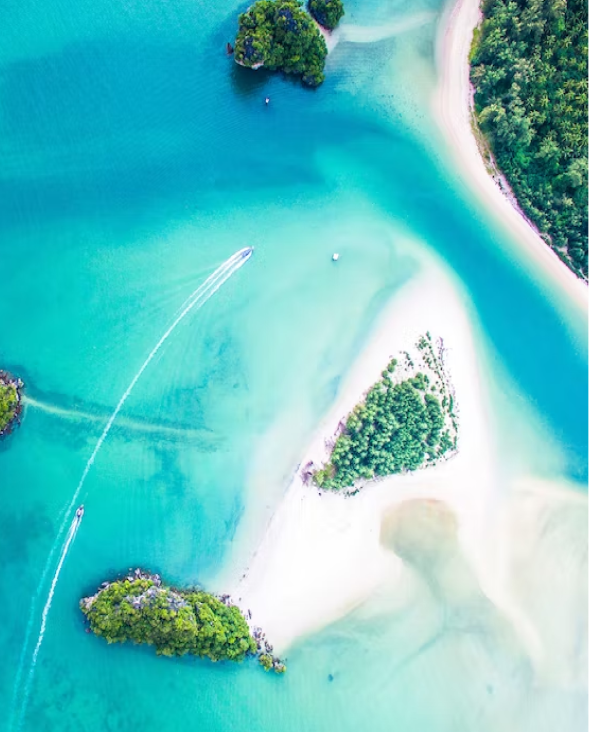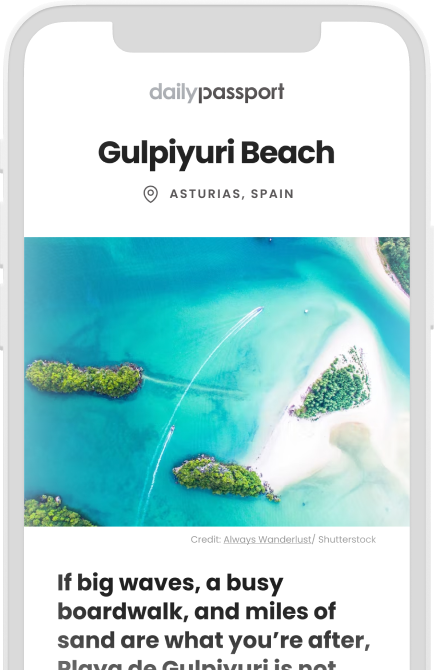 The world is waiting.
Daily Passport is your ticket to the four corners of the earth. Start exploring today.
Please enter valid email.
By subscribing you are agreeing to our Privacy Policy and Terms of Use.