You see it annually when the ball drops on New Year's Eve. You're familiar with its giant neon billboards and epic hustle-bustle as portrayed across pop culture (and on postcards). Even if you haven't visited yet, New York City's Times Square — at the junction of Broadway and Seventh Avenue between West 42nd and 47th Streets, in the heart of midtown Manhattan's theater district — is one of the most emblematic landmarks in the world. For such a heavily trafficked and referenced spot, however, this center-of-it-all hides plenty of secrets and surprises. How much do you know about it? Read on for eight fascinating facts about the so-called "Crossroads of the World."
It Wasn't Always Called Times Square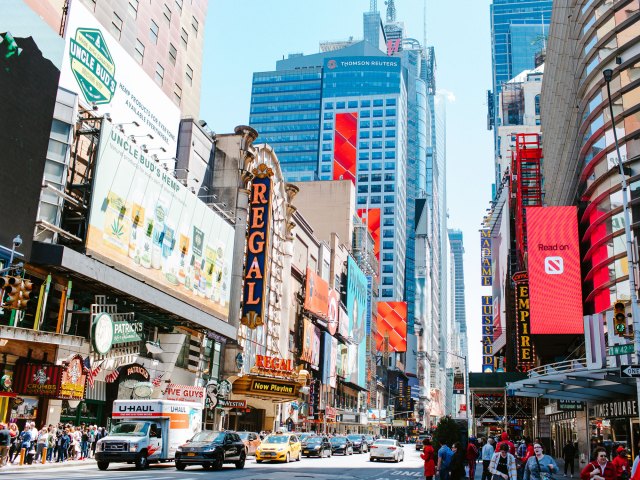 For such a conspicuous landmark, Times Square had humble beginnings. Once an area surrounded by countryside and used for farming by American Revolution-era statesman John Morin Scott, the area now known as Times Square fell into the hands of real estate mogul John Jacob Astor in the 1800s. By the second half of the 19th century, it had become the center of the city's horse carriage industry and home to William H. Vanderbilt's American Horse Exchange. City authorities named it Long Acre Square, which was a reference to London's historic carriage and coach-making district. This name remained until 1904, when The New York Times moved its headquarters to a lavish new skyscraper called One Times Square. Just eight years later, the newspaper relocated again to a nearby building, but the name Times Square stuck.
Its Eponymous Billboard-Clad Skyscraper is All But Empty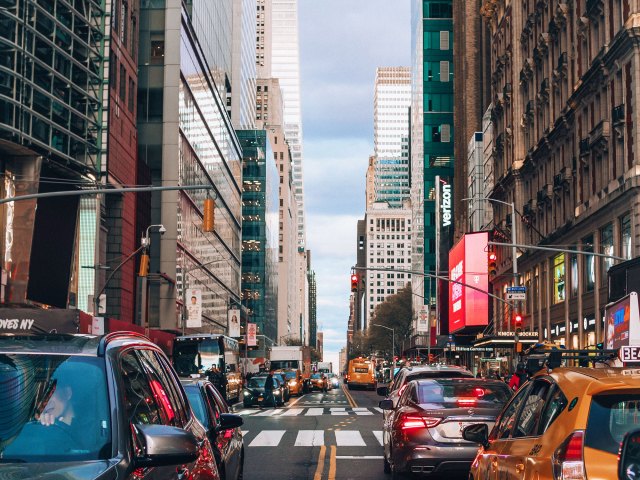 Decorated with dazzling neon-lit commercial billboards, One Times Square remains one of New York City's most emblematic skyscrapers. This 363-foot-tall, 25-story structure was the tallest building in the city when built in 1904 for The New York Times, and it paved the way for the bustling commercial area around it. Yet more than a century later, despite being surrounded by some of the world's most expensive real estate, the skyscraper is almost completely unoccupied, save for a Walgreens pharmacy situated on the ground floor. Walgreens leases all the building's space up to the 21st floor; however, the company generates more income from billboards on the building's exterior than it would from tenants. The only other tenant is Jeff Straus, who coordinates the square's New Year's Eve celebrations from a 22nd-floor office.
Hundreds of Thousands of Pedestrians Cross the Square Every Day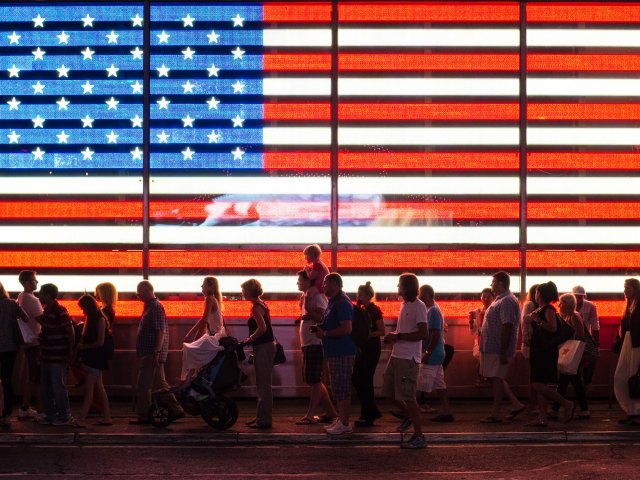 Welcoming around 360,000 pedestrians per day as of late 2019, Times Square is one of the most visited places on the planet. Wondering how it's possible to make an accurate count of so many people? It's done with 18 surveillance cameras attached to six buildings set around the square that monitor 35 different locations. During peak times, as many as 450,000 pedestrians traverse the square. And on several occasions, the square has witnessed estimated gatherings of over one million people (though some sources claim those figures have been inflated). Two of the largest gatherings in Times Square were on August 15, 1945, for a celebration that marked the end of World War II, and for the 1999 millennium celebration on New Year's Eve.
One of History's Most Famous Photos Was Taken Here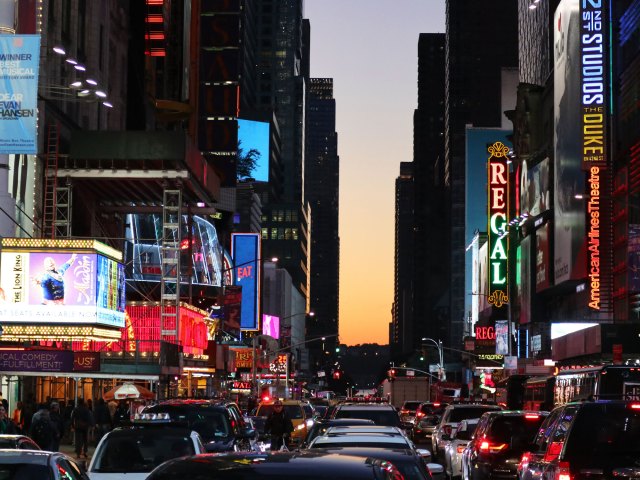 If there's one image that encapsulates the jubilant end of World War II, it's Alfred Eisenstaedt's V-J Day in Times Square. The photo depicts a carefree moment when a U.S. Navy sailor embraced and kissed a nurse against the backdrop of celebrations in Times Square. It was taken on August 14, 1945 — the day Japan surrendered, bringing the war to an end — and first appeared in Life magazine later that month. However, since the photograph was taken at a spontaneous moment, it wasn't until decades later that the identity of the photograph's subjects was determined. With the help of facial recognition technology, the man was confirmed in 2005 to be U.S. Army veteran George Mendonsa; the woman is Greta Zimmer Friedman. A similar photo of the embrace by U.S. Navy photojournalist Victor Jorgensen provided inspiration for artist Seward Johnson's series of computer-generated statues called Unconditional Surrender, which have been displayed in various cities around the country.
There Are Fascinating Works of Public Art — If You Know Where to Look
Stand at the point where Broadway meets 7th Avenue and you might hear an unusual humming sound resonating from the grate of a steam vent. The sound is intentional, part of an art installation named Max Neuhaus's Times Square. Some say it resembles a pulsating drone, while to others it is reminiscent of the chime of church bells. Other public art works adorn Times Square, too: Stop by just before midnight and you'll see the billboards turn into Midnight Moment, the world's largest and longest-running digital exhibition. And of course, don't forget to visit the lifelike statues of entertainer George M. Cohan and soldier and military chaplain Francis P. Duffy, which grace the Red Steps, part of the TKTS Booth for Times Square and a great vantage point to take in all the action.
Astronauts Can See the Square from Outer Space
Thanks to the many neon signs and billboards, Times Square and the Great White Way of Broadway are easily visible from the International Space Station — one of the few places on Earth that astronauts can easily identify. And that's by design: A bylaw stipulates all buildings on the square have a minimum amount of lighting. Due to the square's high visibility, both in space and on Earth, companies pay hefty annual fees to advertise here — the latest figures estimate somewhere between $1.1 million and $4 million per year. For the square's largest billboard, it can cost up to $3 million per month.
The New Year's Eve Ball Drop Has Taken Place for Over a Century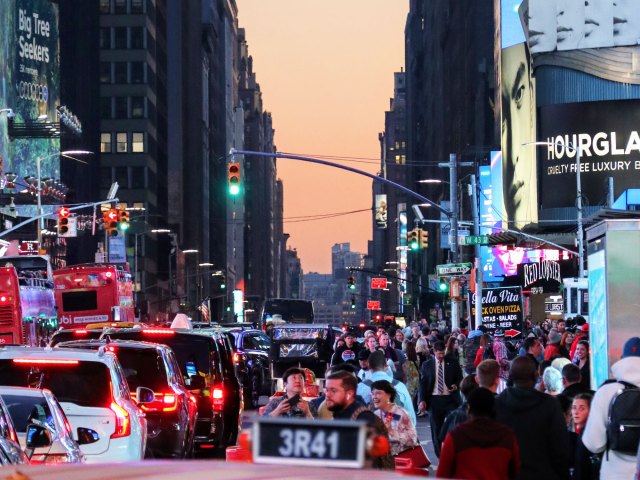 Since 1907, people from all corners of the planet have traveled to Times Square on December 31 to wait excitedly for the glistening New Year's Eve ball to drop. The ball descends on a custom-designed flagpole at the top of One Times Square as a digital clock marks the 60-second countdown to midnight. Sign designer Artkraft Strauss created the first ball out of iron and wood, and it featured 100 25-watt light bulbs. Today's Waterford Crystal Times Square New Year's Eve Ball weighs 11,875 pounds and features 2,688 crystal triangles and 32,256 multicolored LED lights. Only two years have passed without a ball drop: 1942 and 1943, when the bright lights of Times Square were switched off during wartime.
Featured image credit: Shawn Xu/ Unsplash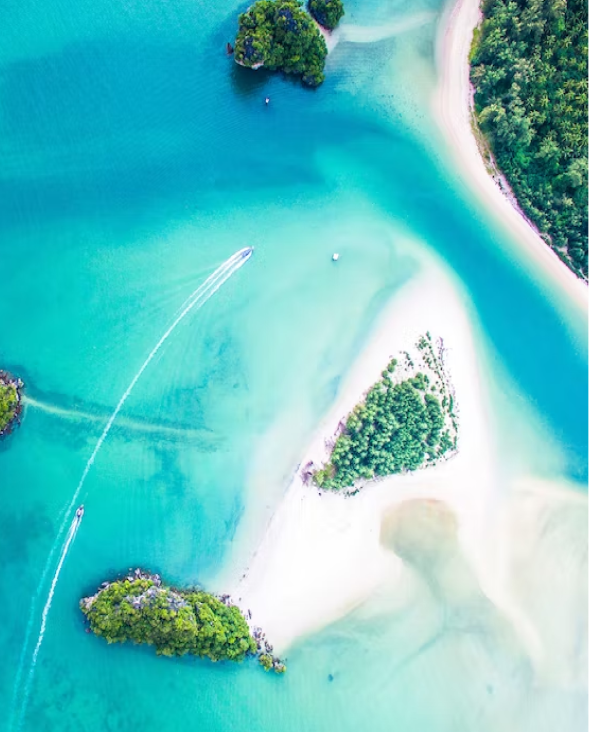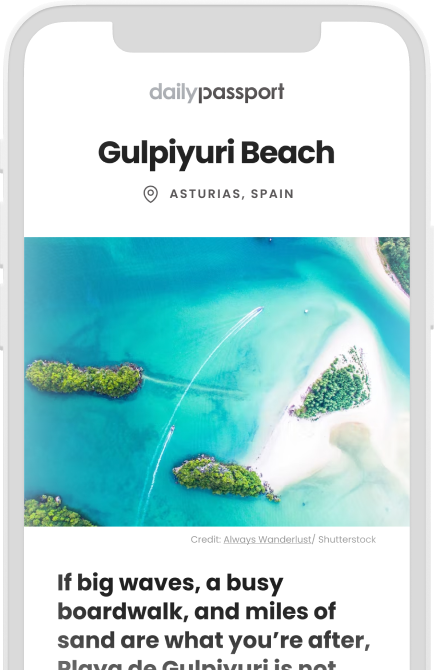 The world is waiting.
Daily Passport is your ticket to the four corners of the earth. Start exploring today.
Please enter valid email.
By subscribing you are agreeing to our Privacy Policy and Terms of Use.