When envisioning spring travel destinations, you might think of Skagit Valley in Washington state, with its famous tulip festival, or popular spots for spring breakers like Gulf Shores in Alabama. Instead of following that well-beaten path, why not head to one of the more underrated places in the U.S. to usher in the season? From quaint New England islands to the wilderness of Alaska, here are five spots where you can avoid the crowds on your next spring getaway.
Nantucket, Massachusetts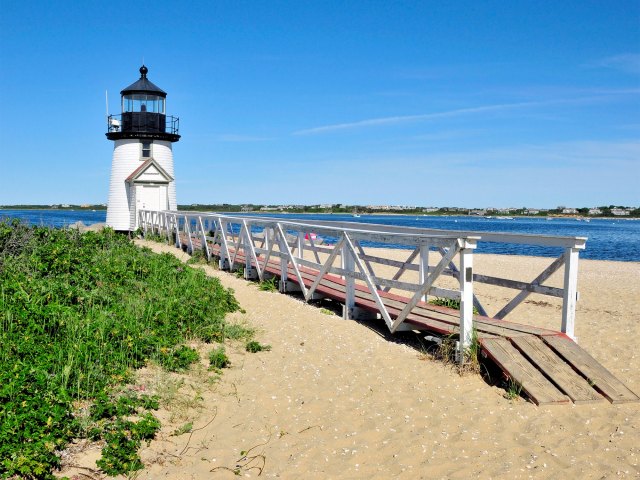 Most tourists come during the summer to enjoy the idyllic beaches of this 48-square-mile island, accessible via a leisurely two-hour ferry ride from Cape Cod or a quick 25-minute Cape Air flight from Hyannis. But visit Nantucket in late April before the crowds arrive to enjoy a favorite experience among locals: the Daffodil Festival. The island's landscapes are blanketed with over 3 million bright yellow blooming daffodils for the festive event, which takes place over four days around the last weekend in April. Many are held at Children's Beach, just a five-minute walk from the Nantucket ferry terminal. Celebrations include the Daffodil Hat Parade (which shows off an array of elaborate daffodil hats), a children's parade, and even a dog parade, along with live entertainment. An antique car and motorcycle parade also travels from Main Street to quaint Sconset Village, where a tailgate picnic is held.
Water temperatures average in the mid-50s to the mid-60s Fahrenheit, which makes it a bit too chilly for swimming, but there are many other fascinating attractions to visit. Explore a whaling museum, stroll the boutique-lined cobblestone streets in the town of Nantucket, or take your pick from three historic lighthouses: Great Point, Brant Point, and Sankaty Head.
Vail, Colorado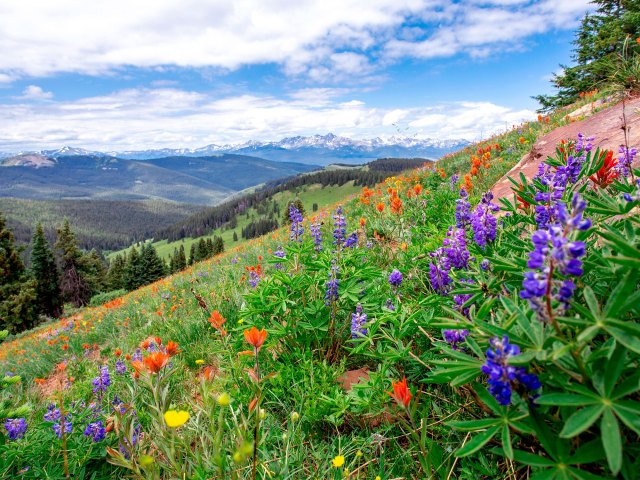 Often considered a winter destination, Vail may be even more enjoyable in spring, with fewer crowds on the slopes at the end of the ski season, which typically falls in late April. If you're here before the snow melts, you can take advantage of over 5,000 skiable acres at Vail Mountain. In early April, the Après at the Amp music festival is also held at the Gerald R. Ford Amphitheater featuring live performances ranging from electronic dance to hip-hop and indie music.
Once the weather starts to warm, there will be all sorts of outdoor adventures to consider. With all the snowmelt, May is the ideal time for whitewater rafting, with Class I to Class V River trips available on the Colorado, Eagle, and Arkansas rivers. Many hiking trails open around the same time, offering panoramic views of the mountains before the summer crowds arrive in full force. One of the most popular hikes is the moderate Booth Falls route, a 4.2-mile out-and-back trek that will bring you to a 60-foot-tall waterfall. Shrine Pass and Lost Lake Trail are two other favorites in Vail Valley.
Yellowstone National Park, Wyoming/Montana/Idaho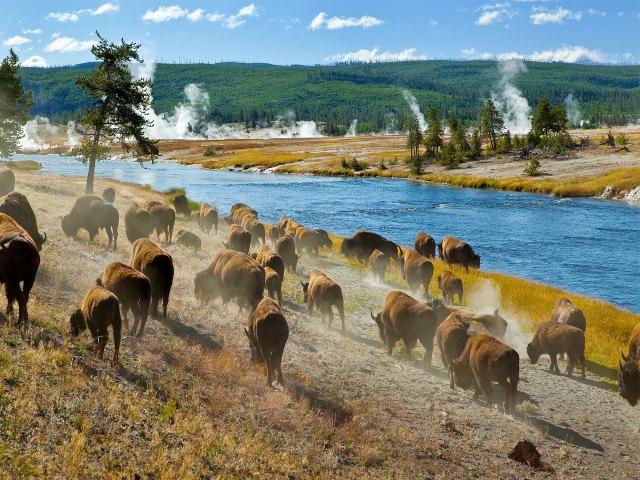 As one of the most popular national parks in the U.S., Yellowstone National Park attracts nearly 5 million visitors every year, but most of them arrive between May and September. If you come earlier in spring, not only will you have room to spread out, but it will also be peak waterfall season in the Grand Canyon of the Yellowstone. The canyon's Lower Falls sees 63,500 gallons of water flowing per second in a typical spring, compared to just 5,000 in the fall. In April and May, the bison, elk, and pronghorn calves make their first appearances in the park. Wolf pups and bighorn lambs are also sometimes spotted, while bears start to wander out of dens with their cubs, especially in the Lamar Valley region.
You also won't have to fight crowds to watch world-famous Old Faithful skyrocket water and steam as high as 135 feet into the sky in the Upper Geyser Basin. There are many other geysers to visit, with at least 150 of them located between Old Faithful and Biscuit Basin, including four major standouts: Grand, Daisy, Castle, and Riverside.
Jekyll Island, Georgia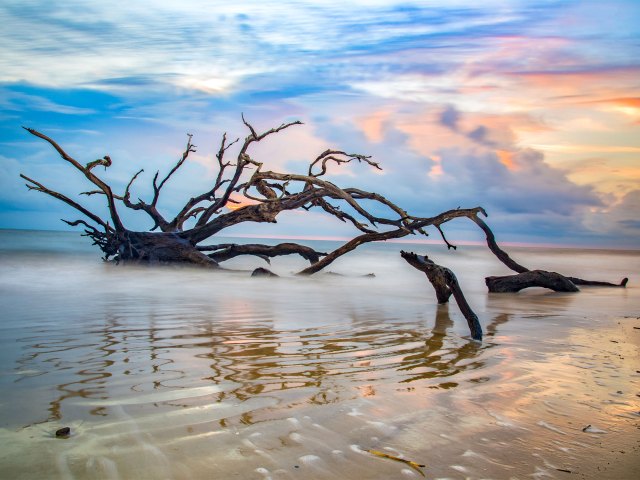 If you're looking for a beach escape with warm weather — minus the big spring break crowds — consider Jekyll Island, one of the Golden Isles of Georgia barrier islands. Temperatures in April and May range from the mid-70s to the low-80s Fahrenheit, and you'll find plenty of outdoor activities to make the most of it. Strolls along iconic Driftwood Beach at the north end of the island, with ancient gnarled driftwood and trees that make it look as if it's on another planet, or try horseback riding on the sand, a dolphin boat tour, or exploring the island by bike.
Spring brings many events to the island too, including the Turtle Crawl that benefits the Georgia Sea Turtle Center. The annual racing event — which features a virtual race along with 1K, 5K, and 10K race — takes place on the last Saturday of April to celebrate the start of the sea turtle nesting season. Throughout the year, the nature center and rescue rehabilitation facility welcomes visitors to learn all about the area's native turtles and even watch veterinarians as they rehabilitate the ill or injured animals.
Juneau, Alaska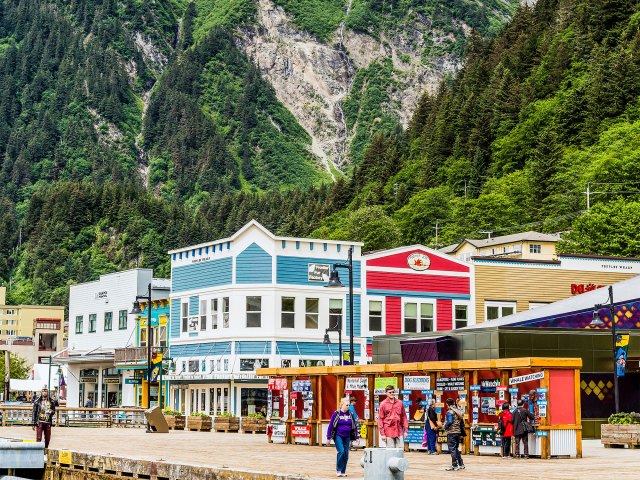 While Juneau is most popular to visit in summer, spring may be the best time of year to experience the Alaskan capital. It's a time of transition, with the snow beginning to melt, the days getting longer, and colorful wildflowers blooming. This is also when the bears are emerging from winter hibernation, making it a good time for bear-watching. It's not too early for whales, either — migrating humpbacks and gray whales start arriving in April. While orcas can be spotted year-round, there will be many more when the transient orcas arrive to hunt in early May. Some of the best birdwatching is also enjoyed in April and May, with over 280 bird species nesting right in Juneau, from tundra swans and rufous hummingbirds to bald eagles.
Juneau's spring festivals are also worth planning a visit around. The free Alaska Folk Festival, the biggest celebration of folk music in the state, features a week's worth of performances by national, Canadian, and local Alaskan musicians in mid-April. Over nine days in May, classical and jazz musicians from around the country perform as part of the Juneau Jazz & Classics Festival. A visit to Juneau in the spring also means you'll miss the big cruise ship crowds and enjoy the driest, clearest skies of the year.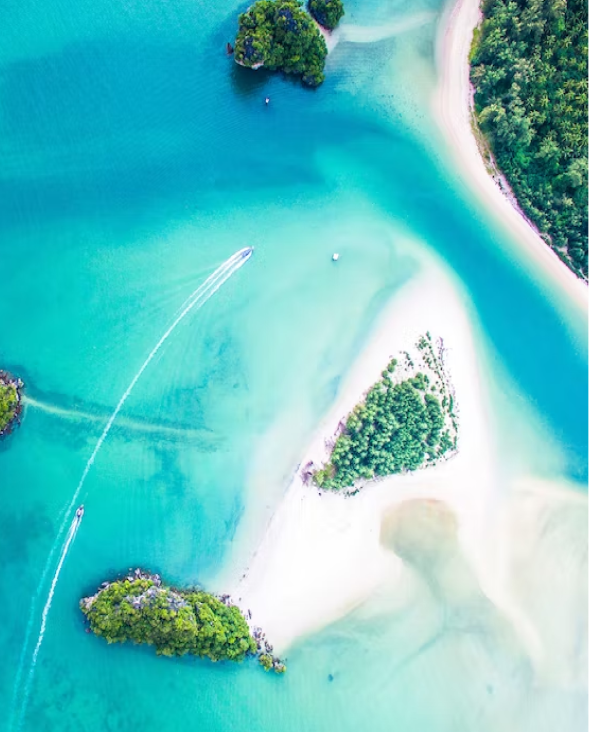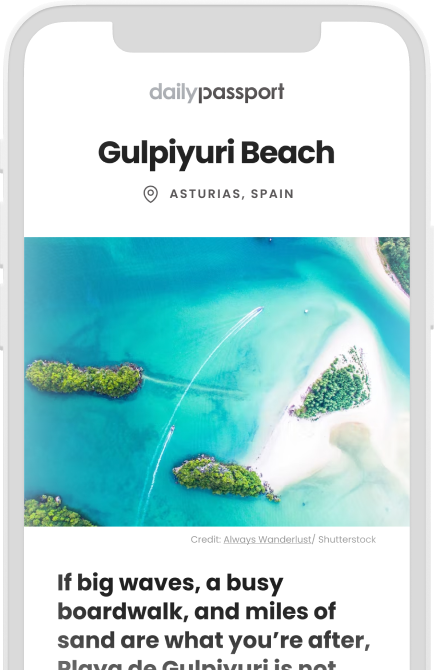 The world is waiting.
Daily Passport is your ticket to the four corners of the earth. Start exploring today.
Please enter valid email.
By subscribing you are agreeing to our Privacy Policy and Terms of Use.