Covered bridges were all the rage in the 19th century. By the 1870s, there were over 10,000 of these beautiful bridges spanning rivers across America, with their thoughtfully designed covers protecting the bridges from the elements. Sadly, many covered bridges have been lost to time, weather, and neglect. Those which remain standing often convey a sense of romantic nostalgia, and they are carefully treasured by their local communities and the National Society for the Preservation of Covered Bridges. From coast to coast, here are 15 of the most beautiful and historic covered bridges in the country to check out on your next road trip.
Red Covered Bridge – Princeton, Illinois
The sign painted about the Red Covered Bridge in Princeton, Illinois, is a throwback to what life was like when it was built in 1863. It reads, "Five dollars fine for driving more than twelve horses, mules, or cattle at one time or for leading any beast faster than a walk on or across this bridge." The Red Covered Bridge, located about two hours west of Chicago, is both the oldest and the longest covered bridge remaining in Illinois. It is also still open to traffic, though these days that means vehicles rather than mules or cattle. Made of wood and stone, it measures 149 feet in length and cost $3,000 to construct, equivalent to around $65,000 today.
Hyde Hall Covered Bridge – Cooperstown, New York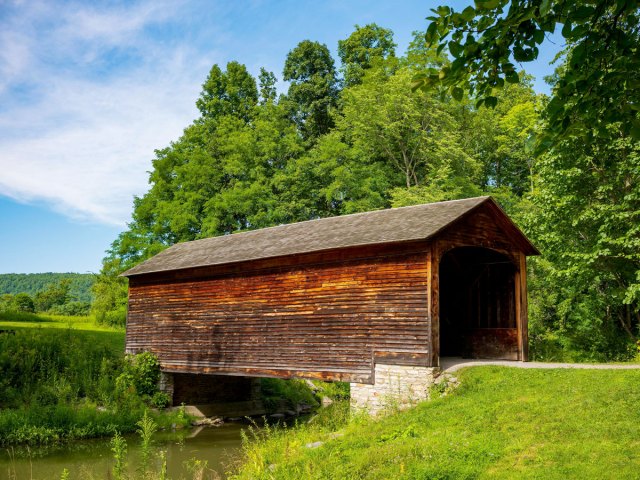 America's oldest standing covered bridge is located in Glimmerglass State Park in Cooperstown, New York. The Hyde Hall Bridge was built in 1825 and crosses Shadow Brook at the northern end of Otsego Lake. It was originally built to provide access to a nearby mansion. The single-truss bridge has a span of 53 feet and follows a traditional design known as the Burr design. Hyde Hall Bridge has been on the National Register of Historic Places since 1998 and is one of 33 remaining covered bridges in the state of New York.
Sachs Covered Bridge – Gettysburg, Pennsylvania
Pennsylvania has 213 covered bridges — more than any other state. Sachs Covered Bridge was built in 1852 to cross Marsh Creek, just outside of Gettysburg, and measures about 100 feet long. A little over a decade after its construction, its location meant it would serve as a shelter for both Confederate and Union troops during the pivotal three-day battle. In 1938, the Department of Highways named Sachs Bridge the state's "most historic bridge." In the past, the bridge was open to both vehicles and pedestrians; however, due to preservation efforts and concerns about its stability, it is now open only to pedestrians.
Colville Covered Bridge – Paris, Kentucky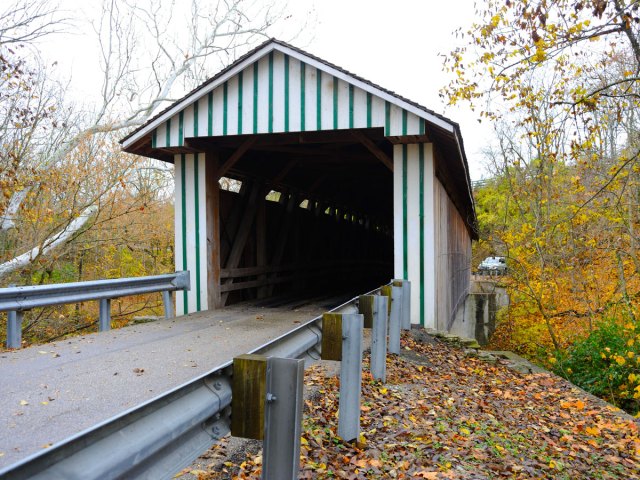 The Colville Bridge, with its distinctive green and white stripes, is one of 13 covered bridges left in Kentucky. The 124-foot bridge was built from yellow poplar in 1877 to cross Hinkston Creek. In 1937, the bridge was raised to help protect it from flooding in the creek; however, record flooding 60 years later saw water levels rise several feet above the bridge's decking, causing it to shift from the road. After careful repairs and renovations, it is once again open to vehicles. A popular site with local photographers, the Colville Bridge is believed to be haunted by multiple spirits.
Campbell's Covered Bridge – Landrum, South Carolina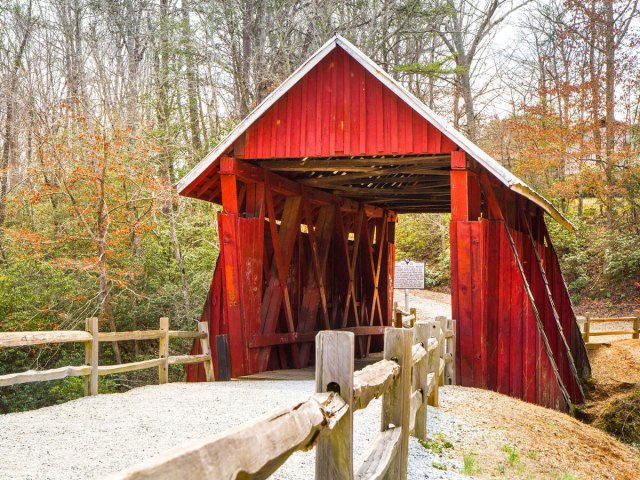 Campbell's Bridge may be just 35 feet long, but as the only covered bridge still standing in South Carolina, it is something of a state treasure. Local builder Charles Irwin Willis constructed the bridge across Beaverdam Creek and named it for then-landowner Lafayette Campbell. The red wood-and-iron bridge was a valuable addition to the local community; trips which had once taken a day to complete could now be made in little more than an hour. Campbell's Covered Bridge is now owned by Greenville County and is on public parkland, though it has been closed to car traffic since 1980.
Humpback Bridge – Covington, Virginia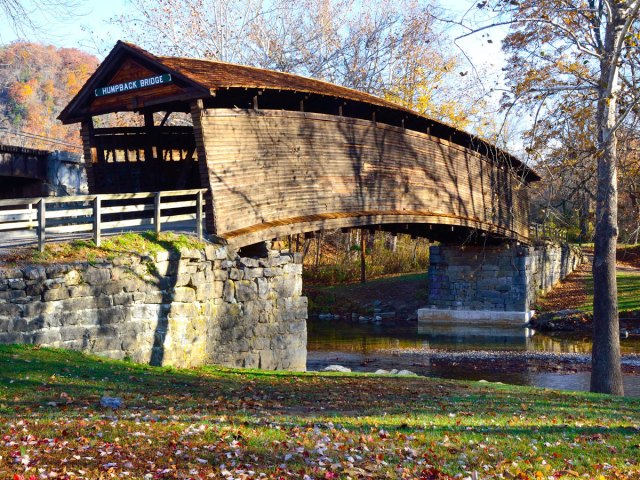 Virginia's Allegheny County is home to a 100-foot-long covered bridge that is notable for two reasons. Not only is it the state's oldest, but it also boasts an unusual arched shape, with its center point several feet higher than either end. Before the aptly named Humpback Bridge stood here, there were three other ill-fated bridges at this spot on Dunlap Creek. The first two were washed away by floods, and the third collapsed.
Luckily, the fourth version, built in 1857, is still going strong, and its designers, who believed the arch shape would offer better protection from floods, were correct in their assessment. After a steel bridge was built nearby in 1929, traffic over the bridge was halted, and a local farmer used the bridge for storage. A local women's group raised funds for its restoration in the 1950s, and the bridge opened to the public as part of a park.
Roseman Covered Bridge – Winterset, Iowa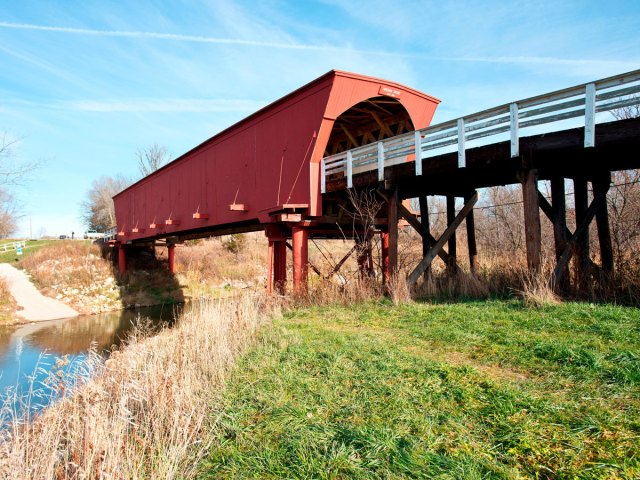 The covered bridges of Iowa have become known worldwide thanks to Robert James Waller's novel The Bridges of Madison County and the 1995 movie of the same name. Today, the famous county has six covered bridges remaining.
The most notable is the Roseman Covered Bridge, also known as the Oak Grove Bridge. Built in 1883, the bridge measures 225 feet long. As well as being associated with Clint Eastwood and Meryl Streep, the eye-catching red bridge with gleaming white rails has a haunted reputation among locals. According to legend, the bridge's name came from an 1892 chase involving a sheriff's posse and a man who seemingly rose up straight through the roof of the bridge and disappeared into thin air.
Horton Covered Bridge – Amnicon Falls, Wisconsin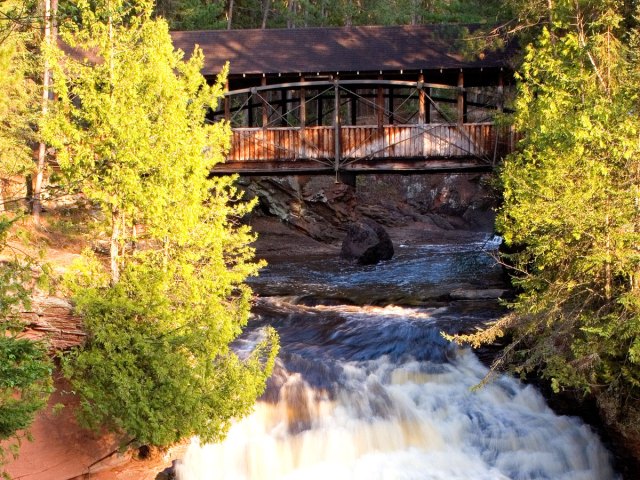 Wisconsin's Amnicon Falls State Park is the site of Horton Covered Bridge, named for its designer Charles M. Horton. In 1897 and 1898, he patented designs for a bowstring bridge, which he argued was stronger, longer-lasting, and easier to erect than many existing bridge designs. The bridge that bears his name originally was part of a highway, but it was moved to the nearby state park in 1930. The roof, which was not a part of Horton's original design, was added in 1939. The waterfalls that the bridge now overlook add an extra layer to its scenic charm.
Horton Mill Bridge – Oneonta, Alabama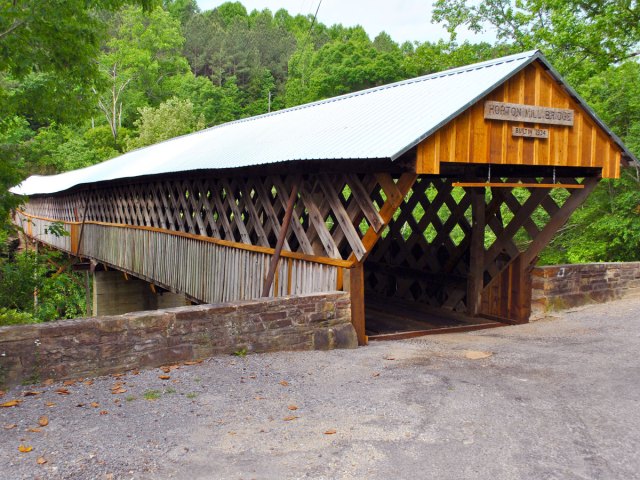 Not to be confused with the previously mentioned bridge with a similar name in Wisconsin, the Horton Mill Covered Bridge is one of the highest covered bridges in the country, standing 70 feet above the Black Warrior River. It is one of three covered bridges in Alabama's Blount County. The 203-foot-long bridge was built in 1934 and underwent restoration in 1974 and again in 2013. The bridge is named for Talmedge Horton, one of its builders and part of a local gristmilling family. Beautiful latticework adorns the sides of the bridge, allowing for dramatic views down into the river gorge.
Elizabethton Covered Bridge – Elizabethton, Tennessee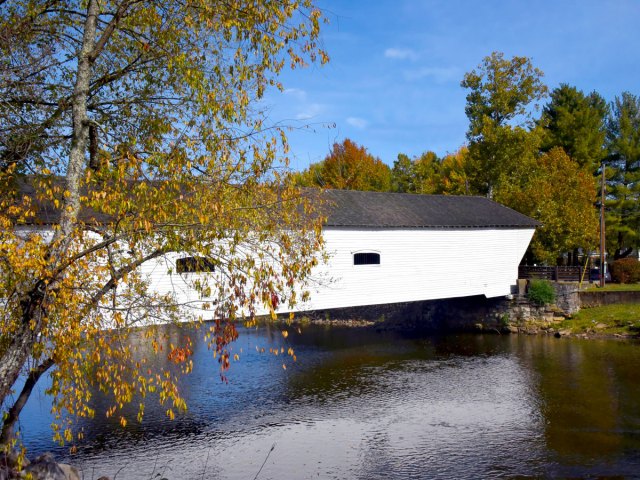 Straddling the Doe River, the Elizabethton Covered Bridge debuted in 1882. Colonel Thomas Matson, who had come up with the idea for New York's elevated railroad tracks, designed the bridge, which was hailed as an engineering feat at the time. It lived up to its reputation in 1901, when a flood destroyed all the county's other bridges on the river. Located in Elizabethton's downtown area, the bridge is now part of the city park, and a number of events are based around the landmark, including the Covered Bridge Days Festival in September. The locals are proud of the gleaming white bridge, and rightly so.
Felton Covered Bridge – Felton, California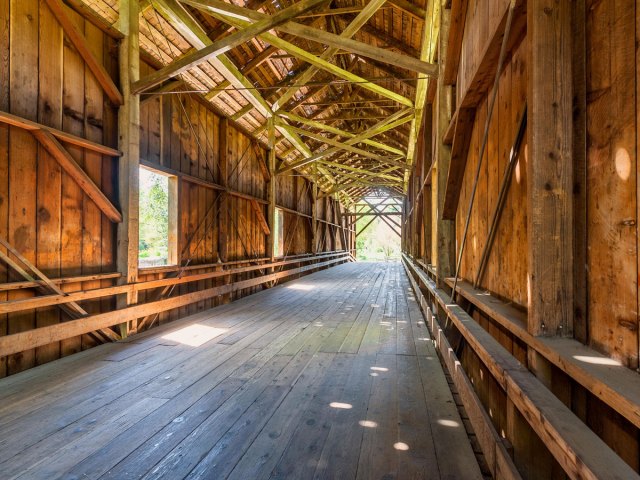 The tallest covered bridge in the nation is the Felton Covered Bridge in California. Now part of a park in Santa Cruz County, the bridge is only open to pedestrians. Walking through it, you can look up to appreciate its 35-foot height and its intricate criss-cross roof design. The bridge was completed in 1893 and for years was the only route into the town of Felton. After it closed to vehicular traffic in 1937, it became a popular landmark and was added to the National Register of Historic Places in 1973.
Harpersfield Covered Bridge – Ashtabula, Ohio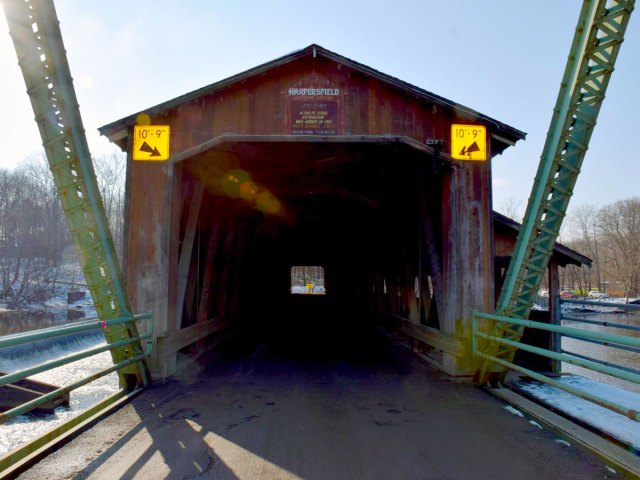 Built in 1868, the truss bridge in Harpersfield Township, Ohio, is one of only 16 in the U.S. that you can still drive a car across. At first glance, you might wonder why the covered wooden bridge only spans a portion of the Grand River. That's because a severe flood in 1913 washed away a large chunk of land on one side of the bridge, leaving the 228-foot-long bridge open-ended. To reconnect it to the new riverbank, a steel span was attached. Additional renovations in the 1990s added a walkway.
Stark Bridge – Stark, New Hampshire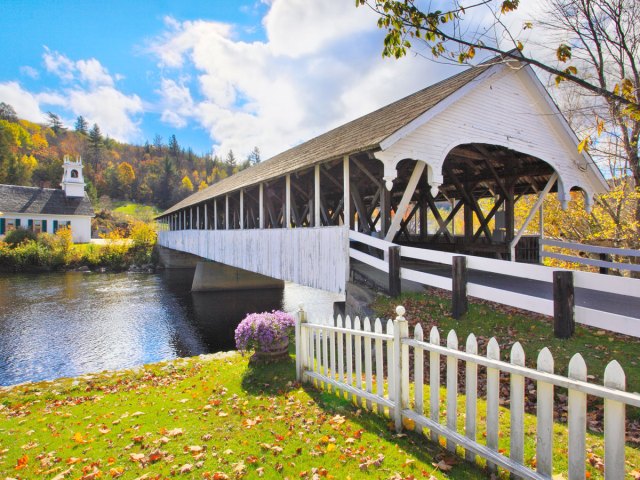 Unsurprisingly, covered bridges attract artists, photographers, and history enthusiasts. So when there was talk of replacing the bridge that spanned New Hampshire's Upper Ammonoosuc River with a shiny new steel bridge in the 1950s, public outcry was so great that it convinced the people of Stark they had a landmark worth restoring.
The bridge had already experienced an eventful past. It was built in 1862 but washed away during floods in the 1890s. After the bridge was retrieved and put back in place, stronger stone foundations were installed. Further structural problems in the 1940s led to townspeople suggesting the replacement in the 1950s, but ultimately the state helped to fund restoration and repairs, and the bridge is now considered one of the prettiest in the country.
Goodpasture Bridge – Vida, Oregon
The Goodpasture Bridge, which extends 165 feet across the McKenzie River, is different from other wooden bridges due to one simple design feature: It has windows. Each side of the bridge features 10 Gothic-style louvered windows that lend the bridge a distinctive flair. Built in 1938 and named for a local farmer, Goodpasture is Oregon's second-longest covered bridge. The state has resisted replacing it with a steel span, instead opting to invest in a $2 million overhaul and reinforcement that added LED lighting for spectacular night views. And at Christmas, the white bridge is decked out in an array of seasonal colors.
Cornish-Windsor Bridge – Cornish, New Hampshire and Windsor, Vermont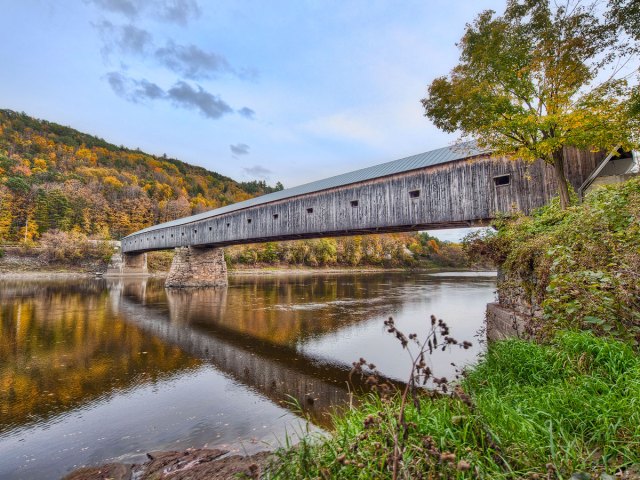 Connecting the two towns in its name, the Cornish-Windsor Bridge also links two states. Cornish is on one bank of the Connecticut River, in New Hampshire, while Windsor is on the other bank, in Vermont. When it was built in 1866, it became the fourth bridge to cross this particular spot after earlier crossings had washed away in floods. The state of New Hampshire purchased the bridge in 1935 and operated it for a period as a toll route.
During Vermont's time as a dry state (meaning liquor sales were prohibited), the bridge was a convenient means for thirsty Vermonters to buy alcohol where it was still legal in New Hampshire. While that's no longer an issue today, you'll just need to remember to follow the advice at the entrance of the bridge: "Walk your horses or pay two dollars fine!"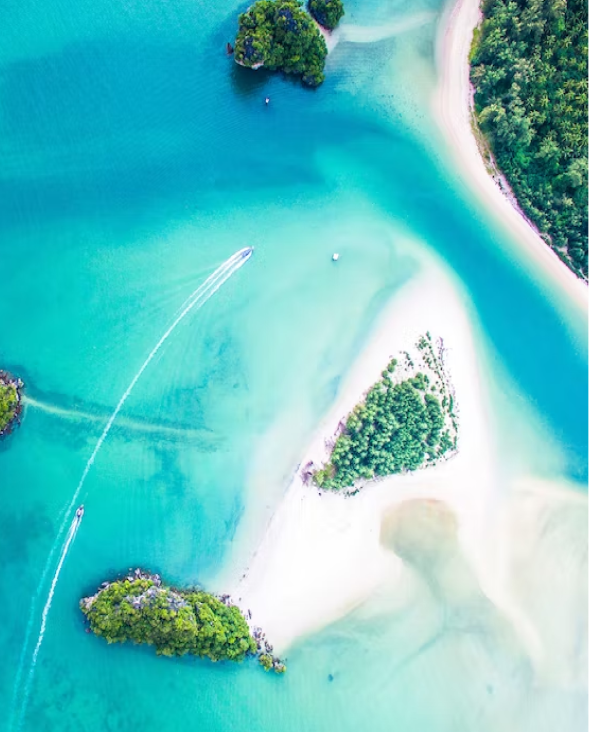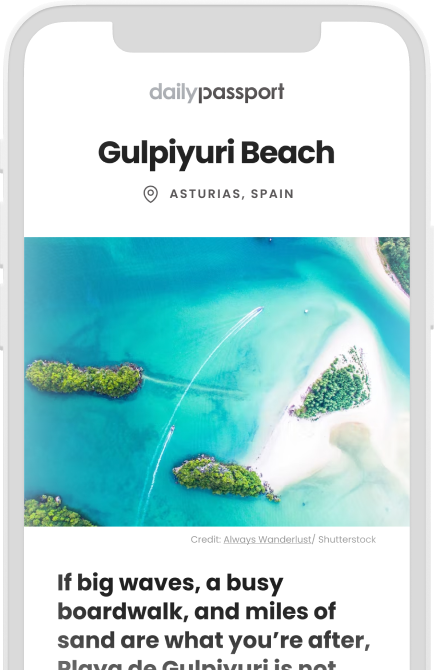 The world is waiting.
Daily Passport is your ticket to the four corners of the earth. Start exploring today.
Please enter valid email.
By subscribing you are agreeing to our Privacy Policy and Terms of Use.