Beaches and lakes offer plenty of opportunities for a dip, but those seeking a little more adventure should seek out a cenote. Cenotes are deep, natural sinkholes that form through centuries of erosion, as the limestone bedrock above collapses and reveals a cave of groundwater below. Mexico's Yucatán Peninsula houses the largest concentration of cenotes in the world, with an estimated 6,000 of these spectacular natural swimming holes. While Mexico certainly hogs the cenote spotlight, there are other, equally stunning cenotes around the world to discover. Here are six spectacular cenotes you should visit.
Ik Kil Cenote – Mexico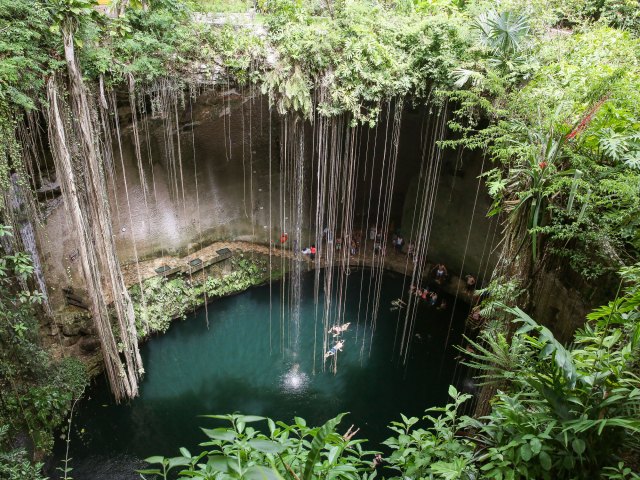 Located in the central Yucatán Peninsula, the breathtaking Ik Kil Cenote is draped in vines that dangle 158 feet from the cylindrical opening in the cliffs above. The blue-green waters plunge over 130 feet deep and fill a naturally-formed pool that stretches nearly 200 feet in diameter. Not only is Ik Kil a memorable place to take a dip, but its cultural significance is also profound. The Maya peoples believed the cenote was home to the God of Rain, Chaac, and considered the area sacred. Archeologists have found bones and jewelry in the pool's depth, proving that human sacrifices were once performed here. Combine your cenote expedition with a visit to Chichen Itzá, an ancient Mayan city located in the archeological site just two miles away.
Thunderball Grotto – Bahamas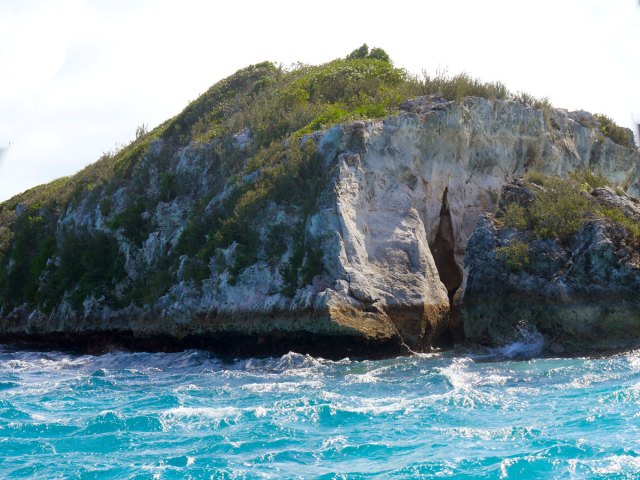 Located just off Staniel Cay in the Exumas island chain of the Bahamas, Thunderball Grotto (also sometimes referred to as "the James Bond Cave" for its feature in the 1965 film Thunderball) is an underwater cave system that can be explored with or without scuba equipment. With a discreet entrance, this grotto is lit by streaming sunbeams and teems with tropical fish and colorful corals. To access the cenote, you can take a boat or even swim over from Pig Island. At first glance, it looks like nothing more than a large rock sitting in the water, but swim closer and you'll find secret entryways that open up into spacious caves and swimming holes.
Dos Ojos – Mexico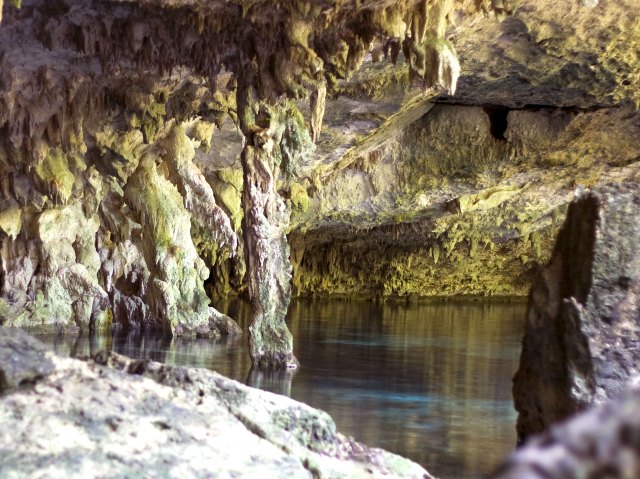 Scuba divers, take note: Dos Ojos, about a 30-minute drive north of Tulum, is one of the best cenotes to visit if you're interested in an extreme underwater adventure. Translating to "two eyes," Dos Ojos was named for its dual water-filled sinkholes that are connected via a 1,300-foot underground waterway. Divers can descend in one cave, swim underwater, and emerge in the other. Even if you're not a diver, Dos Ojos is still worth a visit for the snorkeling and cave exploration above the water line alone. However, Dos Ojos is one of the most popular cenotes in the area, so it does tend to get crowded.
Cenote Taak Bi Ha – Mexico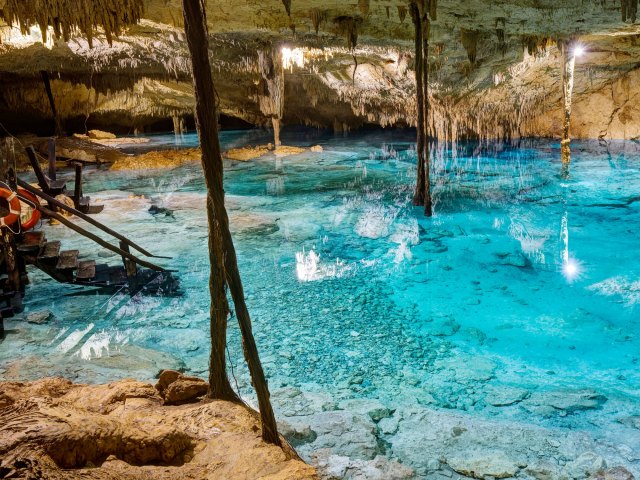 If you're looking to beat the crowds and don't mind paying a slightly steeper entrance price (about $20 USD), head to Cenote Taak Bi Ha, also approximately 30 minutes north of Tulum. Here, you can slip into the crystal-clear turquoise waters from several wooden ladders or rustic platforms, and swim just below hundreds of low-hanging stalactites. As you swim or snorkel at this cenote (whose name means "hidden route of water"), you can watch the bubbles from scuba divers as they disappear into the deep waters below.
Chinhoyi Caves – Zimbabwe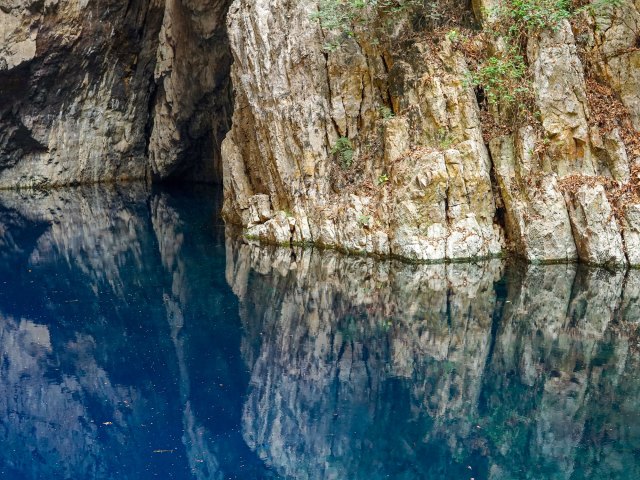 Located in northwestern Zimbabwe, Chinhoyi Caves feature a dramatic limestone and dolomite sinkhole known locally as Chirorodziva, meaning "cave of the fallen." According to legend, the name stems from a 1830s event in which a migrating tribe came upon the current occupants and flung them into the pool below. The main cave, dubbed the Wonder Hole, sits 150 feet below the cliffs and is filled with stunning cerulean waters. The underwater systems are frequently explored by technical and experienced divers. Though swimming is not allowed, novice explorers have multiple viewpoints and a public barbeque area to enjoy.
Blue Hole – Jamaica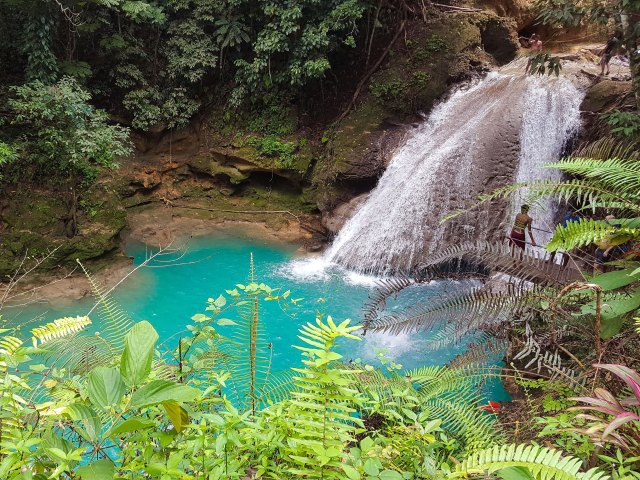 There's plenty to love about Jamaica: beautiful beaches, luxurious resorts, jungle-shrouded waterfalls, and delicious cuisine. Add Jamaica's Blue Hole to the long list of must-see attractions in this Caribbean paradise. Located on Jamaica's northern coast in Ochos Rios, the series of cascading pools that make up the hole are continuously filled by a spectacular waterfall. Swimming, cliff-jumping, rope-swinging, and hiking are all popular activities in this scenic area.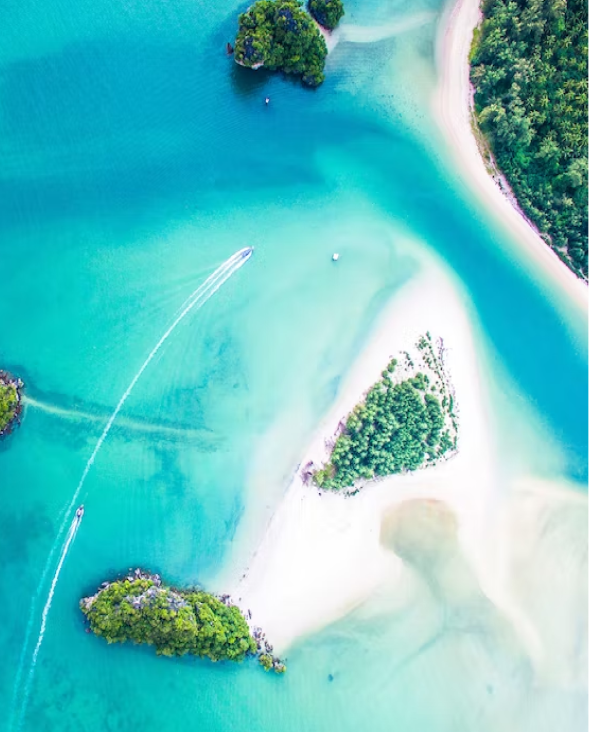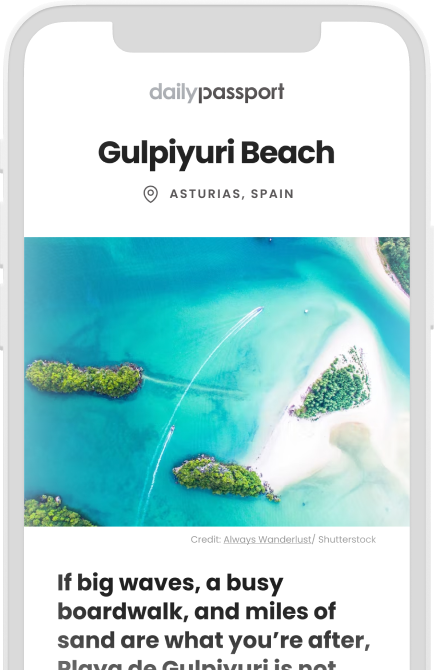 The world is waiting.
Daily Passport is your ticket to the four corners of the earth. Start exploring today.
Please enter valid email.
By subscribing you are agreeing to our Privacy Policy and Terms of Use.