The Blue House — known locally as La Casa Azul — is more than just a museum in Mexico City. With its unmissable cobalt-blue color, it is the longtime home and final resting place of Frida Kahlo, one of Mexico's most celebrated artists. Kahlo left an indelible mark on the art world with her vibrant and emotionally introspective works, many of which were painted in this family home. Now, as one of Mexico City's most popular cultural institutions, the Frida Kahlo Museum offers visitors an intimate opportunity to delve into the artist's life and her enduring legacy. Below, learn the fascinating story of Kahlo's life in the Blue House and how to visit this must-see Mexico City attraction.
An Artist Is Born
Magdalena Carmen Frida Kahlo y Calderón was born in 1907 in her family's home, the residence now famously known as the Blue House. At just six years old, Kahlo was struck with polio. It was the first of many health setbacks that would plague her most of her life — and also greatly influence her artwork. The illness not only disrupted her childhood, sending her to recover in bed for nine months, but also permanently injured her right leg and foot, leaving her with chronic pain and reduced mobility.
During this isolated time, Kahlo spent many hours with her father, photographer Guillermo Kahlo, and found herself drawn to his artistic pursuits. Although she began sketching at a young age, Kahlo was more interested in the sciences and instead dreamed of studying medicine. In 1922, she was selected for Mexico City's esteemed National Preparatory School. During her time here, Kahlo crossed paths with Diego Rivera, a renowned Mexican artist who had been commissioned to paint a mural at the school. The encounter marked the beginning of the pivotal roles they would play in each other's lives.
A Dream Becomes Derailed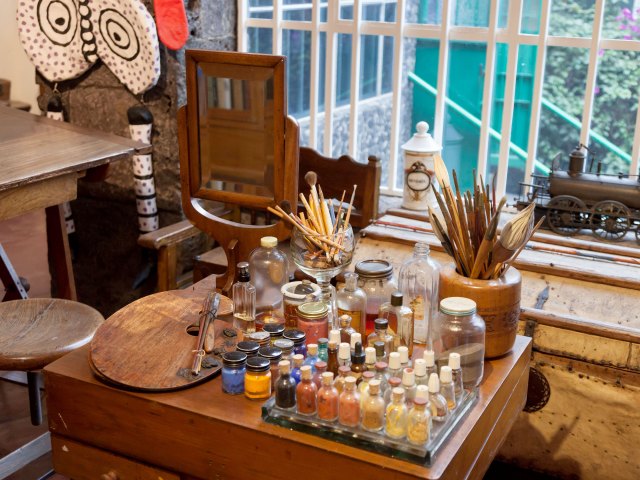 At the age of 18, Kahlo's dreams of a career in medicine were put on hold when she was involved in a serious bus accident. She suffered several severe injuries and would endure some 32 surgeries as a result. Kahlo's long and painful recovery period led to more exploration of her artistic side, and she started painting to pass the time in bed at her family home. Her mother hung mirrors in her room, and Kahlo began to paint herself, including her first of many self-portraits, 1926's Self Portrait in a Velvet Dress. The artwork — one of several now displayed at the Frida Kahlo Museum — depicts the artist set against a dark background of swirling waves; the stoic gaze that later became characteristic of her art is already front and center. "I paint self-portraits because I am so often alone," Kahlo once said, "because I am the subject I know best."
Following months of recovery, Kahlo once again crossed paths with Diego Rivera, deciding to show him her paintings and seek his advice. Their relationship blossomed, and a year later, they married in 1929. 
Kahlo Comes into Her Own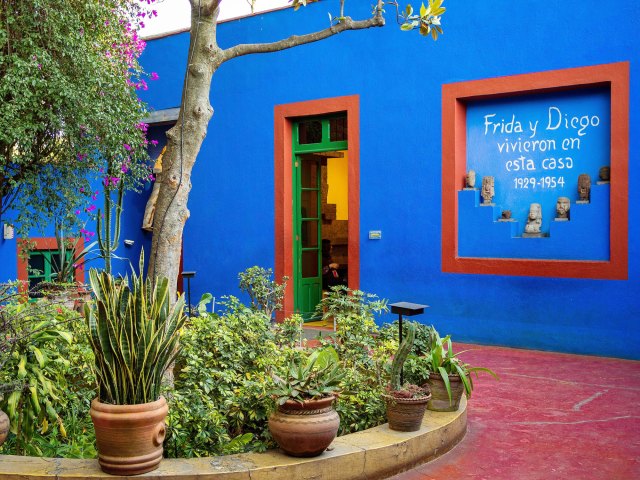 After marrying Rivera, Kahlo underwent a personal and professional transformation. She embraced traditional Tehuana clothing, which would become her signature look, reflecting her ideas about identity and also symbolizing her burgeoning artistic interest in Mexican folk art. In the early 1930s, as Kahlo traveled the United States with Rivera, she suffered several difficult pregnancies that tragically ended prematurely. These experiences, coupled with the loss of her mother in 1932, inspired some of her most raw and poignant works, including Henry Ford Hospital' (1932) and My Birth (1932).
In 1933, Kahlo and Rivera returned to Mexico and moved into their newly constructed house and studio. Their new home became a gathering place for activists and intellectuals, including revolutionary Leon Trotsky when he was forced to flee the Soviet Union, and surrealist writer André Breton, who was a strong advocate for Kahlo's work. However, by the late 1930s, following infidelities and other difficulties, Kahlo and Rivera's relationship was strained, and they divorced in 1939. By 1940, however, the couple had reconciled, moving into Kahlo's childhood home — and starting their life in the Blue House together.
Moving into the Blue House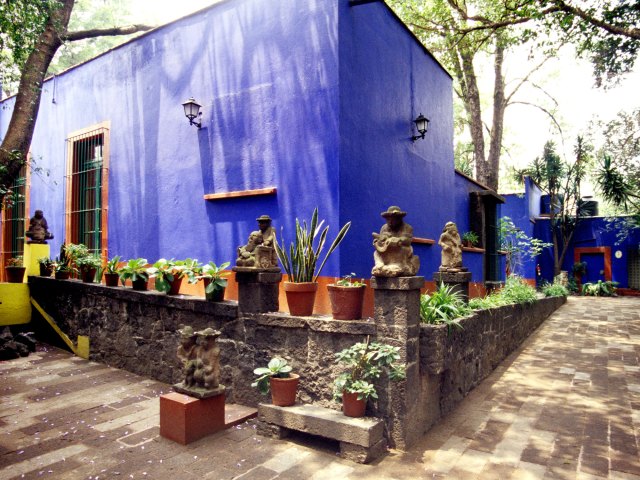 The Kahlo family home was built in the once-rural Coyoacan neighborhood in 1904, three years before Frida was born. Kahlo's parents — father Guillermo Kahlo, a German-born photographer, and her mother, Matilde Calderón — originally designed the home with French influences, but Kahlo and Rivera later adapted and expanded it to resemble a more traditional Mexican style. The couple also gave the Blue House its signature cobalt color, painting the home in the early 1940s not only as a piece of Kahlo's art, but to represent and honor the Indigenous peoples of Mexico. 
For Kahlo, the Blue House was not just a house but a sanctuary — her "private universe" — that encapsulated her identity and creative spirit. The interior also came to represent her unique artistic vision: She adorned the walls with paintings of both hers and Rivera's, and filled the rooms with her personal collection of Mexican folk art, ceramics, and religious artifacts.
Kalho also replaced much of her parents' roses and palms with native tropical and desert plants such as cacti, yucca, and canna-lily. This laid the groundwork for Kahlo and Rivera's courtyard filled with pre-Columbian sculptures, now one of the museum's highlights. For Kahlo, the garden served a purpose beyond decoration or entertainment — she saw it as an integral part of her artistic expression and often incorporated the greenery into her paintings.
A Life Preserved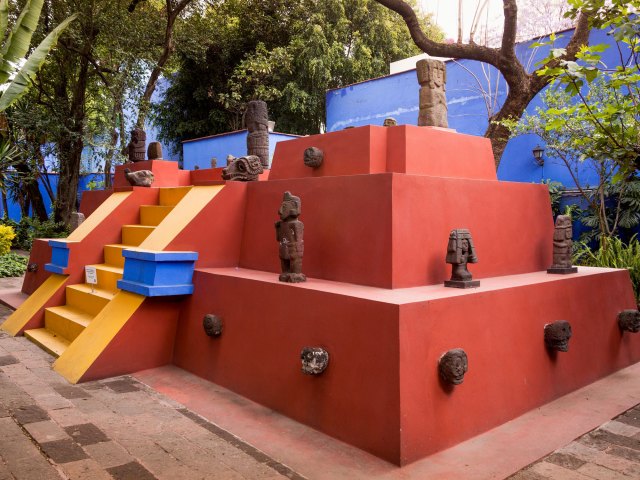 After Kahlo's death in 1954, Rivera worked on turning the Blue House into a museum to honor Kahlo's memory and showcase her work. It opened in 1958, a year after Rivera's own death. Today, the Blue House allows visitors to explore these intimate spaces — a rare opportunity to see where the legendary artist lived, loved, suffered, thrived, and created her exceptional art.
Remarkably, the Blue House remains practically frozen in time, preserved almost as Kahlo left it. It showcases a robust collection of her personal belongings and demonstrates the ups and downs of her complex life — from her iconic Tehuana dresses and corsets to other personal mementos such as letters, photographs, and many medical devices used throughout her years of ailments. Through these exhibits, visitors can discover how the Blue House became the backdrop for Kahlo's profound self-exploration and artistic expression — and now, a living testament to her enduring legacy and impact.
How to Visit the Blue House Today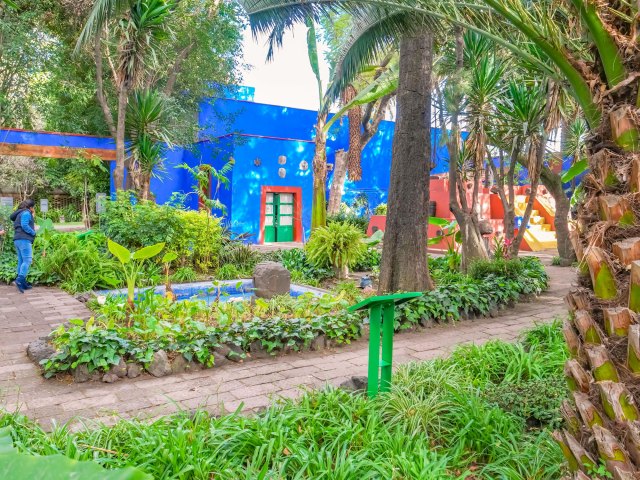 The Blue House is one of the most-visited museums in Mexico City, welcoming about 25,000 visitors monthly, so it's essential to plan out your visit in advance. The museum is closed on Mondays, as well as certain holidays. Tickets can be purchased online in advance, but it's still likely you'll wait in a long line to get in, as the number of people allowed inside at one time is limited. (Weekdays tend to be less busy.) The museum has a separate line for guided tour groups, another option to consider for a deeper dive into Kahlo's life and artwork.
After taking in the ambiance of Kahlo's living quarters, including her preserved studio space, visitors can explore the other rotating thematic exhibits. And don't forget to bask in the lush courtyard garden, still immaculately preserved all these years later.
One key rule to visiting the Blue House is that photography is generally not allowed, unless you purchase a specific no-flash photography pass. Touching the exhibits and leaning on walls or any other part of the residence is not tolerated in order preserve Kahlo's historic space.
A ticket for the Blue House also includes admission to its sister museum, the Anahuacalli, which was built by Rivera to house his collection of more than 45,000 pieces of pre-Columbian artifacts. A round-trip bus between the two museums is available.
After exploring the Blue House, take time to wander through the charming Coyoacan neighborhood. The Coyoacan Market, Frida Kahlo Park, and Leon Trotsky Museum are other attractions worth checking out nearby — they're not only landmarks on their own, but together, they enhance the immersive Frida Kahlo experience of Mexico City.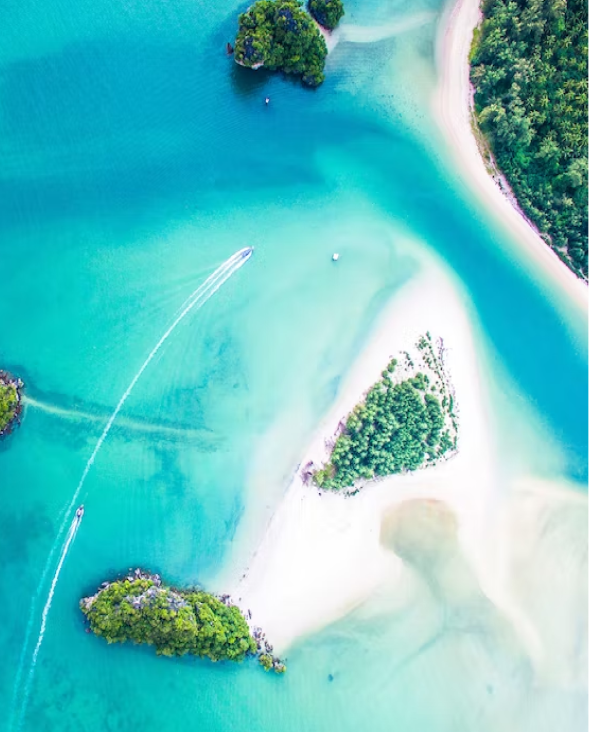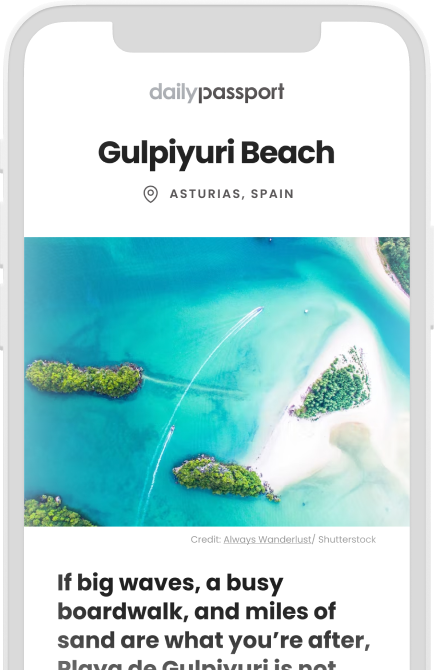 The world is waiting.
Daily Passport is your ticket to the four corners of the earth. Start exploring today.
Please enter valid email.
By subscribing you are agreeing to our Privacy Policy and Terms of Use.