Besides hot dogs and baseball, what's more quintessentially American than a quirky roadside attraction? While each state has roadside attractions with their own unusual claims to fame, there are a select few roadside attractions across the country that are well-worth the detour. Check out six of the most interesting roadside attractions you shouldn't miss on your next U.S. road trip.
Largest Ball of Twine – Cawker, Kansas
It may seem hard to believe, but there are several balls of twine contending for the title of America's largest. Although there are subtle differences in their claims (such as the heaviest ball of twine or the largest built by a single person), most agree that it's the twine ball in Cawker, Kansas, that claims first prize — with a circumference exceeding 40 feet (and still growing).
In 1953, local resident Frank Stoeber began winding twine into a ball, and four years later, he had crafted an 11-foot-diameter ball with 1.6 million feet of twine that weighed 5,000 pounds. These days, the Cawker City Community Club is the official caretaker of the ball, hosting an annual twine-a-thon to encourage the continued growth of the locally famous attraction. Today, the ball — found off Highway 24, about 230 miles west of Kansas City — weighs a whopping 17,320 pounds.
The World's Only Corn Palace – Mitchell, South Dakota
Sure, there aren't any other corn palaces in the running, but that doesn't mean South Dakota's claim to fame is any less a-maize-ing. Originally built in 1892 to celebrate the state's agricultural excellence, the World's Only Corn Palace now attracts approximately 500,000 tourists every year. Industrial exhibits, dances, shows, rodeos, and farmers markets are part of the attraction, but the sole reason many visitors make the detour off Highway 90 in Mitchell is to ogle the larger-than-life murals adorning the outside of the building, which are made entirely from halved corn cobs. Each year, digital media and design students from Dakota Wesleyan University add new murals, requiring hundreds of thousands of corn cobs to complete.
Cadillac Ranch – Amarillo, Texas
A short detour off Interstate 40 west of Amarillo, Cadillac Ranch is a colorful art installation created in 1974 by a group of bohemian artists from San Francisco known as Ant Farm. Backed by millionaire Stanley Marsh, the artists drove 10 Cadillacs off the side of the dusty highway (which follows the historic Route 66) and partially buried them nose down in the sand at a 60-degree angle (matching the sides of Egypt's Great Pyramid of Giza).
The purpose of the unique display was to showcase the evolution of the Cadillac's tail fin — and perhaps simply to bewilder anyone who came across them. Over time, visitors took it upon themselves to "decorate" the Cadillacs with graffiti, designs, and murals — making Cadillac Ranch one of the most dynamic roadside attractions in the country.
Enchanted Highway – Regent, North Dakota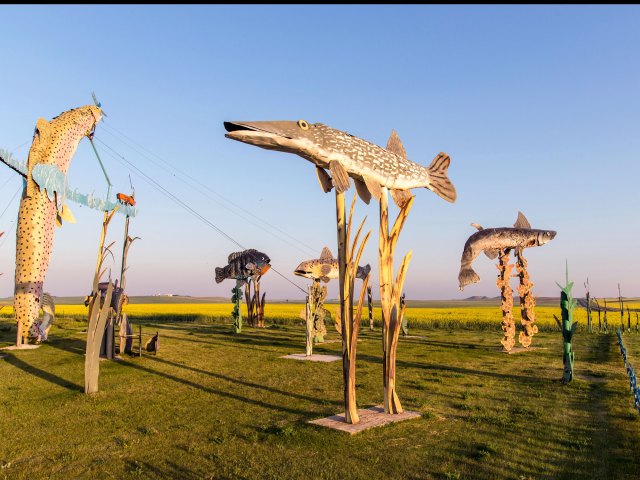 To check out this North Dakota roadside attraction, you don't even need to leave your car — in fact, you don't even need to stop driving. Composed of seven larger-than-life scrap-metal sculptures, the Enchanted Highway begins at Exit 72 on Interstate 94 and ends 32 miles later. Sculptor Gary Greff is the mastermind behind the project, an undertaking that began in the late 1980s and aimed to attract tourists to Regent.
Prior to conception, Greff didn't know how to mold metal, and took it upon himself to learn how to weld. His creations are mostly nature-inspired and include Pheasants on the Prairie, Deer Crossing, and Grasshoppers in the Field. Sadly, his efforts did not keep the local school from closing, but it has put his hometown on the map as the town with the world's largest scrap-metal sculpture, the 110-foot-tall, 154-foot-wide, and 157,659-pound Geese in Flight.
Hole in the Rock – Moab, Utah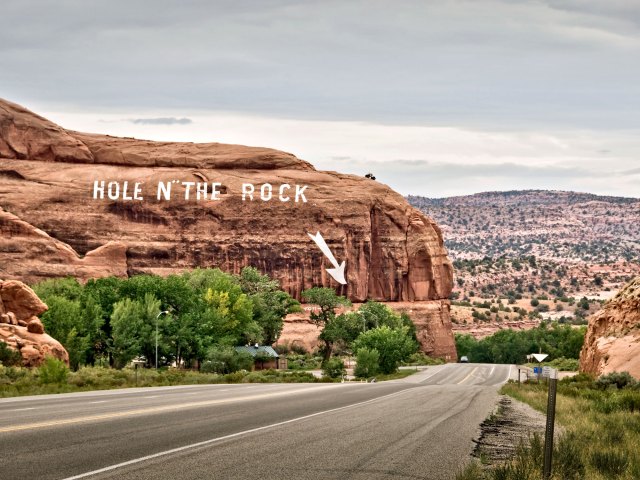 Moab attracts plenty of mountain bikers and hikers with its challenging terrain and epic views of natural arches, but you don't have to be an adrenaline junkie to get your kicks in this small southwestern Utah town. The Hole in the Rock shows off the desert's most impressive human-made attraction, located off U.S. Route 191 — a 5,000-square-foot home carved entirely into a giant orange rock.
Built by the Christensen family in the 1940s with the help of volunteers, the project took 12 years to finish and required excavating 50,000 cubic feet of sandstone. The end result yielded a 14-room home complete with a fireplace, 65-foot chimney, an oversized concrete bathtub, and even a sculpture of President Franklin D. Roosevelt out front. When the patriarch of the family, Albert, died in 1957, his wife, Gladys, opened a gift shop below their home to sell her rock jewelry. Eventually, she began letting people tour her home, and today, the Hole in the Rock attracts roughly 500 visitors per day with a 12-minute tour of the quirky yet cozy family abode.
Salvation Mountain – Imperial County, California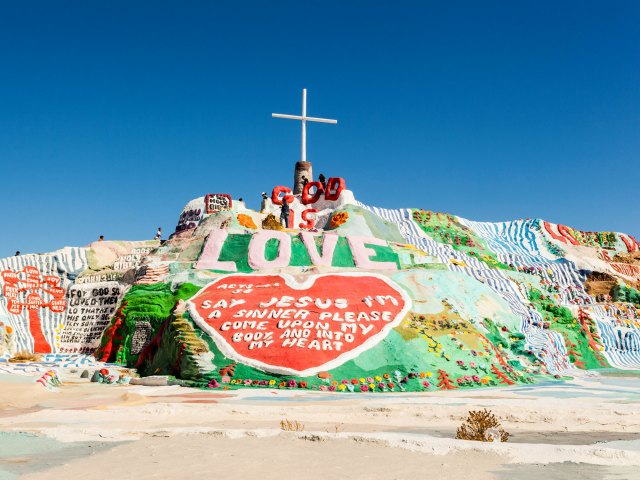 Located in Southern California's Sonoran Desert, just east of the Salton Sea and less than a mile from the art commune of Slab City, Salvation Mountain is a hillside art installation that artist Leonard Knight created over the course of three decades as a religious tribute. "Love Jesus and keep it simple" was Knight's guiding philosophy for his masterpiece, a 50-foot-high and 150-foot-wide adobe clay rock covered with bright paint, biblical references, and religious scriptures. While religion and nature scenes are prevalent throughout the piece, love is the uniting theme. Visitors are welcome to explore the mountain but must stay on the "yellow brick road" which leads to the top. From there, a sprawling view over the desert and nearby town awaits.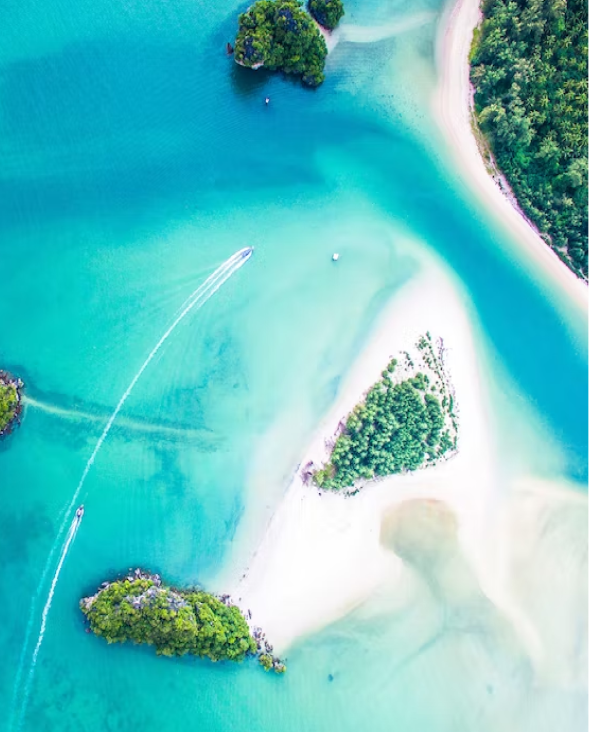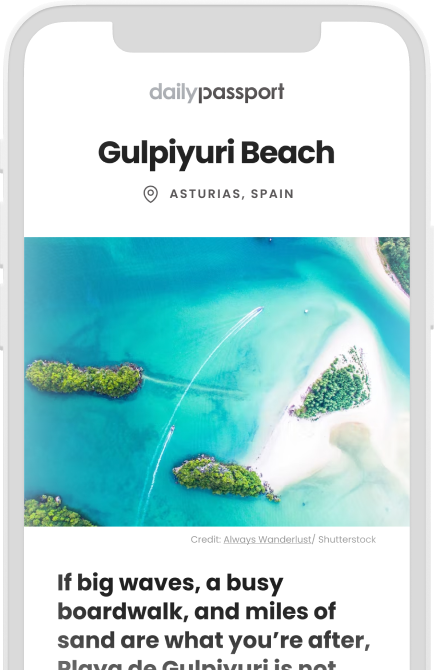 The world is waiting.
Daily Passport is your ticket to the four corners of the earth. Start exploring today.
Please enter valid email.
By subscribing you are agreeing to our Privacy Policy and Terms of Use.