America's most populous capital city isn't in New York, California, Texas, or any of the other "big" states we tend to think of as population hubs. It's actually Phoenix, Arizona, which is the only state capital home to more than a million people. On the opposite end of the spectrum are a collection of not-so-populous states whose capital cities are equally unassuming — there's a good chance you can't even name the capital of South Dakota, much less guess how many people live there. There's a lot to love in the country's 10 least populated capital cities, however, as well as a lot to learn about them.
10. Concord, New Hampshire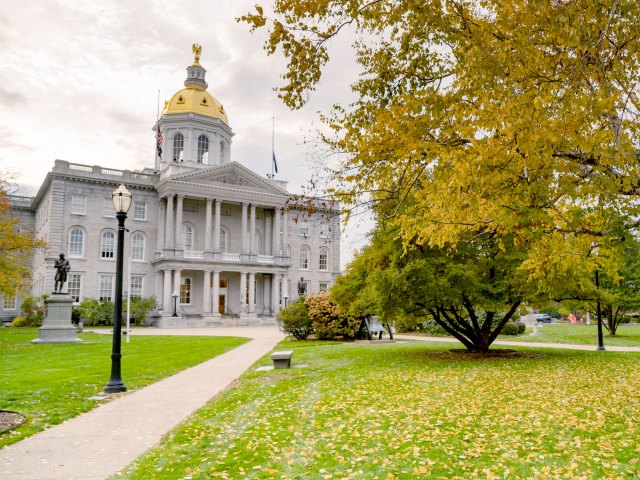 New Hampshire is certainly among the most beautiful states, as well as one of the smallest — only New Jersey, Connecticut, Delaware, and Rhode Island have less landmass. The Granite State fares a bit better in terms of population, ranking 41st overall, but still doesn't fit any traditional definition of a "large" state. Manchester is its largest city (population 115,644), while its capital, Concord, boasts a population of just 43,976. First settled thousands of years ago by the Pennacook, it was incorporated as Rumford by Captain Ebenezer Eastman in 1733 and renamed in 1765 following a boundary dispute with neighboring Bow; the name was a reflection of the two settlements putting aside their differences. With a central location along the Merrimack River, it was named New Hampshire's capital in 1808.
9. Jefferson City, Missouri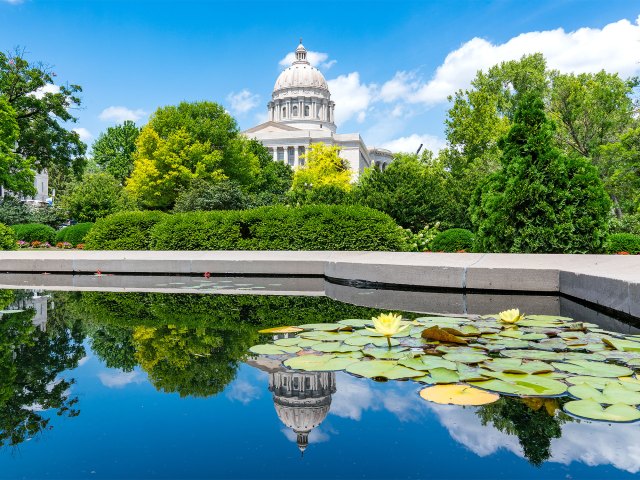 More than six million people call Missouri home — enough to make it the 19th-most-populous state — but only 43,228 of them live in its capital: Jefferson City. Named after a certain president you might have heard of, it's the 15th-most populous city in the Show Me State and was founded in 1821. Lewis and Clark's stop there on their westward trek is memorialized via a monument.
8. Annapolis, Maryland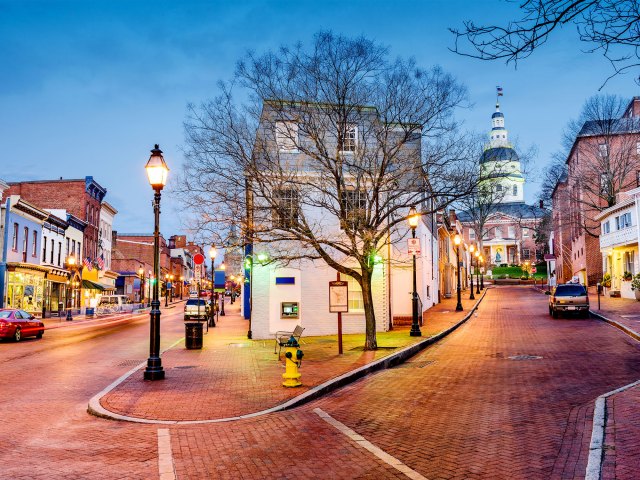 There's a good chance you knew that the U.S. Naval Academy is in Annapolis — there's even a movie of the same name about it — but did you also know that it, and not Baltimore, is the capital of Maryland? Twenty-five miles south of that city and 30 miles east of Washington, D.C., it's part of the Baltimore–Washington combined statistical area, but home to only 40,812 residents. There are just over 6.1 million Marylanders in total, enough for the Old Line State to rank 18th overall in terms of population.
7. Dover, Delaware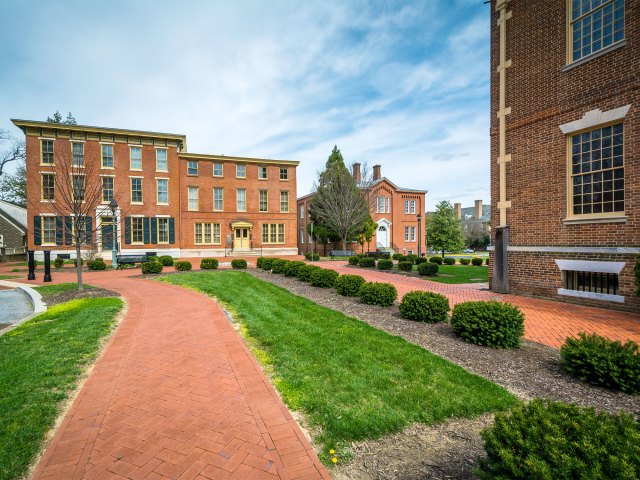 Delaware may be the first state, but it's kept a fairly low profile since ratifying the Constitution before any of the other Thirteen Colonies — aside from the fact that the current president calls it his home-away-from-the-White-House, that is. Just 36,047 reside there, though it does have a rich history. Founded in 1693 and incorporated in 1717, Dover was named after the town in England of the same name and served as a stop on the Underground Railroad. It's also the second-most populous city in Delaware, as only Wilmington (population 70,635) is larger; the state is 45th overall, with just over one million residents
6. Juneau, Alaska
Juneau what the capital of Alaska is? Why, it's Juneau, of course, which is larger by area than both Rhode Island and Delaware (and almost larger than both combined) but boasts a population of just 32,255. That's fitting, given the fact that Alaska is the largest state in terms of size but ranks 48th in population. Known officially as the City and Borough of Alaska, it was made the capital in 1906, replacing the then-District of Alaska's capital of Sitka (which happens to be the only city in the country with more landmass; numbers three and four, Wrangell and Anchorage, are also in the Last Frontier).
5. Helena, Montana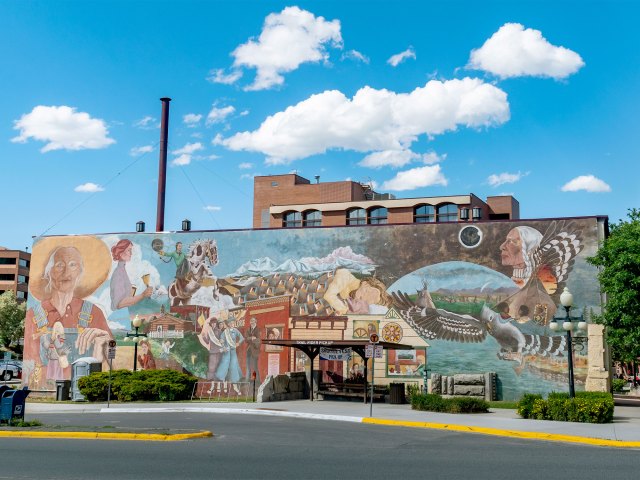 Speaking of large, sparsely populated states, Montana ranks fourth in the former category and 43rd in the latter. Its capital is Helena, whose population of 32,091 could fit in most baseball stadiums. Founded as a camp during the Montana gold rush and made official on October 30, 1864, it was quite prosperous in its early years — traces of which can still be seen in its striking Victorian architecture.
4. Frankfort, Kentucky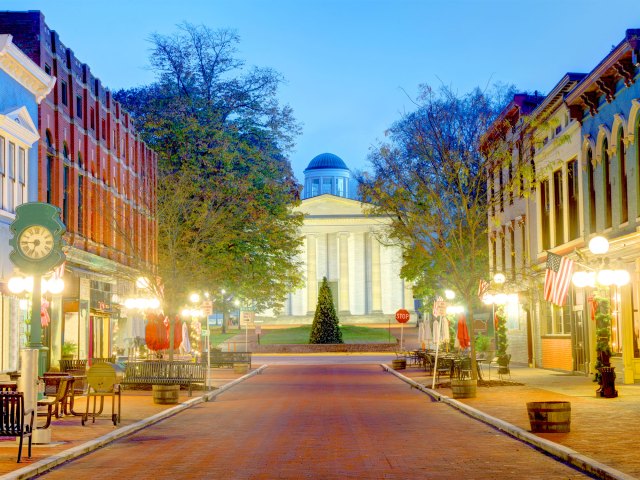 When a pioneer named Stephen Frank was killed along the Kentucky River while he and a group of colonists were traveling through the state, his fellow settlers began calling the spot of his demise Frank's Ford. The name eventually changed to Frankfort, which has been the state capital after Kentucky became the 15th state in 1792. With a population of just 28,602, it's a far cry from the state's most populous city: Louisville, population 628,594.
3. Augusta, Maine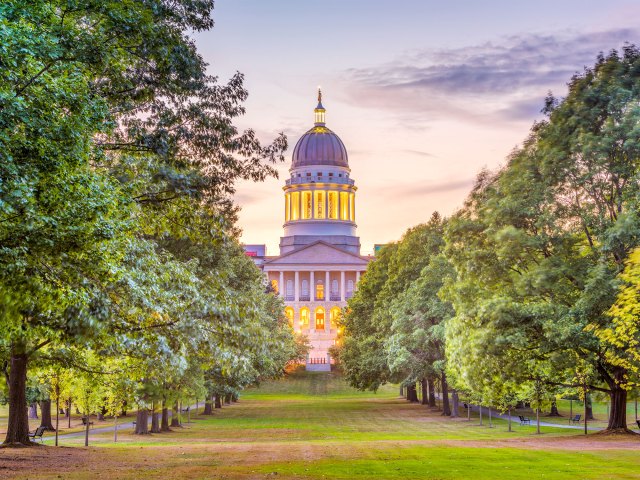 New Hampshire's capital looks positively metropolitan compared to that of its neighbor in Maine, whose population is just 18,899 — meaning Augusta is less than half as populous as Concord. The 10th-largest city in the Pine Tree State is so small, in fact, that Stephen King has never set one of his novels or short stories there; given how frequently he features his home state, that's saying something.
2. Pierre, South Dakota
South Dakota is more populous than its northern neighbor (they rank 47th and 48th with respective populations of 895,376 and 774,948), but you wouldn't know it from pint-sized Pierre. The Mount Rushmore State's capital has just 14,091 residents to its name, though that is enough to make it the ninth-most populous city in the state (Sioux Falls is number one).
1. Montpelier, Vermont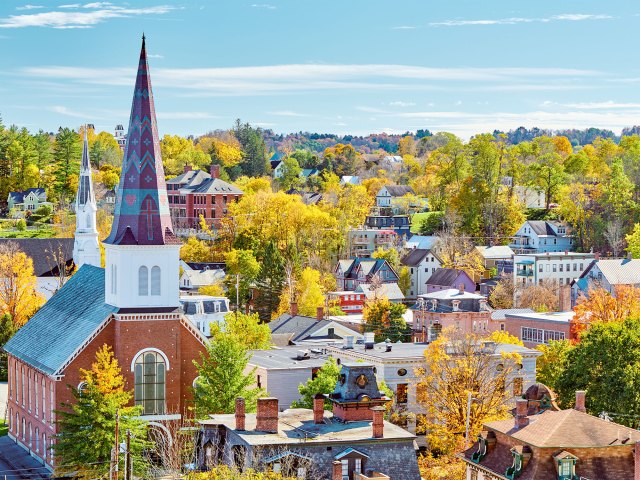 Ahh, Vermont. One of our most gorgeous states is also one of our most eccentric, as famed for its skiing as it is for being the home of Ben & Jerry's, though most people don't know much about its capital. There's a reason for that: Montpelier is home to just 8,074 people, though there are so many jobs there that the daytime population is closer to 21,000. Named after the city in France, it was settled in 1787 but home to Native Americans long, long before that; as for the name, well, enthusiasm for France was at an all-time high after their assistance during the Revolutionary War. Located some 60 miles from the Canadian border, it's almost as far north as you can go while still being in these United States.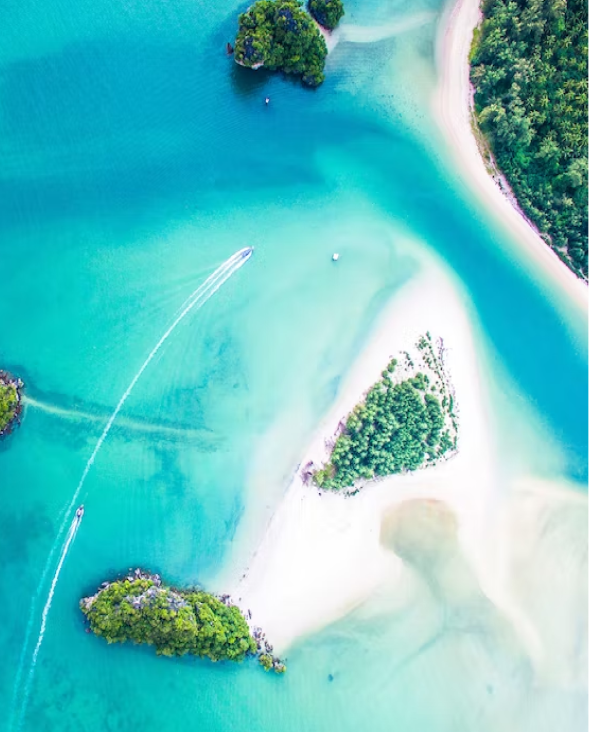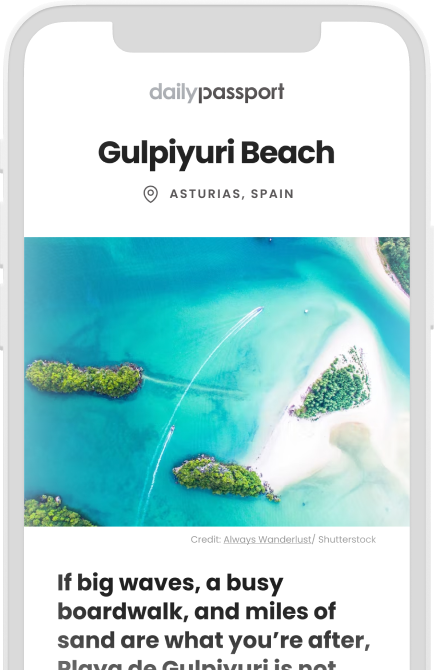 The world is waiting.
Daily Passport is your ticket to the four corners of the earth. Start exploring today.
Please enter valid email.
By subscribing you are agreeing to our Privacy Policy and Terms of Use.