Canada is the world's second-largest country by area, home to vast stretches of spectacular scenery, from rugged Arctic wilderness to the majestic Colorado Rockies and the awe-inspiring coastlines of the Maritimes. But Canada's population of 38 million people is less than that of California alone, which means there are plenty of places for travelers to spread out and avoid the crowds — as long as you know where to look. Start by exploring six of Canada's most beautiful small towns below.
Ucluelet – British Columbia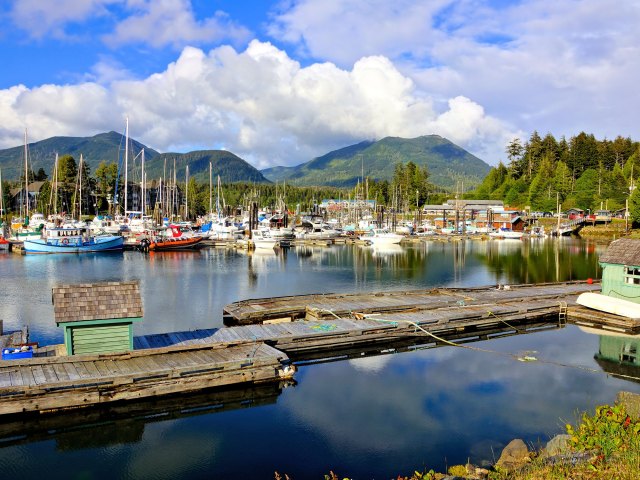 The resort town of Ucluelet sits on the southwestern coast of Vancouver Island, which many consider the crown jewel of British Columbia. This small port community is home to under 2,000 people, who enjoy a quiet lifestyle in untouched wilderness. Visitors can get their bearings with a walk around the Wild Pacific Trail, a gorgeous 1.5-mile loop that passes through coastal forest, bogs, and mudflats. Black bears roam the island's temperate rainforest, whales and otters swim just offshore, and eagles soar overhead — making Ucluelet the ideal spot for wildlife tours.
Visitors eager to further connect with nature should check out Pacific Rim National Park for epic hikes across the 200 square miles of pristine landscape. Local surfers brave freezing temperatures in the winter to catch the best swell, but you can take advantage of the warmer water in summer with a surf lesson at Long Beach, one of the most popular surf spots in Canada.
Ucluelet's food scene awaits after you work up an appetite; choose from the tasty vegan café Yayu, artisan bakeries, seafood restaurants, bustling diners, and an assortment of food trucks parked around town. Splurge on a meal at Pluvio, Ucluelet's award-winning eatery serving dishes made from seasonal and wild ingredients foraged in the area.
Victoria-by-the-Sea – Prince Edward Island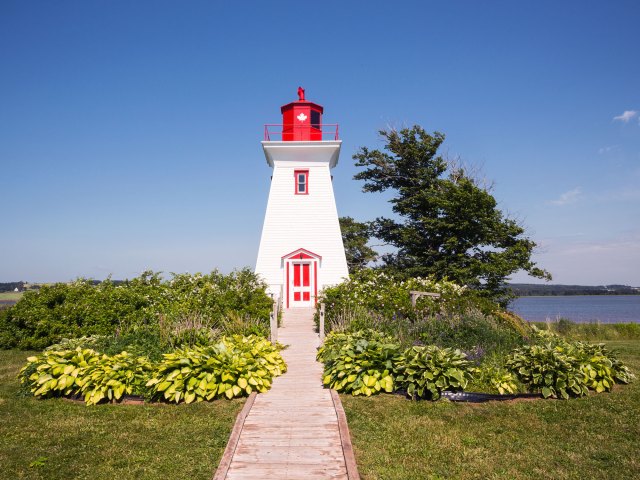 This picture-perfect seaside village is home to many local artists and makers who draw inspiration from the rugged natural surroundings of Victoria-by-the-Sea. Visitors come to Victoria-by-the-Sea to splash in the bays and cruise the historic coastline. Must-stops include Palmer's Range Light, a working 19th-century lighthouse that doubles as a maritime history museum. After, browse galleries like Michael Stanley Pottery for one-of-a-kind red stoneware and porcelain pieces, and the Studio Gallery for a collection of dreamy landscape prints and paintings.
Time on the water is time well spent in Victoria-by-the-Sea, so do as the locals do and paddle out on a clam-digging kayak excursion to harvest clams from the muddy shoals. It's no surprise that seafood like oysters, lobsters, fish, and, of course, clams are the best foods to satisfy your hunger after a day on the water. When you're ready for a meal, check out Landmark Oyster House and experience firsthand why Prince Edward Island's premium shellfish is exported worldwide. Or feast on locally caught specialties at Richard's Fresh Seafood and catch some rays on the restaurant's back deck on the waterfront.
Mahone Bay – Nova Scotia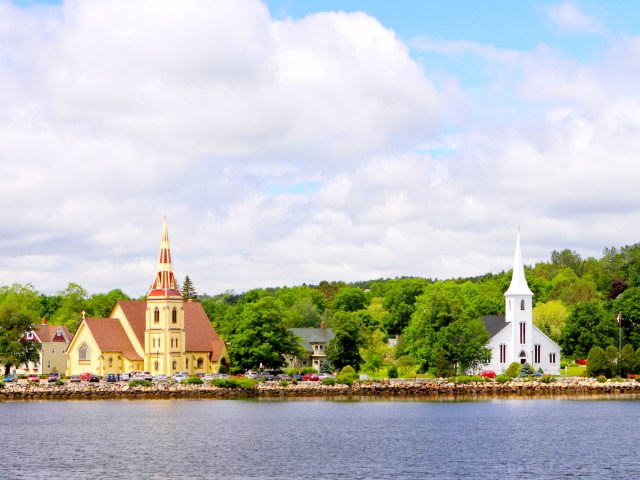 Just wandering around the quaint streets of Mahone Bay, a picturesque town on the South Shore of Nova Scotia, can put anyone's mind at ease. Snap the obligatory tourist photo of the "Three Churches" from across the harbor, and then admire the architecture of St. James' Anglican Church, St. John's Evangelical Lutheran Church, and Trinity United Church as you walk down Edgewater Street.
Mahone Bay truly is a town of makers; entrepreneurs flock to the cozy hamlet to launch their start-up careers in art, handicrafts, and metalwork. Because of this influx, Mahone Bay is one of the fastest-growing municipalities in Nova Scotia. Browse the boutiques and galleries along Main Street and watch as artisans mold molten pewter into stunning jewelry, ornaments, and sculptures at Amos Pewter.
Jasper – Alberta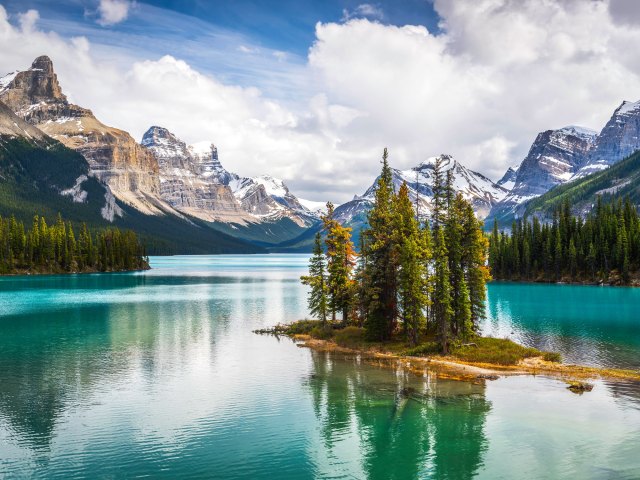 Jasper is a charming alpine town of roughly 5,000 year-round residents, nestled near Jasper National Park, an area home to glacier-fed lakes, dense forest, and rushing rivers. Many visitors to the national park use Jasper as a home base for exploring the surrounding wilderness. Soaring to the top of Mount Whistlers on the SkyTram puts the region in perspective and is a great way to get a lay of the land.
For more vistas, head to the Columbia Icefield Skywalk, a 0.6-mile walkway leading to a glass platform perched over a 1,000-foot drop with 360-degree views of the Sunwapta Valley, glaciers, and waterfalls. Experience the traditional culture of Jasper with a Fire Side Chat hosted by the Warrior Women and learn about the region's Indigenous history through stories, drumming, and singing. And if you happen to visit in winter, there's nothing more memorable than a dogsled tour through the stunning snow-covered terrain.
Dawson City – Yukon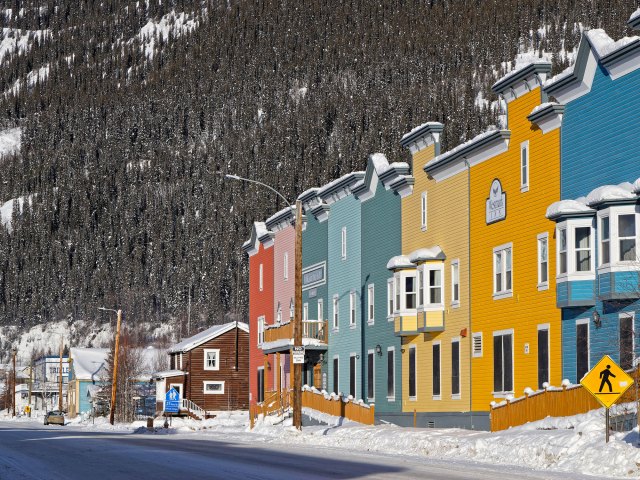 The former Klondike Gold Rush town on the Yukon River is still a prominent destination in northwestern Canada. Dawson City is best described as a historic hub surrounded by swaths of untouched forest. Acquaint yourself with the town's history on a walking tour led by a 19th-century-clad guide who can get you up to speed on all of Dawson City's secrets. Allow yourself to be transported to a time when the area was flush with gold as you wander past carefully preserved heritage buildings in downtown Dawson City, such as the Palace Grand Theatre and the Commissioner's Residence.
If you'd prefer, hop on the Klondike Spirit, the only paddlewheeler in the Yukon, and enjoy a historic tour while you soak up the beautiful landscape along the river. The trip wouldn't be complete without visiting the family-run Claim 33 Goldpanning and Jerry Bryde Klondyke Mining Museum, where you can learn how to pan for gold and even try the techniques for yourself in the nearby streams. Celebrate the success of your gold-panning mission at Sourdough Joe's, named after one of the founding town members, with a battered fish sandwich and house-made chowder.
Port Carling – Ontario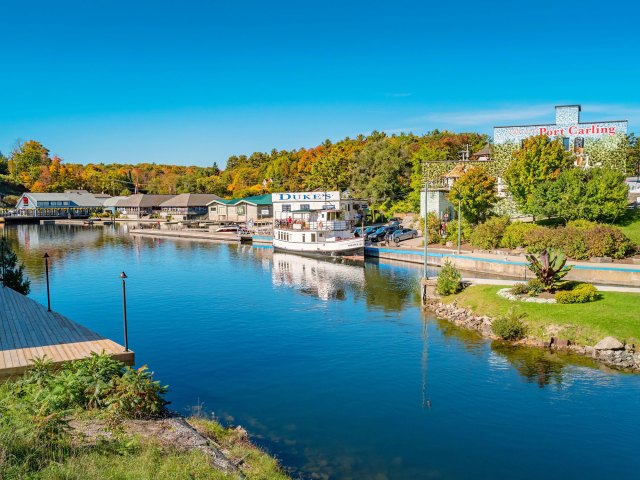 Completely surrounded by lakes and rivers, the Muskoka District town of Port Carling is fittingly dubbed the "Hub of the Lakes." The region gets plenty of recognition for its beauty, earning another nickname, "The Malibu of the North," due to the number of celebrities who vacation there. It's hard to resist the dockside shops of Port Carling, featuring cottage country-themed boutiques, fudge shops, and waterfront restaurants. It's also impossible to miss the Port Carling Wall, a massive mosaic (100 feet tall and 45 feet wide) of individual photographs taken between 1860 and 1960.
Explore downtown Port Carling's array of shops such as Muskoka Emporium and Red Canoe Gallery to ensure you'll come home with authentic Canadian garb, furnishings, and crafts. The Muskoka Lakes Museum is a must-see for learning more about First Nations history and the area's boat-building roots. There are plenty of ways to enjoy Port Carling's spectacular scenery, but nothing beats a cruise around Lake Muskoka aboard the Lady Muskoka.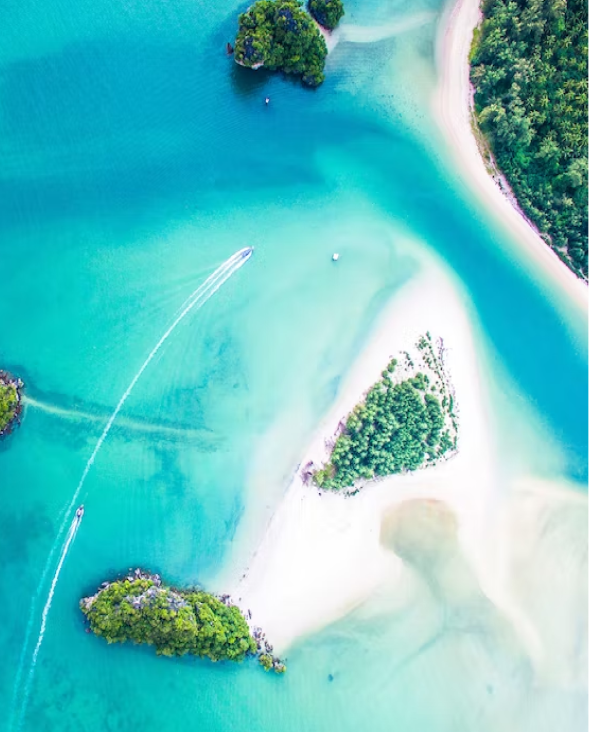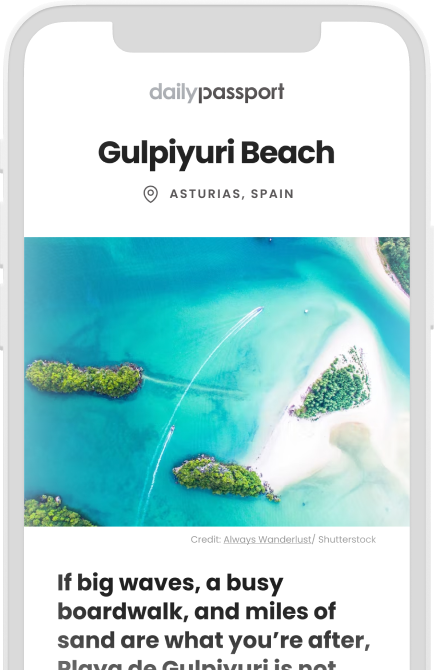 The world is waiting.
Daily Passport is your ticket to the four corners of the earth. Start exploring today.
Please enter valid email.
By subscribing you are agreeing to our Privacy Policy and Terms of Use.