When many of us picture airport terminals, fluorescent-lit interiors, confusing signage, and maze-like corridors come to mind. But in many cities, drab terminals are a thing of the past. They've been replaced by modern, light-filled architectural wonders that combine nods to local cultures with the functionality needed to seamlessly transport thousands of passengers each day. These eight airports feature some of the world's most unique airport architecture.
Denver International Airport – Denver, Colorado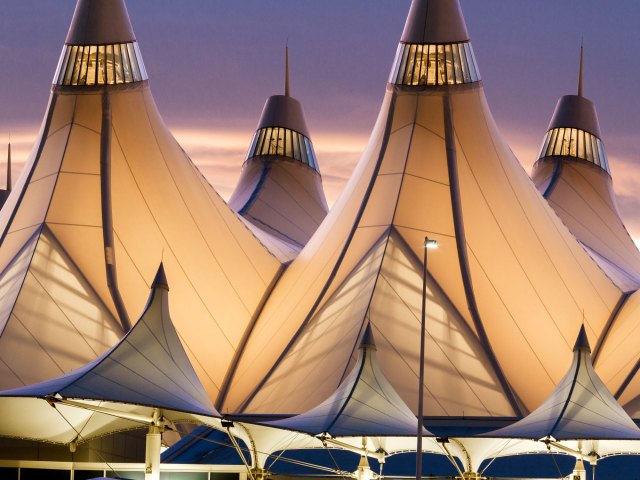 Travelers arriving at Denver International Airport — America's largest airport by land area — are welcomed by a towering symbol of the region. A series of soaring fabric-covered tents represent Colorado's iconic Rocky Mountains, along with the prairie wagons and Native American teepee tents of the state's history. Designed with sustainability in mind, the translucent roof allows natural light to flood into the 2.6-million-square-foot Jeppesen Terminal.
The airport's on-site solar farm consists of 9,000 panels that take advantage of Denver's 300 days of sunshine to produce 3.5 million kilowatts of electricity each year. As a result, DIA — as it's known by locals — became the first airport added to the Environmental Protection Agency's Performance Track, which recognizes facilities that excel in protecting human health and the environment.
Heydar Aliyev International Airport – Baku, Azerbaijan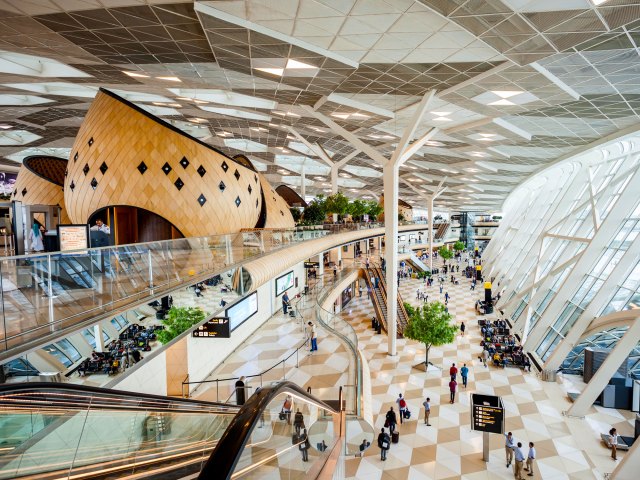 The design of Heydar Aliyev International Airport takes inspiration from Azerbaijani hospitality. Scattered throughout the terminal's passenger areas are a collection of wooden cocoons. These imaginative and intriguing spaces vary in size and host everything from cafés and kiosks to shops and a children's play area. Equally eye-catching are the atrium floors, whose 3D diamond patterns mimic the cocoon's shingles. Architects used Dekton, a stone material known for its durability and uniform, natural color. The airport's exterior glass walls also permit daylight to bathe the interior.
Kansai International Airport – Osaka, Japan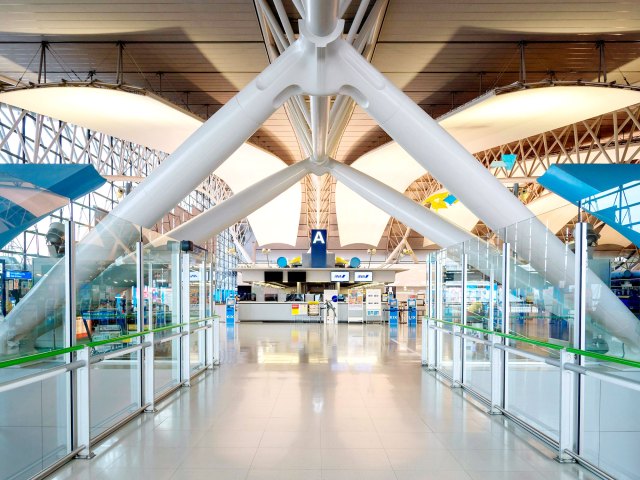 Set on an artificial island in Japan's Osaka Bay, Kansai International Airport became the world's first ocean airport when it opened in 1994. Located about three miles offshore, the airport can operate 24 hours a day with minimal noise pollution for Osaka's residents. Kansai's primary 1.1-mile-long terminal houses 42 aircraft gates and was the world's longest terminal when it opened. The building features 82,000 curving steel panels and a wave-like roof designed to not obstruct views from the control tower. It's a deliberately lightweight structure that can withstand the effects of an earthquake. Inside, travelers will find hanging sculptures by Japanese kinetic sculptor Susumu Shingu, which promote the natural flow of air emitted from huge ducts.
Singapore Changi Airport – Singapore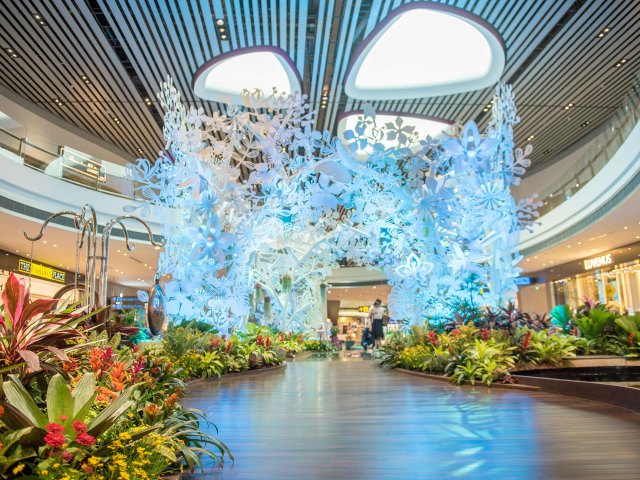 Frequently topping SkyTrax's list of the World's Top 100 Airports, Singapore Changi Airport is famous for its innovative amenities — from a butterfly garden to an attached shopping center, the Jewel, featuring the world's tallest waterfall — and passenger-friendly designs. Terminal 3, in particular, features a steel-and-glass structure and a spacious nine-hectare roof above the arrival, departure, and ticketing areas. The terminal building has a light modulation system made up of glass skylights and sensor-operated aluminum louvers, which control the amount of natural light that enters during the day. At night, they reflect artificial light to create consistent illumination, all helping to regulate lighting and cooling costs.
Madrid-Barajas Airport – Madrid, Spain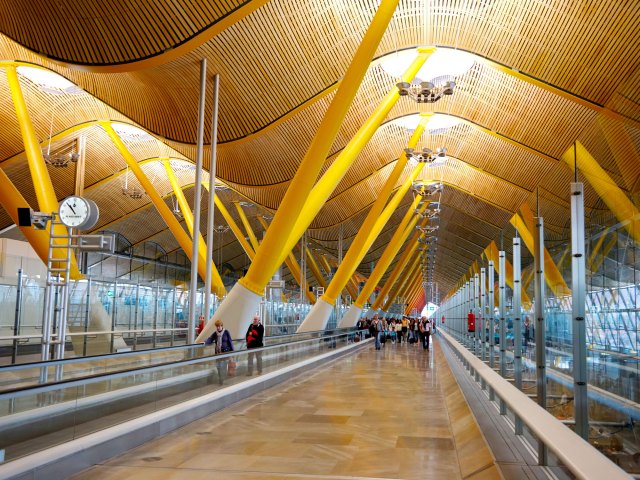 As one of Europe's busiest airports, with 35 million annual passengers, Madrid-Barajas Airport looked to a design with a defined progression of spaces for its newest terminal. The resulting Terminal 4, opened in 2006, has a distinctive wave-shaped roof that reflects the airport's surroundings. Inside, huge supporting "trees" punctuate the roof and allow daylight to illuminate the upper level. The terminal features a north-south orientation, with facades facing east and west, which is the ideal layout for protection against solar gain. Bridges span light-filled passenger walkways, and bamboo strips and a 0.6-mile-long stretch of "trees" painted in graduated color contribute to a harmonious and calming atmosphere throughout.
Marrakech Menara Airport – Marrakech, Morocco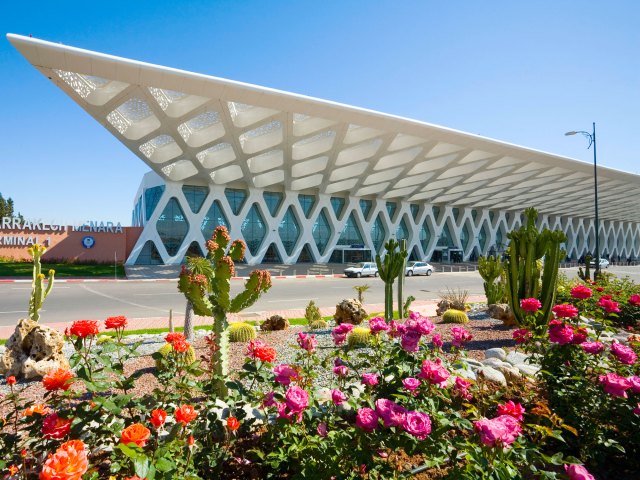 Visitors to Marrakech Menara Airport are welcomed by a striking cantilevered canopy clad in white aluminum panels. The structure serves to protect the terminal interior from the beating desert sunshine, and its facade appears to change color according to the time of the day. Decorated with stylized Islamic motifs, it's a prime example of merging contemporary architecture with traditional art, with the rhythmic patterns of the arabesques filtering daylight into the atrium. Inside, passengers will find an ode to Moroccan traditions, including granite floors and rhombus-shaped columns. Rest spaces feature armchairs and sofas draped in regional fabrics, while replica Islamic mosaics adorn the ceiling.
Queen Alia International Airport – Amman, Jordan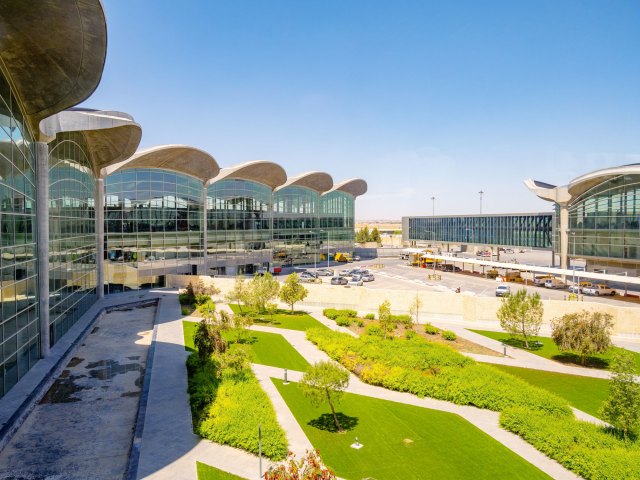 The eye-catching tessellated roof canopy at Queen Alia International Airport is made up of concrete domes that evoke images of a campsite filled with the Arab Desert's emblematic bedouin tents. Concrete was chosen for its ability to absorb the desert heat and thus provide passive environmental control. Plus, each dome is a modular unit, which allows for easy future expansion. The undersides of these domes replicate the surface of a leaf with desert-like shades of creams and browns, and geometric Islamic patterns adorn the soffits. On the terminal's inside, lofty courtyards take inspiration from the concept of vernacular Arabic buildings.
Samui Airport – Koh Samui, Thailand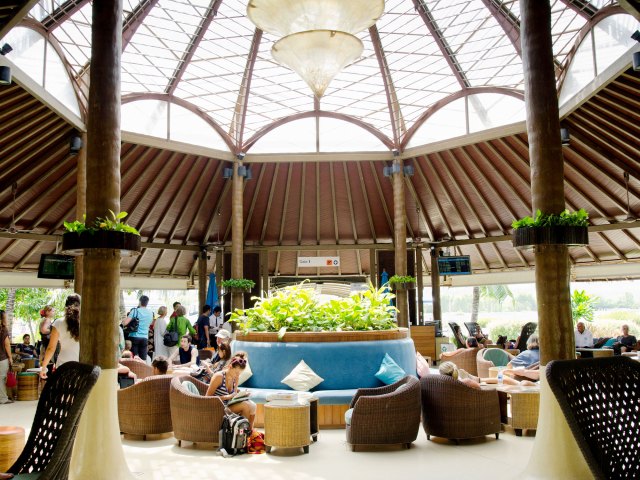 Opened in 1989 and privately owned by Bangkok Airways, Samui Airport welcomes tourists to Koh Samui, Thailand's second-largest island located in the Gulf of Thailand. The airport replicates its natural surroundings while incorporating elements of Polynesian architectural designs. Architects built the terminal using local materials such as palm, rattan, and wood. The use of palm leaves, coupled with an open-plan layout, acts as a natural cooling system, which in turn minimizes the airport's carbon footprint. Lush vegetation is common throughout the concourse, and unique touches, like an aquarium in the restroom, help to instill an air of tranquility.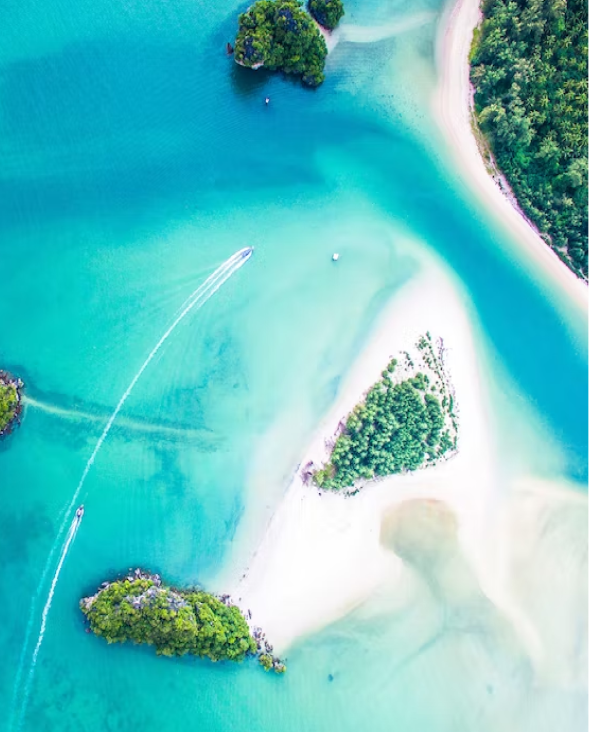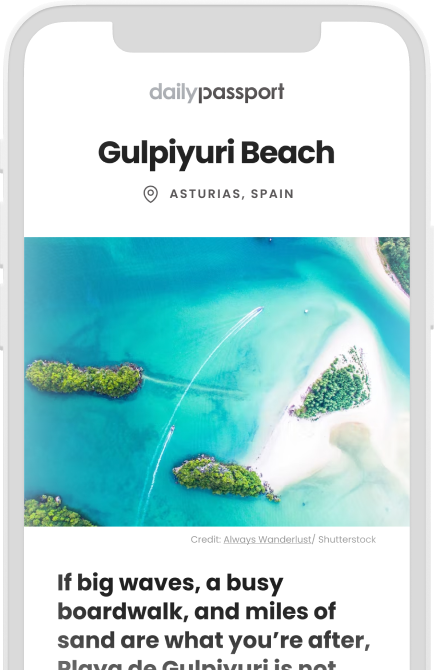 The world is waiting.
Daily Passport is your ticket to the four corners of the earth. Start exploring today.
Please enter valid email.
By subscribing you are agreeing to our Privacy Policy and Terms of Use.