Some landmarks in the U.S. — the Grand Canyon, Niagara Falls, Times Square, Mount Rushmore — are seemingly on every traveler's radar. While those famous spots are well worth a visit, there are many lesser-known American landmarks that offer fascinating history, dazzling scenery, and — best of all — a serious lack of crowds. Check out seven under-the-radar natural landmarks you probably didn't know, but should.
Apostle Islands Mainland Ice Caves – Wisconsin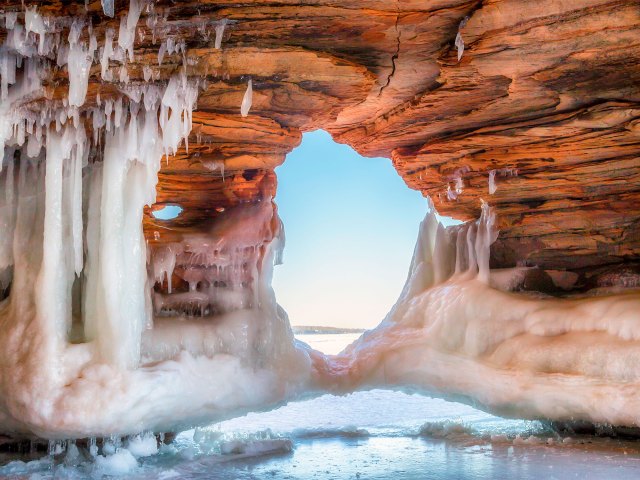 The 22 wooded islands in Lake Superior that make up northern Wisconsin's Apostle Islands National Lakeshore are popular during the warmer months for paddling, sailing, and hiking — but winter may actually be the best time to visit. That's when you can marvel at one of the most unique landmarks in the country, the Apostle Islands mainland ice caves, located 18 miles west of the town of Bayfield. When Lake Superior freezes over, visitors can walk about a mile to the stunning rock formations and sea caves from the stairs at the end of Meyers Beach Road. Park officials monitor ice conditions carefully to ensure it's safe; if conditions are right, you'll be rewarded with a mesmerizing wonderland of needle-like icicles. You can even sometimes crawl into the caves, and marvel as the ice floor beneath reveals the bottom of the lake like a sheet of see-through glass.
Kasha-Katuwe Tent Rocks National Monument – New Mexico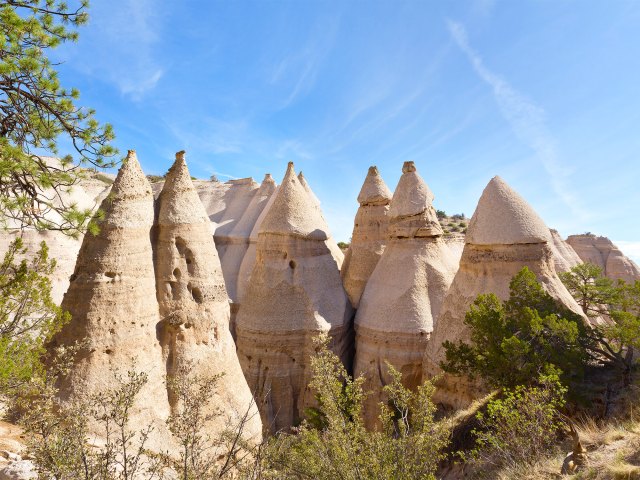 Located about 40 miles southwest of Santa Fe, the Kasha-Katuwe Tent Rocks National Monument boasts some of the most intriguing geology in the U.S., yet it's rarely found on lists of the country's top natural wonders. The fact that it's overlooked by many just means there will be fewer people around to share the area's incredible views of hoodoos and striated rocks. The cone-shaped rock formations are the result of massive volcanic eruptions that occurred approximately 6 to 7 million years ago, blanketing the landscape with over 1,000 feet of ash, pumice, and tuff deposits. Hiking the three-mile loop trail affords awe-inspiring views of the formations that range in height from a few feet to as tall as 90 feet. Note that, as of mid-2023, the area is closed, but the Bureau of Land Management is working with the Pueblo de Cochiti peoples to reopen the site in a way that reduces impacts on the lands, resources, and Indigenous population.
Spencer Hot Springs – Nevada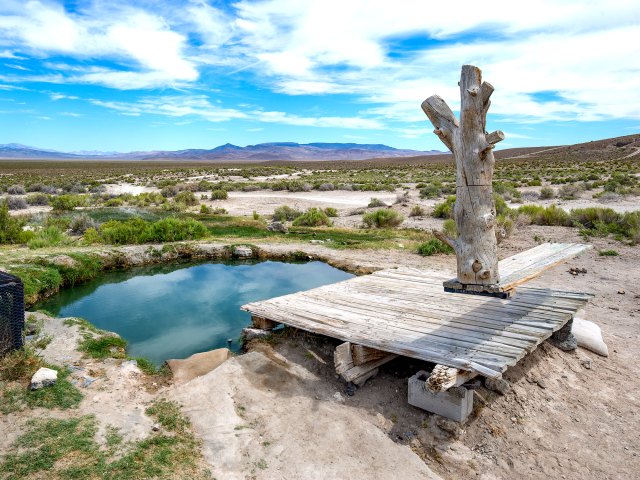 When driving U.S. Route 50 — dubbed the "Loneliest Road in America" for its long, empty stretches through remote central Nevada — you'd never know that a hidden gem sits among the sea of sagebrush. The Silver State is home to many natural hot springs, but there may be none more consistent than Spencer Hot Springs. There are no bathrooms or facilities of any kind, but visitors will find pools with idyllic water temperatures and stunning mountain vistas that can be enjoyed year-round.
It's a place in-the-know Nevadans have been visiting for decades, but one out-of-staters have only recently "discovered." Located about 20 miles southeast of the town of Austin, the pools blend into the terrain, kept well hidden from passersby. They sit on public land, and over the years, frequent visitors have made significant improvements, such as the unique bathing tubs made out of cattle troughs, with hot water flowing in through pipes. If the water is too hot, you can easily remove the pipes, and vice versa if it gets too cold.
Hovenweep National Monument – Colorado/Utah
Located on the Cajon Mesa between Cortez, Colorado, and Blanding, Utah, Hovenweep National Monument features a fascinating and sprawling collection of Ancestral Puebloan archaeological sites. While it may not be considered an Instagram hot spot, this beautiful, remote area has been inhabited for at least 10,000 years, with structures that date from the 13th and 14th centuries, some of which include multi-story towers. The monument features six village groups strewn along a 16-mile road in the high desert. The visitor center is on the Utah side and includes exhibits detailing the site's history. A two-mile loop trail will bring you through the Square Tower Group, the monument's largest collection of structures. If you want to spend the night, there's also a first-come, first-served 31-site campground nearby.
Shoshone Falls – Idaho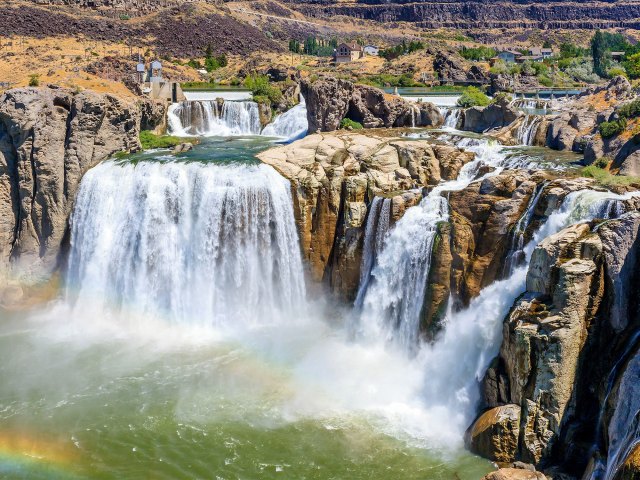 While Niagara Falls in New York often steals the spotlight, Shoshone Falls — nicknamed the "Niagara of the West" — is even larger. In fact, it's one of the country's largest natural waterfalls, located about two hours southeast of Boise. Part of the Snake River in Shoshone Falls Park, the falls plunge a jaw-dropping 212 feet (about 30 feet higher than Niagara) and spread 900 feet wide. After a particularly heavy snowpack melts in spring, the waters can flow at more than 20,000 cubic feet per second. The surrounding park offers multiple facilities that make it well worth spending a day here. While swimming near the falls isn't permitted, Dierkie's Lake offers a swimming area with a sandy beach. Kayaks and paddleboards are available for rent, and you'll also find picturesque trails to hike.
Thor's Well – Oregon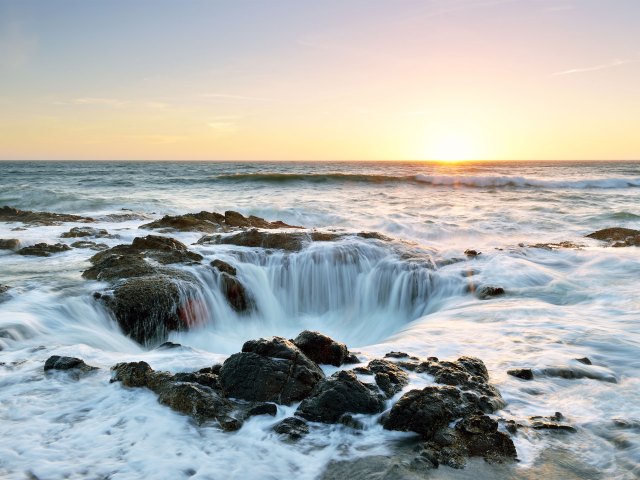 Tucked away near the tiny coastal village of Yachats, Thor's Well was once a sea cave, but after the roof collapsed due to erosion, it became a natural sinkhole reaching depths of about 20 feet. But what makes Thor's Well so unique is that it appears to be a massive drain that sucks in the ocean and never seems to fill, despite the continuous flow of water. The gaping hole is best viewed at high tide, when the water rushes in and then shoots up into the air, or during a storm when the waves violently wash over it before falling back through. A paved trail leads visitors to the overlook, and there are other trails that lead to a ground-level view. However, visitors should be extra cautious and keep a safe distance from this stunning wonder.
Skull Rock – California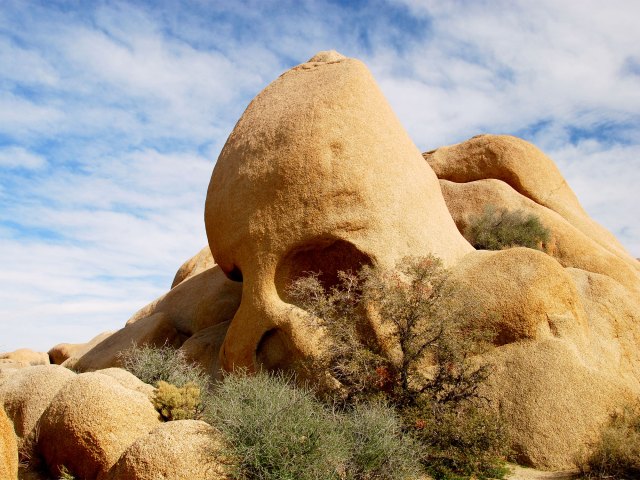 Southern California's Joshua Tree National Park is famous for its bizarre, spiky Joshua trees and other unusual desert plants, but it also hosts some incredible rock formations that are popular with climbers. One of the most unique such attractions is Skull Rock, which has been naturally sculpted by the elements over time. As rain began to accumulate in tiny depressions, it eroded the granite until, eventually, two hollowed-out eye sockets formed — giving the rock a skull-like appearance (and its name). Visitors can follow a 1.7-mile nature trail to reach the spectacular and relatively unknown rock.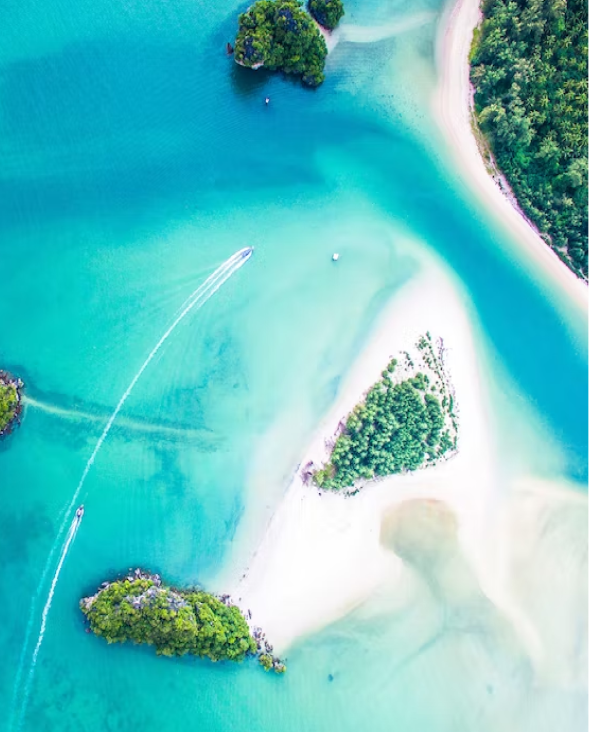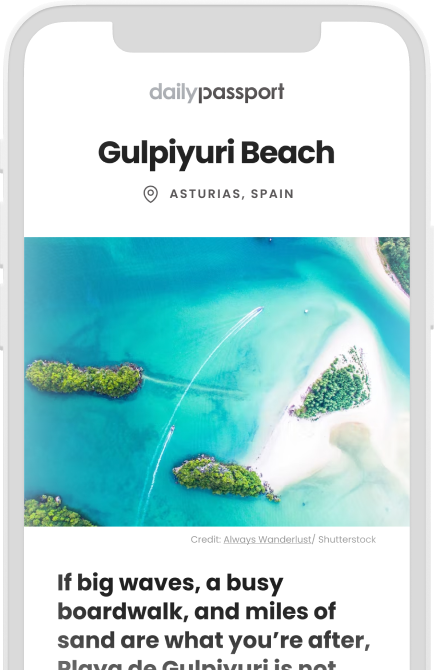 The world is waiting.
Daily Passport is your ticket to the four corners of the earth. Start exploring today.
Please enter valid email.
By subscribing you are agreeing to our Privacy Policy and Terms of Use.