The surest sign of spring's arrival is the welcome sight of blooming flowers. Fortunately, if you're a fan of florals, you've got plenty of time to plan — depending on geography, flower blooms can occur as early as February in the desert regions of the U.S. or as late as mid-summer in locations with higher elevations. From the Instagram-friendly poppy fields of California's Antelope Valley to the rolling carpets of bluebonnets of Texas Hill Country, here are 10 of the best places to see flower blooms across the country. As you admire the blooms, be sure to visit responsibly and stick to trails and follow signs to protect these delicate species.
Antelope Valley California Poppy Reserve – Lancaster, California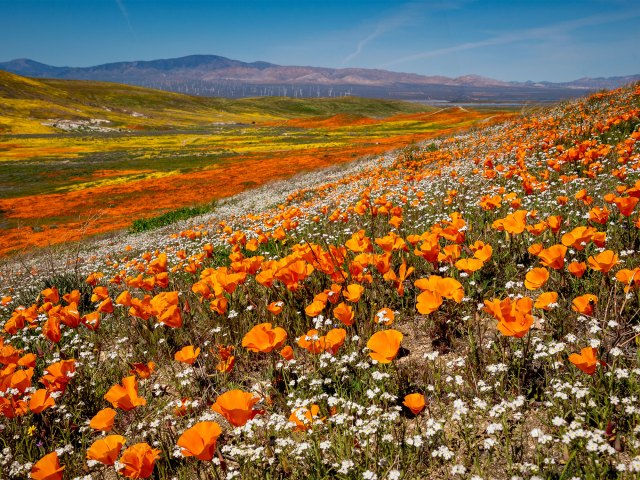 The high desert at the western edge of the Mojave, about a two-hour drive from Los Angeles, is the land of California's iconic poppies. From mid-February through March, the fields and rolling hills of the 1,780-acre Antelope Valley California Poppy Reserve are decorated with a brilliant mosaic of yellow, red, and orange poppies that attract visitors from all over the country. An eight-mile trail winds around the reserve, offering intimate encounters with the ever-changing kaleidoscope of colors. The area is also a natural habitat for numerous wildlife species, including bobcat, coyote, gopher and kangaroo rats.
Blue Ridge Parkway – North Carolina and Virginia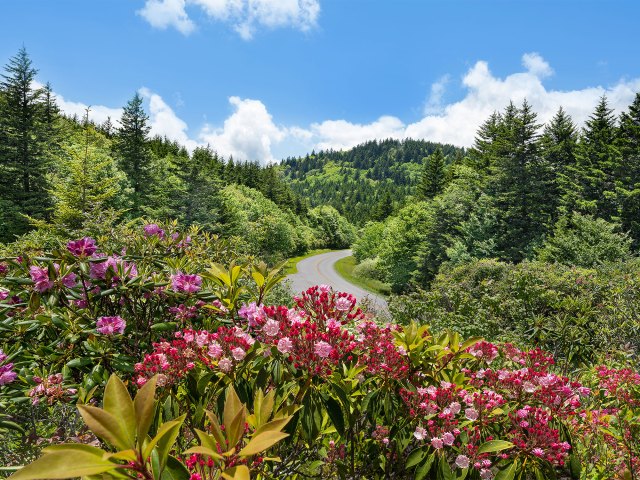 The Blue Ridge Parkway winds for 469 miles between Shenandoah National Park in Virginia and Great Smoky Mountains National Park in North Carolina. One of the most scenic (and popular) drives in the country, the route passes through an area that preserves around 1,400 plant species, including many native Appalachian flora. Wildflowers — from azaleas and hydrangeas to laurels and rhododendrons — typically bloom here from April through August and are visible at almost every overlook. Among the most prized sightings is the pinkish-purple catawba rhododendron, which can be viewed in June around Virginia's Peaks of Otter and North Carolina's Craggy Gardens.
Carlsbad Ranch – Carlsbad, California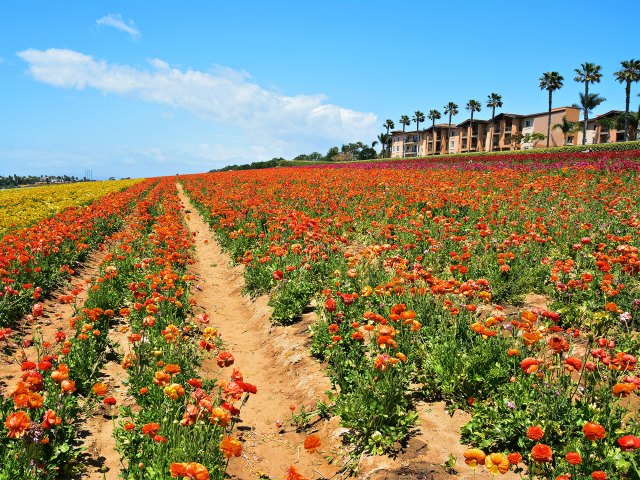 Located in the seaside Southern California city of Carlsbad, the Flower Fields at Carlsbad Ranch are the result of 85 years of cultivation. It all began when horticulturist Luther Gage planted ranunculus seeds here that he brought over from England, and today, these ranunculus flowers burst into life on a hillside for approximately eight weeks between March and May. Visitors can walk or take a wagon ride around the fields to admire the ranunculus, as well as rare and unusual poinsettias, a floral maze created from sweet pea blossoms, and a giant U.S. flag fashioned from swathes of red, white and blue petunias.
Chicago Botanical Garden – Chicago, Illinois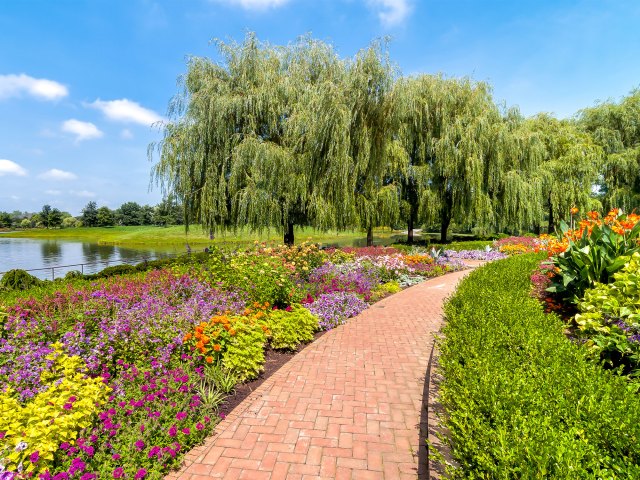 Springtime at the Chicago Botanical Garden — one of the world's great living museums — is a time of rebirth. Blooming colors and sweet aromas bring a renewed state of mind around 12 gardens and four natural areas, which together shelter some 2.4 million plants. Milder temperatures and extra sunshine allow for daffodils, magnolias, and snowdrops to flourish. The Krasberg Rose Garden alone has 5,000 flowers, including a six-foot-tall brilliant red rose called the Ingrid Bergman. Visitors can check out the American Flower Series, a collection of themed spring and summertime exhibitions with expert horticulturists.
Crested Butte – Colorado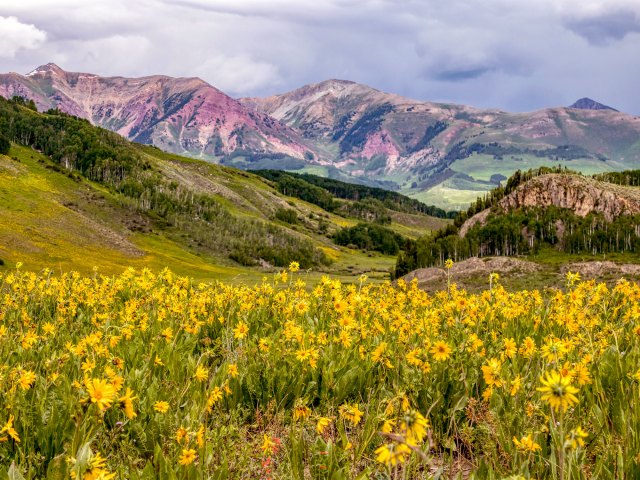 While this Rocky Mountain town is famous for its winter sports, Crested Butte is also blessed with stunning wildflower blooms each spring and summer. One of the best times to experience the vivid colors is during July's Crested Butte Wildflower Festival, which features more than 150 flower-themed events, including hikes, botany workshops, and photography competitions. Flower fans can also see the blooms via self-guided walks along trails to alpine meadows and dramatic lookout points. Along the way, you'll come face to face with bluebells, buttercups, daisies, and sunflowers, among many other species.
Glacier National Park – Montana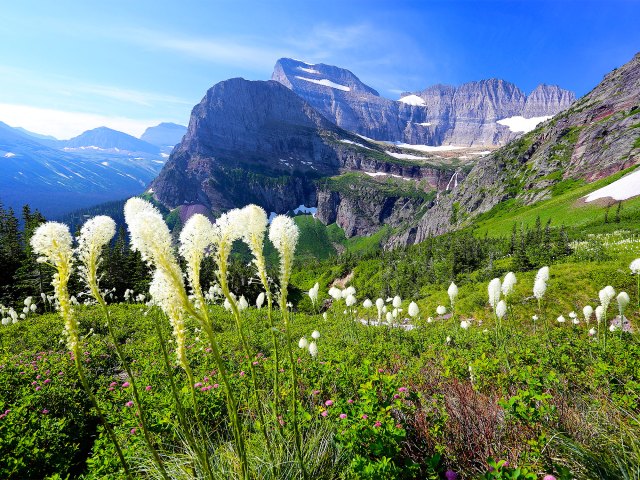 After the winter snow melts in Glacier National Park, the alpine meadows, lowlands, and mountain slopes are overtaken by almost a thousand species of wildflowers. Visitors in the summer months can admire shimmering carpets of beargrass, glacier lilies, and purple asters with a backdrop of rugged peaks. Home to over 30 species of plants and mosses, the Logan Pass area of the park was designated as Montana's first Important Plant Area (IPA). Another popular viewing area is the trail that winds around the park's Hidden Lake.
Texas Hill Country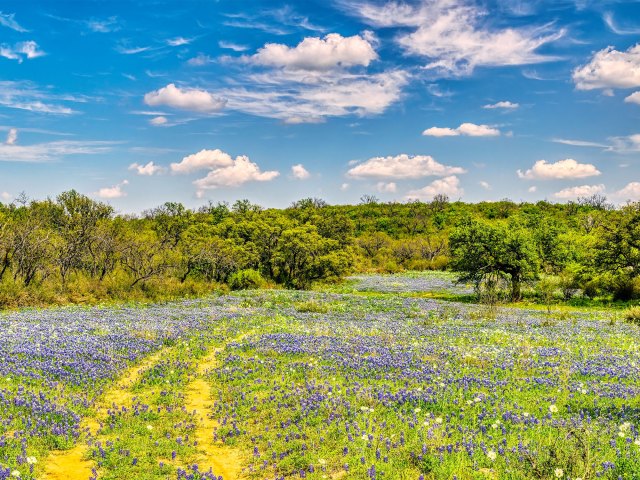 When spring comes around, Texas Hill Country turns a brilliant shade of blue thanks to the emergence of thousands of bluebonnets, the Lone State's official flower. The best way to see them is along the Bluebonnet Trail, a stretch of highway that meanders about 40 miles around the city of Ennis, which hosts the annual Ennis Bluebonnets Trail Festival in April. The celebration features art exhibitions, craft fairs, live music, and guided wildflower walks. Burnet is another bluebonnet hotspot with its own Bluebonnet Festival. And don't miss the 13-mile Willow City Loop, a scenic drive amid the region's verdant hills and flower-filled countryside.
Mount Rainier National Park – Washington
Head to the forests and subalpine areas around Washington's tallest peak — 14,410-foot Mount Rainier — in July and August to experience a sensory overload of brilliant colors. With snow often lingering until the early summer months, wildflowers in Mount Rainier National Park bloom quickly and abundantly in order to reproduce before winter returns. A visit to the park during these months offers the chance to spot avalanche lilies, bluebells, bog orchids, and hundreds more floral varieties. Paradise Meadows and the Skyline Trail are excellent walking routes for spotting flowers along with wildlife such as black-tailed deer and marmots.
Rose Test Garden – Portland, Oregon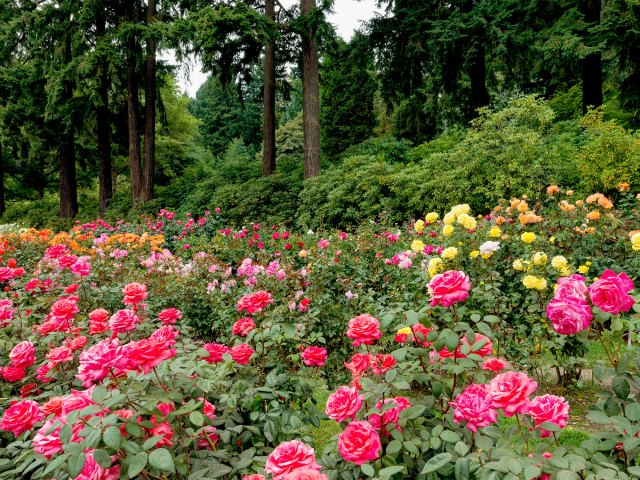 It's no coincidence that Portland is nicknamed "the City of Roses" — Portland's penchant for roses dates back to the establishment of the Portland Rose Society in 1889, and its International Rose Test Garden is the oldest extant rose test garden in the United States. The garden was established in 1917 to test new rose varieties, and today it showcases 10,000 individual rose bushes, which represent over 600 varieties, when they bloom from May to October. Among these are displays of climbing, miniature, and shrub roses. Each year, between 10 and 20 varieties are replaced with new types being tested, which are made available for commercial sale.
Skagit Valley – Washington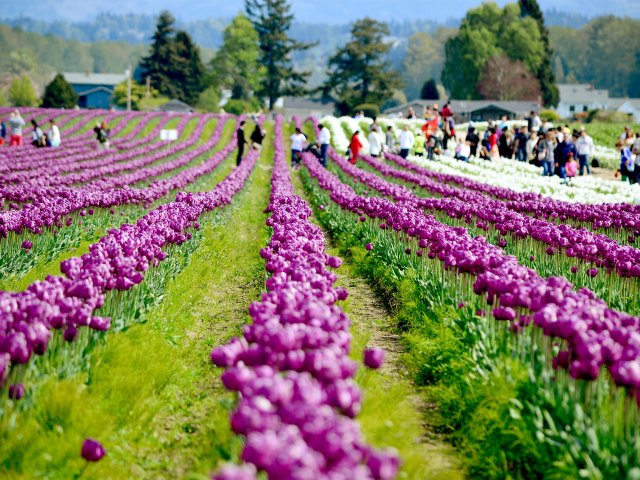 The pastoral landscape of northern Washington's Skagit Valley, is the setting for one of the country's most remarkable tulip blooms — and an annual festival to celebrate their arrival. Held in April, the Skagit Tulip Festival promises an explosion of color spread over 300 acres of the valley. Attendees can witness majestic fields of tulips, daffodils, and irises in the shadow of the Cascade Mountains. Although the festival is designed as a driving tour, the farms and gardens can also be explored by foot, bike, or even seaplane. Art shows, artisan markets, and street fairs round out the month-long festival.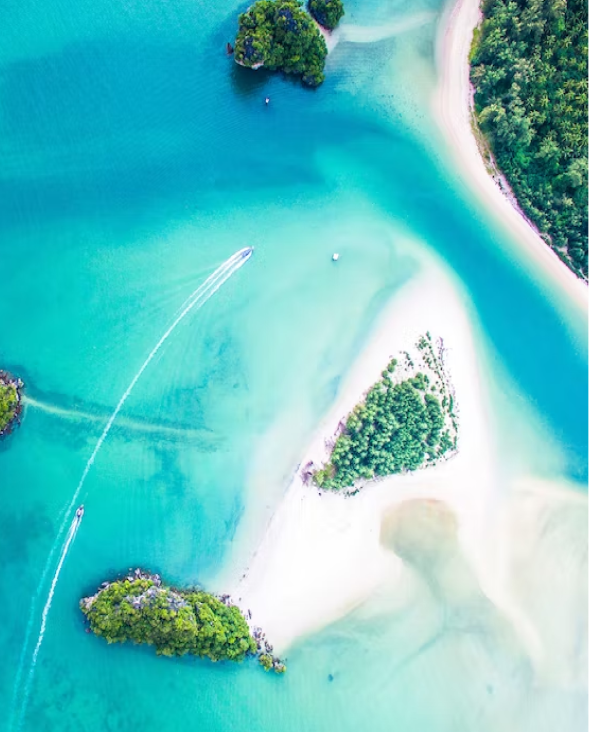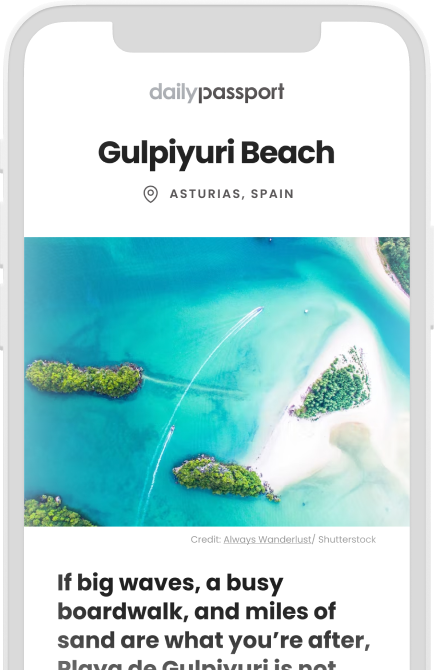 The world is waiting.
Daily Passport is your ticket to the four corners of the earth. Start exploring today.
Please enter valid email.
By subscribing you are agreeing to our Privacy Policy and Terms of Use.