From the depths of Death Valley to the peaks of Denali, the U.S. has no shortage of incredible national parks. But as impressive as it is, America's list only scratches the surface of the global park system. Don't know where to start? Filled with ancient tombs, hidden temples, and underwater marine reserves, these 20 national parks in other countries are seriously worth adding to your bucket list.
Khao Sam Roi Yot National Park – Thailand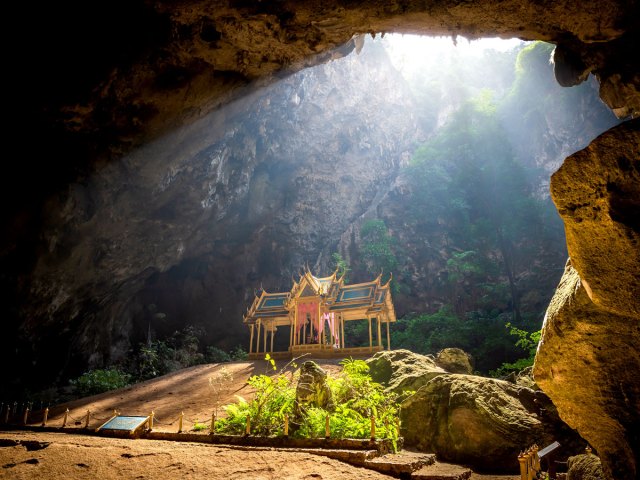 Khao Sam Roi Yot National Park, located along the Gulf of Thailand, is famous for its limestone hills that reach as high as 900 feet above sea level. With a name that translates to "mountain with 300 peaks," the park is open year-round, but it's especially popular with birders in January and February, when 300 species of migratory birds flock to the park. However, the highlight for most visitors is likely the pilgrimage to Phraya Nakhon Cave, a spectacular limestone cavern that contains a Buddhist temple. The cave can be reached by boat or on foot, with guided trekking tours for visitors who are unfamiliar with the terrain.
Jasper National Park – Canada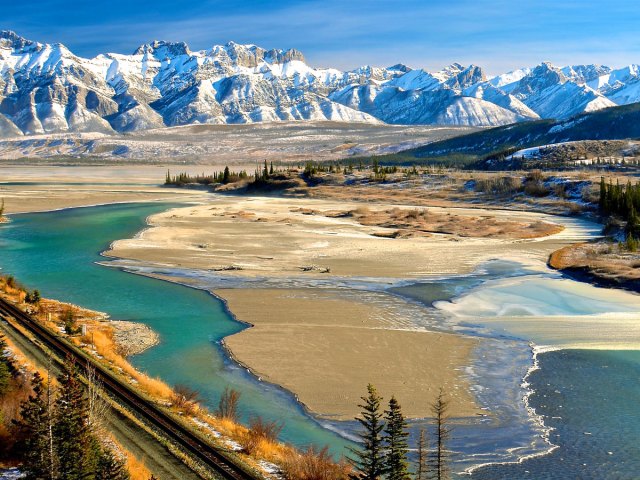 Home to grizzly bears, moose, and elk, Jasper National Park is the biggest national park in the Canadian Rockies, providing visitors with 4,247 square miles of wilderness to explore. Located in western Alberta, the park offers rugged adventurers access to backcountry trails, mountain summits, alpine meadows, winding rivers, and pristine lakes. As a UNESCO World Heritage Site, Jasper draws roughly 2.5 million visitors a year. Skiing and snowshoeing are popular activities in winter, while summer visitors prefer camping and hiking.
Tongariro National Park – New Zealand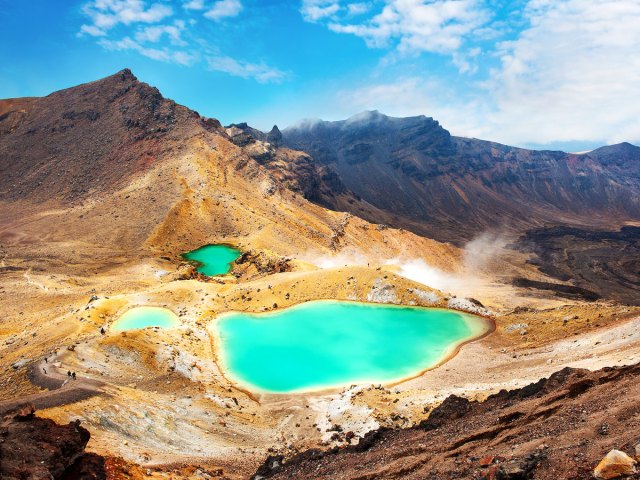 Established in 1887, Tongariro is New Zealand's oldest national park, drawing thrill-seekers to the area for over 100 years. With almost 200,000 acres of preserved land, the park is uniquely situated on three volcanoes, resulting in a dramatic landscape that has been formed over centuries. From ancient lava flows and steaming craters to emerald lakes, Tongariro's geothermal activity makes it an incredibly diverse park. It's also sought after by hikers who are brave enough to trek across the park's active volcano — although checking Tongariro's volcanic activity ahead of time is required.
Yakushima National Park – Japan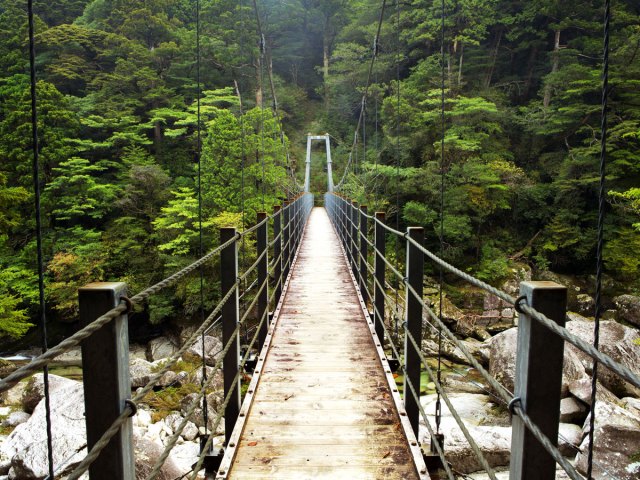 An island preserve located on Yakushima Island at the southern end of Japan's archipelago, Yakushima National Park is home to some of the country's oldest trees. Ancient cedars that are over 1,000 years old can be found within the park, including Jomon Sugi — the oldest tree in Japan. Although reaching Jomon Sugi is an arduous hike that often takes up to 10 hours of trekking over boulders and up ladders, the journey through the temperate rainforest is sure to be memorable. If this type of hike sounds too strenuous, fear not. The park offers a network of trails for all skill levels, including stone-paved paths for easier trailblazing.
Amboseli National Park – Kenya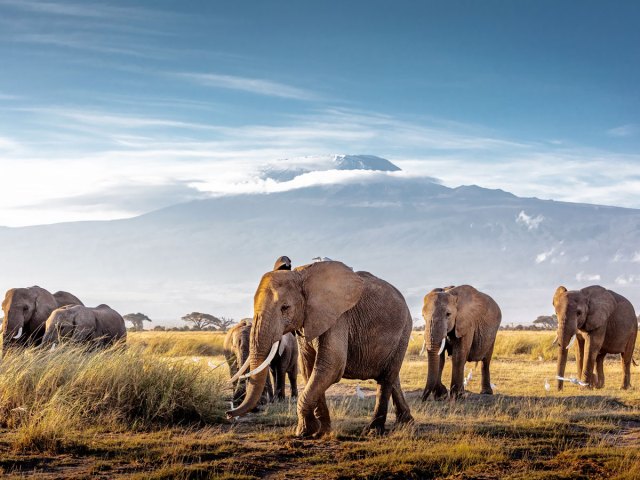 Most people are familiar with the famed Mount Kilimanjaro National Park in Tanzania, while neighboring Amboseli National Park remains lesser-known. Located beneath Mount Kilimanjaro just over the border in Kenya, Amboseli translates to "salty dust" in the Indigenous Maasai language, a nod to the park's landscape. But in addition to its dusty plains, the park is home to wetlands, a savannah, woodlands, and a large, dried lakebed. The diverse ecosystem draws one of the largest populations of elephants in all of East Africa, with up to 1,600 elephants reported within the 150-square-mile park.
Abisko National Park – Sweden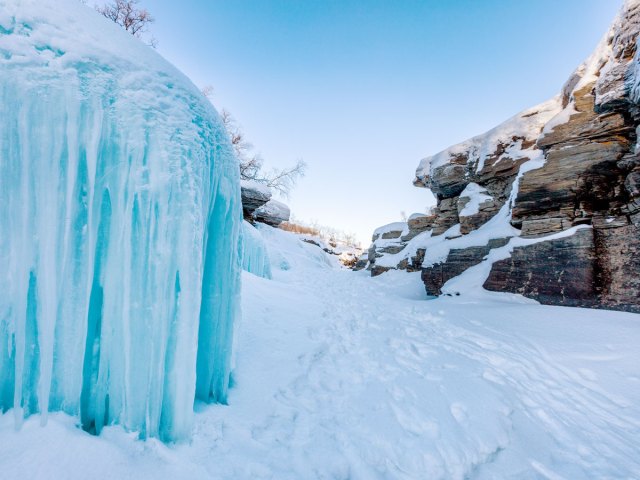 At a mere 29 square miles, Abisko National Park might be small, but its offerings are on a much larger scale. Located in the country's northernmost province, Abisko is considered to be one of the best places in the world to see the elusive northern lights. With an Aurora Sky Station that can be accessed via chairlift, the park's remote location and dark night skies provide the perfect viewing opportunity for aurora borealis. Since winter reigns supreme in this part of the world, Abisko offers plenty of other activities in colder months, including dog-sledding, snowshoeing, and even meeting reindeer at a nearby Sami village.
Sajama National Park – Bolivia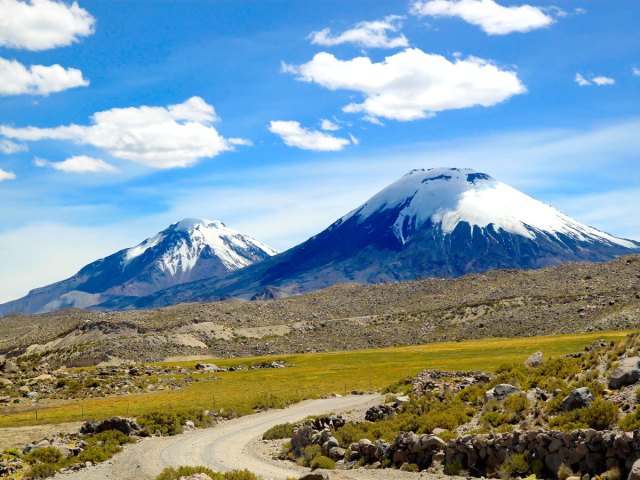 As Bolivia's oldest national park, Sajama was established in 1939 as a way to protect the queñoa tree, which was being overforested. Today, the park stretches for 2,236 miles on a high Andean plateau at 13,100 feet. The vast plain provides the perfect habitat for alpacas and llamas, who can be seen roaming the landscape. Since the park is situated below a volcano, Sajama's ecosystem provides plenty of exciting activities, such as soaking in natural hot springs, walking through geyser fields, and climbing the snow-capped volcano, Nevado Sajama. To avoid the rainy season, the best time of year to visit the park is between April and November.
Uluru-Kata Tjuta National Park – Australia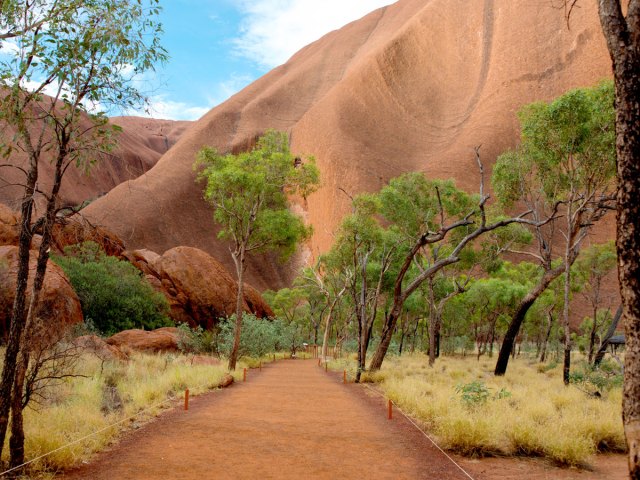 For curious visitors, Uluru-Kata Tjuta National Park has plenty of geological and cultural activities for the taking. Originally established as protected land in 1950, the park encompasses Uluru Rock and Kata Tjuta Rock, which were once part of the Aboriginal Reserve. Since these incredible red-rock formations, which are estimated to be roughly 500 million years old, have been a part of Aṉangu culture for centuries, the park eventually recognized the Aboriginal people as the rocks' original owners. As a result, visiting the park is shaped by this stewardship and is a fascinating lesson in Aṉangu culture. Visitors are invited to begin their trip at the Cultural Centre, where they can learn about the Aṉangu people, hear their stories, and understand how the land has been an integral part of their lives for 30,000 years.
Berchtesgaden National Park – Germany
This relatively young park was established in 1978, and with a network of trails that stretches for 155 miles, it provides some of the best hiking in Germany. Located in the Northern Alps near the Austrian border, the trails at Berchtesgaden National Park provide striking views of Bavaria at every turn. Visitors who trek through the park will often spy ibex, a species of a wild goat that roams the park's mountainous landscape. Berchtesgaden is also known for Lake Königssee, a shockingly green alpine lake wedged between mountains where swimming is permitted.
Tsitsikamma National Park – South Africa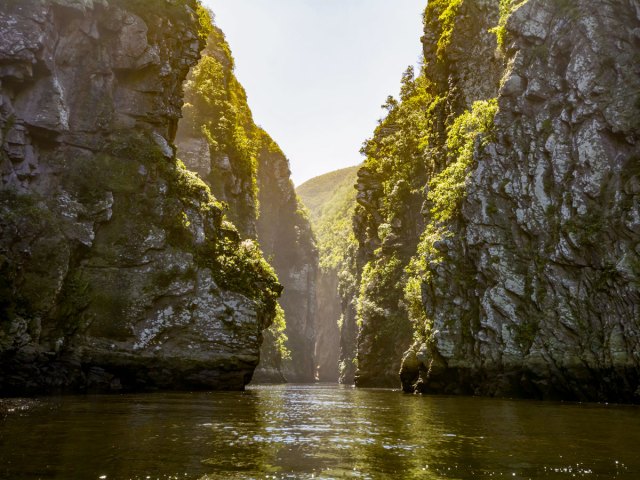 Located within the confines of Garden Route National Park, Tsitsikamma National Park is a coastal stretch of protected land that runs along Plettenberg Bay. With access to the Indian Ocean, Tsitsikamma offers water lovers the opportunity to swim, snorkel, and kayak in the bay, or watch dolphins play in the breakers. Inland, Tsitsikamma is renowned for its forested hillsides, which contain indigenous plants, steep canyons, and suspension bridges that cross the water. The park is also a haven for animals and is home to Monkeyland Primate Sanctuary, which houses over 550 free-roaming primates.
Shennongjia National Geopark – China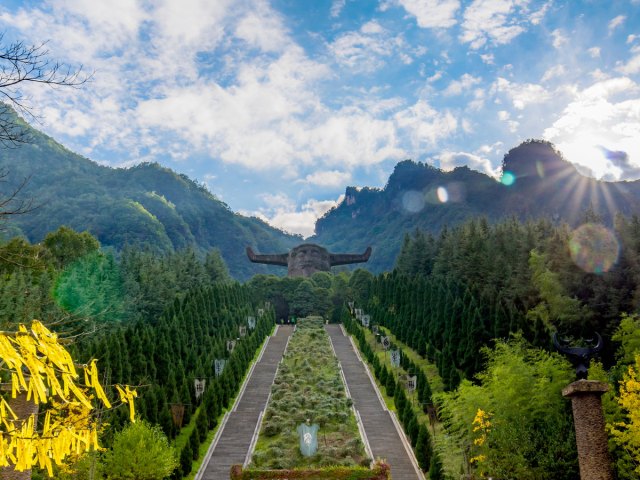 Located in the landlocked province of Hubei, Shennongjia National Geopark is known for its mountainous terrain and thick forests. The forests are so replete with healthy trees that the park has been named a "natural oxygen bar," which is a certified place in China that has fresh oxygen and plenty of negative ions. With acres of evergreens, deciduous hardwood trees, and waterways, Shennongjia is especially sought-after by nature lovers and anglers. And since the park limits its daily number of visitors, Shennongjia never feels overcrowded, even during peak season.
Sintra-Cascais National Park – Portugal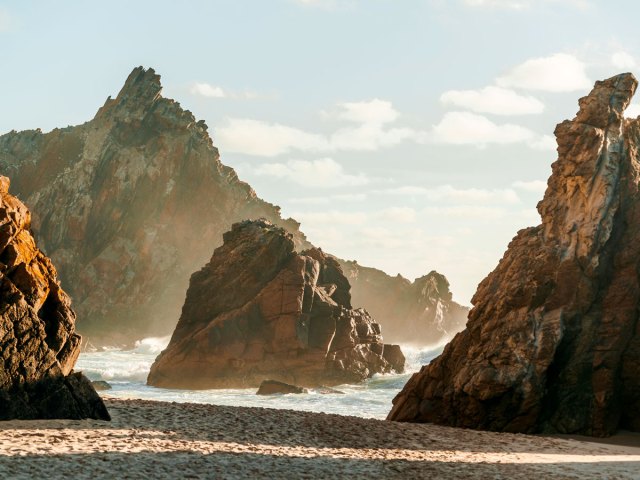 Stretching from the mountains of Sintra to the beaches in Cascais, Sintra-Cascais National Park offers a wide variety of activities for every type of traveler. From its rugged beaches tucked beneath soaring cliffs to its expansive mountains and hiking trails, outdoorsy visitors will find plenty to keep them busy. A mere 30 minutes from the capital of Lisbon, the park is also an ideal day-trip for sightseers looking to learn more about the history of the Iberian Peninsula. In addition to the Castle of the Moors, which dates back to Muslim rule during the eighth century, the Quinta da Regaleira is an ornate palace built in the early 20th century. Even more exciting, near the village of Rodizio, visitors can find fossilized dinosaur footprints embedded in limestone.
Kornati National Park – Croatia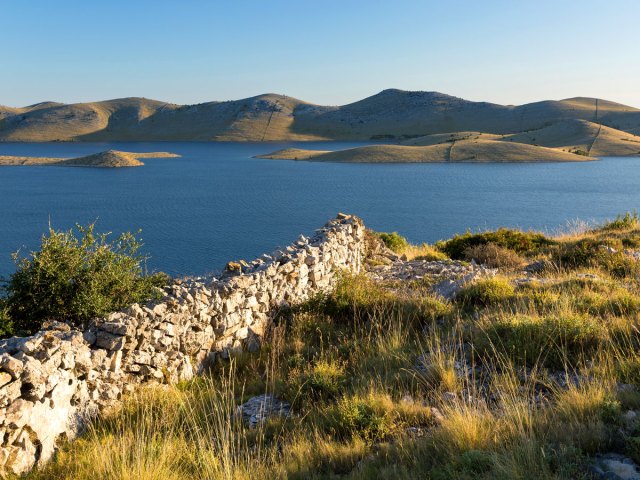 Consisting of 89 islands, Kornati National Park is an archipelago located off the coast of Croatia in the Adriatic Sea. Established as protected land in 1980, the park is mostly uninhabited, making it an expansive and exciting place for visitors. Often called a "nautical paradise," many visitors to Kornati organize their own vessel to explore the islands and surrounding waters. Since the water is clean with good visibility, snorkeling and diving are popular activities in the protected bay on Levrnaka Island or around the small islet, Rasip Mali.
Valley of the Flowers National Park – India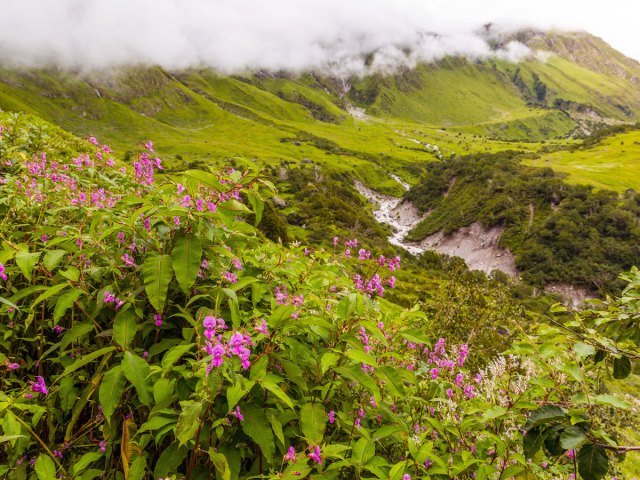 There's no doubt that the Valley of the Flowers National Park is appropriately named. After monsoon season, the park's meadows come alive with thousands of wildflowers. Located in the western Himalayas of India, the alpine flowers are exceptionally beautiful beneath the imposing, craggy mountains. The park is open from June until October, but the flowers are often at peak bloom in July and August. However, visiting the remote, high-altitude park is not for the faint of heart, as it requires a 12-hour drive, followed by a 10-mile hike on a steep mountain trail.
Gorkhi-Terelj National Park – Mongolia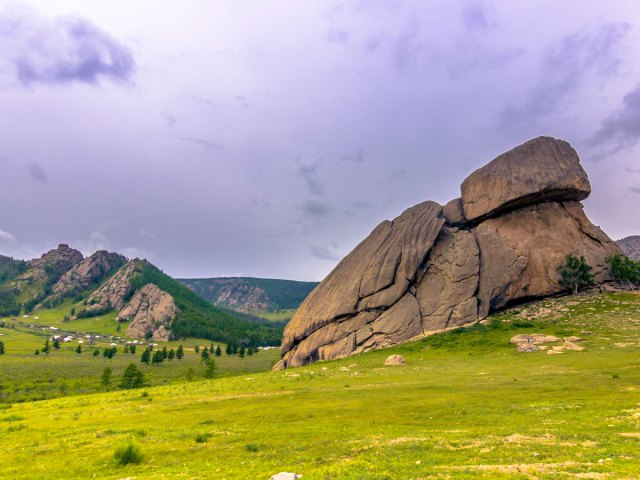 Gorkhi-Terelj National Park is often overlooked by tourists, but among locals, it's one of the most popular parks to visit in Mongolia. Comprising 1,127 square miles of forest-covered mountains, rolling meadows, and pristine rivers, Gorkhi-Terelj is paradise for adventure enthusiasts. With activities that range from white-watering rafting to horseback riding to archery and dog-sledding, the park provides plenty of year-round fun. In addition to these active pursuits, Gorkhi-Terelj is popular for Turtle Rock, a natural granite formation that stands 80 feet tall and bears an incredible resemblance to a turtle.
Snowdonia National Park – Wales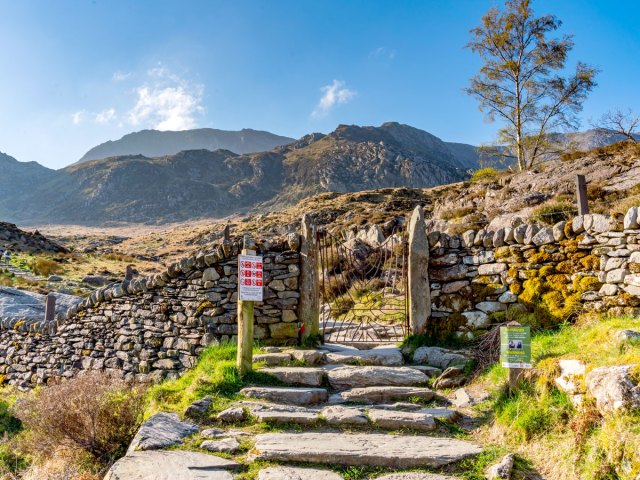 Located in northwestern Wales, Snowdonia — or Yr Wyddfa as the locals refer to it — is both the largest and oldest of the country's three national parks. Established in 1951, the park is named for Snowdon, the highest mountain in Britain at 3,560 feet above sea level. As a result, Snowdon is a large draw for trekkers who want to bag the high peak. Once that is accomplished, the park offers plenty of other beautiful and challenging summits, including Tryfan and Cader Idris. Snowdonia's lakes, rivers, and coastline make it an ideal place for pursuing water sports, such as paddling, whitewater rafting, and even surfing. There are also plenty of historic sites to explore in the Welsh countryside, as the area has an abundance of castles built in the 12th and 13th centuries.
Bunaken Marine National Park – Indonesia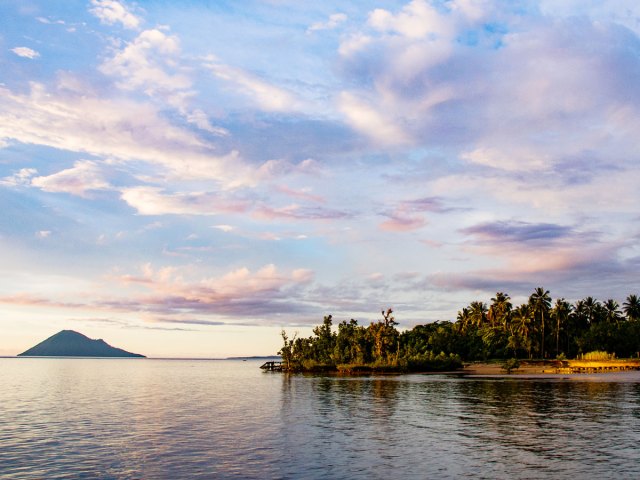 Bunaken Marine National Park was established in 1991 and is one of Indonesia's first marine parks. It encompasses nearly 200,000 acres of land and sea, with 97% of the park underwater. Bunaken was created in order to protect marine biodiversity and to prevent harmful practices that could be detrimental to the region's animal and plant life. Not only is the park a migratory route for protected sea creatures, but it's also home to dozens of coral reefs. As such, it's no surprise that Bunaken is an ideal location for divers, with 25 dive sites located throughout the park.
Grutas de Cacahuamilpa National Park – Mexico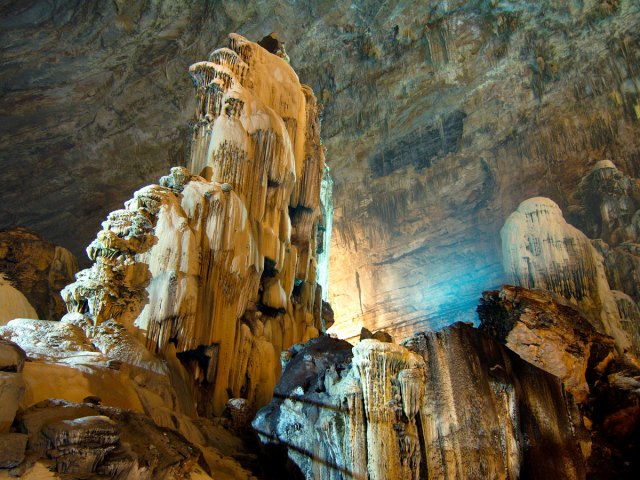 Grutas de Cacahuamilpha National Park in Guerrero, Mexico, is one of the largest cave systems in the world, with only 20 caves that have been explored out of the park's estimated 90. With two rivers flowing through Cacahuamilpha, the cave system is considered to be a "live" cave, which means the groundwater causes the continuous formation of stalactites and stalagmites. With some cave salons as high as 265 feet tall, the cavern continues to enlarge over time, creating incredible formations such as "The Bottle," which resembles a foamy beer. Since tours are the best way to see the cave, it's best to reserve an English-led tour in advance.
Nemrut Dağı National Park – Turkey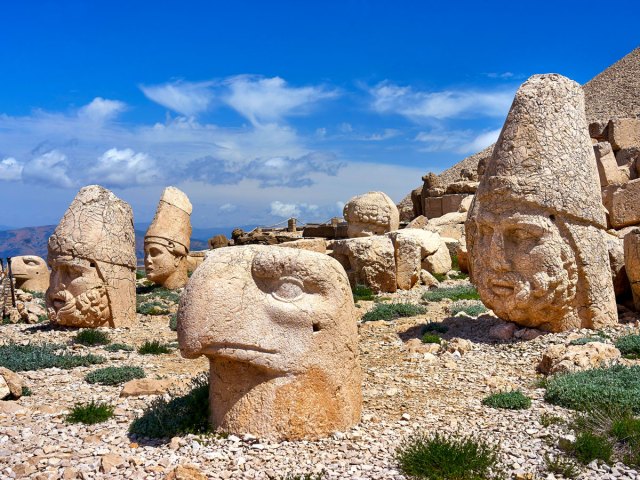 Located atop Mount Nemrut at 6,909 feet above sea level is the archeological site of Nemrut Dağı National Park. Mysterious stone sculptures of ancient gods can be found here, erected by a former king as a burial tomb for himself. Constructed between 69 and 34 B.C., these ancient statues are not only massive, but their crumbling faces seem otherworldly atop the mountain. Mount Nemrut can be accessed by vehicle but is only open between May and October. Reaching the summit requires an uphill walk, so make sure you bring good hiking shoes!
Greenland National Park – Greenland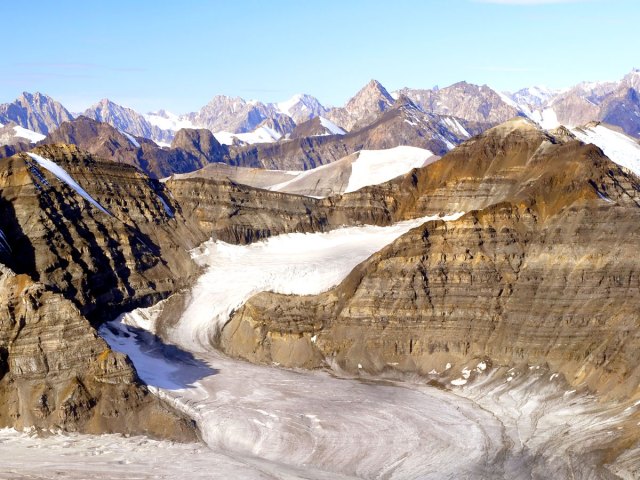 Covering an astonishing 375,291 square miles of arctic landscape, the eponymous Greenland National Park is the largest national park in the world. Although the park is 100 times larger than Yellowstone National Park, it receives far fewer visitors annually — approximately 500 people or less. With the exception of the crew at the four weather stations, scientists and researchers, and the Sirius Patrol (a navy dog sled unit), the park is free of permanent human inhabitants, making it a vast and unspoiled place to explore. However, the park is home to numerous land and sea animals, including polar foxes, wolves, snow hares, polar bears, and humpback whales.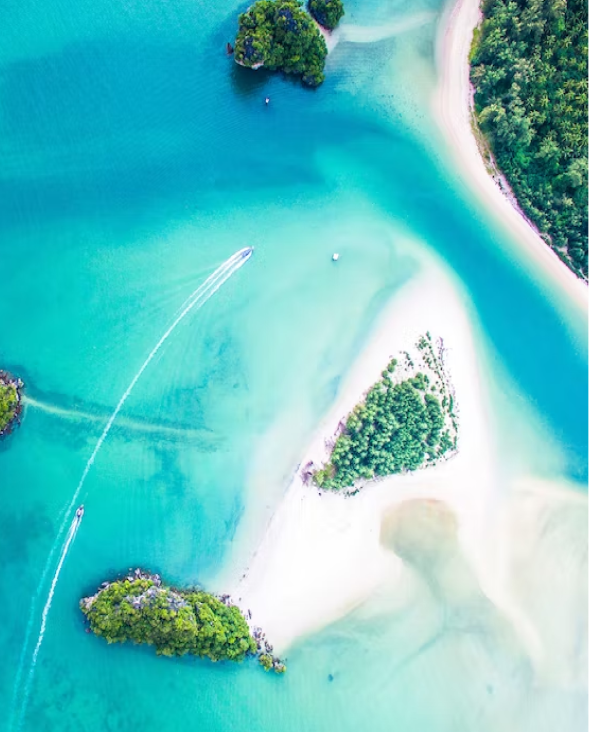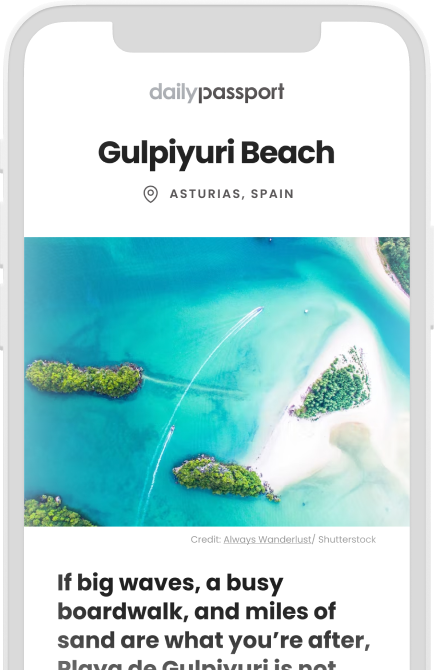 The world is waiting.
Daily Passport is your ticket to the four corners of the earth. Start exploring today.
Please enter valid email.
By subscribing you are agreeing to our Privacy Policy and Terms of Use.