These days, it's difficult to imagine a world without air travel. According to the annual report by the Airports International Council, nearly 7 billion travelers took to the skies in 2022 alone — an increase of 53.5% from the pandemic lockdowns of the previous year. And while there are more than 41,000 airports dotting the globe, some handle far more of that traffic than the rest. Below, take a look at the world's 10 busiest airports by total passengers enplaned and deplaned in 2022. 
10. Paris Charles de Gaulle Airport (CDG) – France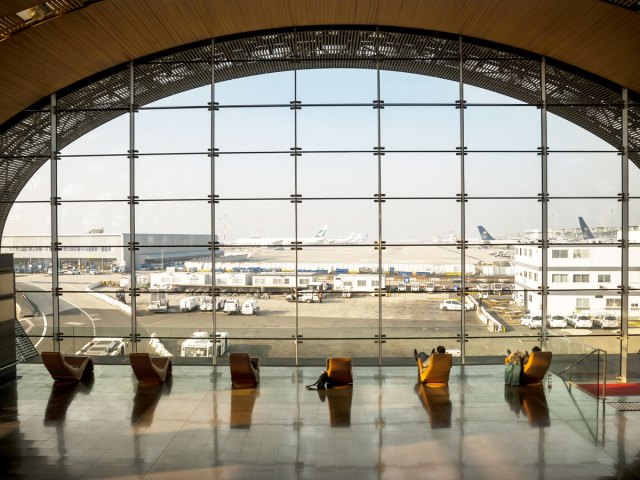 Handling almost 57.5 million passengers annually, Paris Charles de Gaulle (also known as Roissy Airport or Paris CDG) is the principal hub for French flag carrier Air France. The airport is named after French army officer and statesman Charles de Gaulle, who was the architect of France's Fifth Republic in the 1950s. The airport's three main terminals accommodate flights to 119 countries around the globe, just behind Istanbul Airport in terms of network breadth. Inside Terminal 2, the Espace Musées features works of art loaned from renowned Parisian cultural institutions such as the Rodin Museum. To fend off boredom on a long layover, budding musicians can also play the free-to-use pianos in all three terminals. 
9. Indira Gandhi International Airport (DEL) – Delhi, India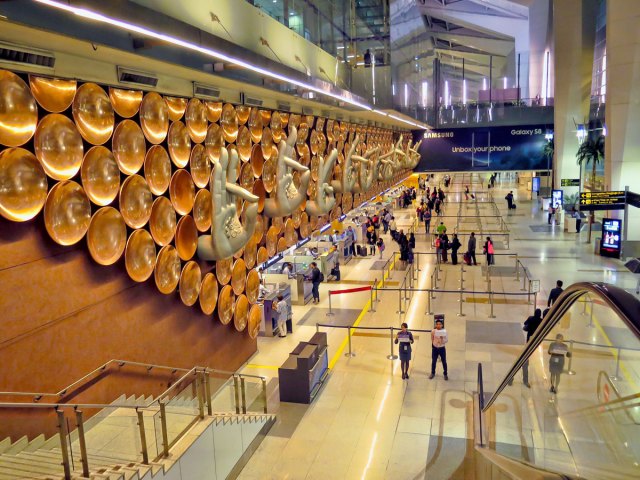 Located in southwest Delhi, one of the world's most populous metro areas, Indira Gandhi International Airport is currently the busiest airport in India. Latest figures account for just under 59.5 million passengers in 2022. Open since 1962, the airport — named after former Prime Minister Indira Gandhi — is served by 80 airlines and is the main hub of India's flag carrier, Air India. Throughout the three terminals, passengers can access over 75 retail outlets and 65 food and drink establishments. Seamless travel between the airport and New Delhi is offered by a high-speed rail network, which takes about 20 minutes to reach the city center.
8. London Heathrow Airport (LHR) – United Kingdom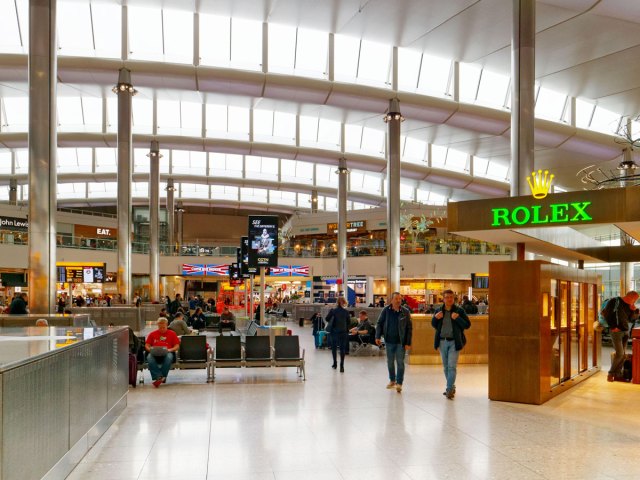 London Heathrow is the busiest airport in the United Kingdom and the largest of the six international airports that serve London. Over 61.6 million passengers traveled through the airport in 2022. Flights depart from the four passenger terminals (numbered Terminals 2 to 5) to over 200 destinations across 84 countries on 89 airlines. Heathrow is also a major cargo port, with approximately 1.4 million tonnes handled in 2022. Passengers traveling through Heathrow can find around 130 retail shops to pass the time, along with more than 30 bars, cafés, and restaurants. The airport is named after the ancient hamlet called Heath Row, where the airport was built following World War II.
7. Istanbul Airport (IST) – Turkey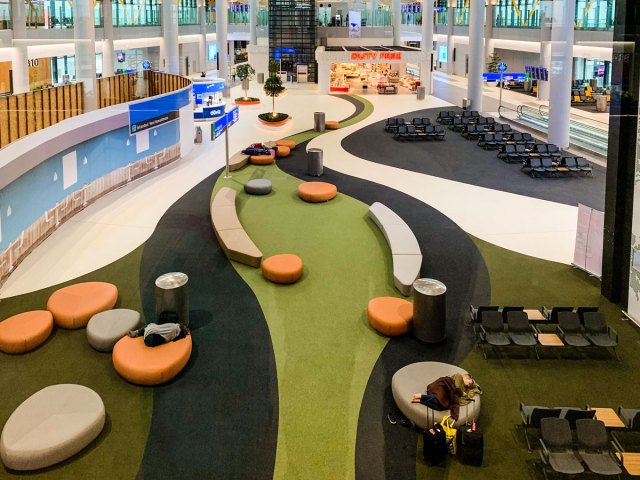 Situated on the European side of Istanbul, Istanbul Airport has been Turkey's main international air traffic gateway since it opened in 2018. It replaced Atatürk Airport, which was unable to expand due to its proximity to city developments and the Sea of Marmara. In 2022, the new Istanbul Airport connected around 64.3 million passengers to and from nearly 300 destinations in Asia, Africa, the Americas, and Europe — more destinations than any other airport in the world. In addition to a wide range of shops and restaurants, the airport has dedicated and complimentary Rest and Entertainment areas. Among these is the Youth Lounge, a space for travelers aged 15 to 30 with free Wi-Fi, comics, and video and board games.
6. Los Angeles International Airport (LAX) – California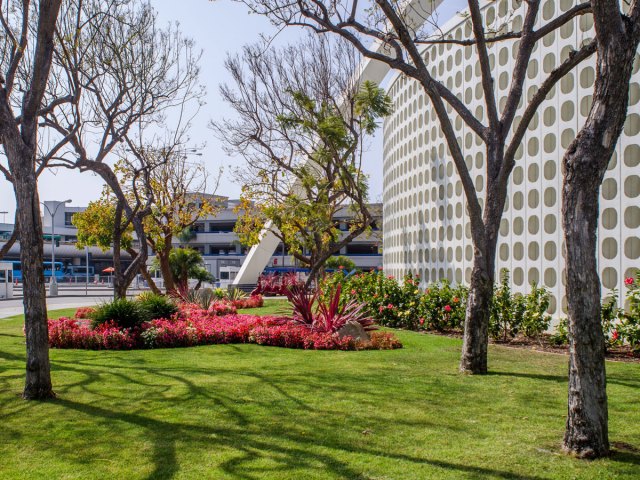 Famed for the 135-foot-tall Space Age-inspired Theme Building at the center of its terminal complex, Los Angeles International Airport is the fifth-busiest airport in the U.S. Just over 65.9 million passengers used the airport's nine terminals and 150 gates in 2022. LAX's Tom Bradley International Terminal, named after the city's longest-serving and first Black mayor, serves over 40 foreign carriers and underwent a major expansion in 2021, with the addition of a new 15-gate concourse. With a mission to celebrate the talents of South Californian artists, the LAX Art Program puts on 20 exhibitions a year in the departure and arrival areas. There's also a permanent Pets Unstresseing Passengers (PUP) program, which helps to provide stress relief to passengers via interaction with dogs. 
5. Dubai International Airport (DXB) – United Arab Emirates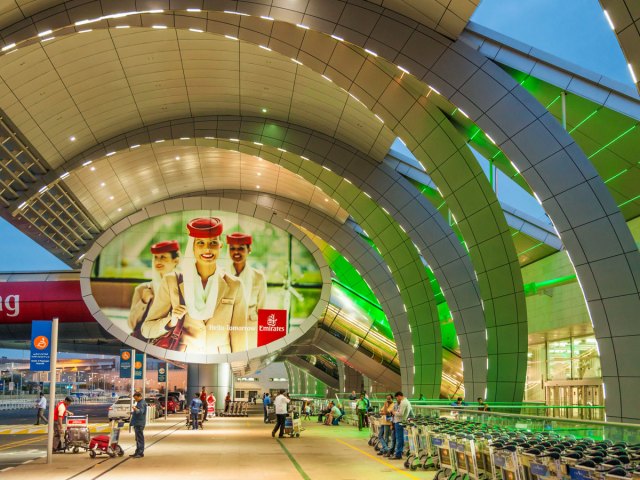 In 2022, Dubai International Airport was the busiest airport in the world located outside of the United States, with its passenger numbers reaching 66 million. Dubai is the main hub for Emirates, the flag carrier for the United Arab Emirates which operates more than 350 flights each day to over 130 destinations. Throughout the airport's three main terminals, passengers can browse 280,000 square feet of retail space, featuring luxury retail brands and multiple dining options. And to aid in pre-flight and layover relaxation, the airport offers two zen gardens, spa services, wellness centers, and entertainment at the Game Space Gaming Lounge.
4. Chicago O'Hare International AIrport (ORD) – Illinois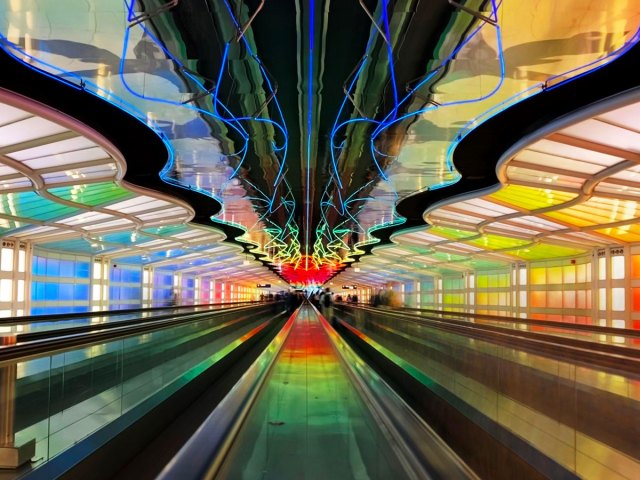 Built on the site of a former Douglas aircraft assembly plant, Chicago O'Hare International Airport became one of America's main getaways to the world after opening in 1945. Named after naval aviator Lieutenant Commander Edward H. "Butch" O'Hare, the airport is a major hub for both American Airlines and United Airlines. Today, O'Hare handles approximately 68.3 million passengers annually over its four terminals, which boast nearly 200 aircraft gates. New to Terminal 5, Airport Art is a public art collection featuring works by 20 Chicagoan artists. Fun fact: O'Hare boasts the most runways out of any airport in the world, with eight. 
3. Denver International AIrport (DEN) – Colorado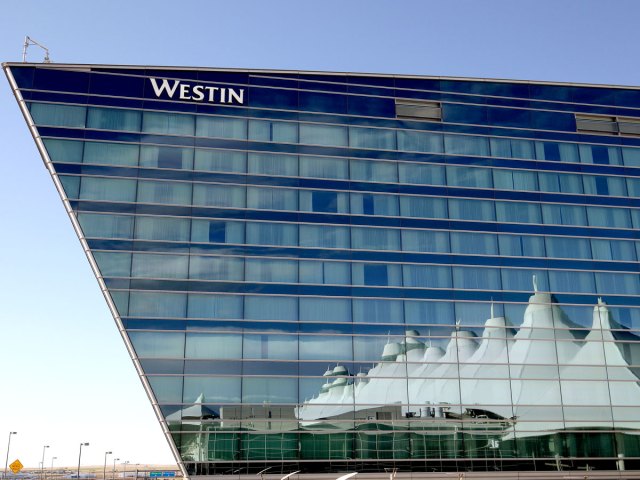 Framed by the Rocky Mountains, Denver International Airport is both one of the busiest — serving 69.3 million passengers in 2022 — and most architecturally impressive airports in the world. DIA (as locals call it) serves as a hub and focus city for United Airlines, Southwest Airlines, and Frontier Airlines — with around 1,700 flight movements per day. The exterior of the main Jeppesen Terminal is notable for its fabric-covered tents, which symbolize the Rockies, prairie wagons, and the teepee tents of Native Americans. Boasting a 9,000-panel solar farm that generates 3.5 million kilowatts of electricity annually, the airport opened in 1995 and was designed with sustainability in mind. Throughout the terminal, passengers can also embrace Colorado culture through the DEN Arts displays. 
2. Dallas/Fort Worth International Airport (DFW) – Texas
Dallas/Fort Worth International Airport, the world's second-busiest airport, opened in 1974 with flights from nine airlines. Today, around 73.4 million passengers fly to and from nearly 200 domestic destinations and over 60 international destinations on 28 airlines. Making transit easier for passengers is the airport's complimentary Wi-Fi, six lounges, pet-friendly zones, and an outdoor observation area at Founder's Plaza, where you can enjoy up-close views of aircraft taking off and landing. And, like many U.S. airports, there's an in-house art program — highlights include an outdoor sculpture garden and mosaiced floors. 
1. Atlanta Hartsfield-Jackson International Airport (ATL) – Georgia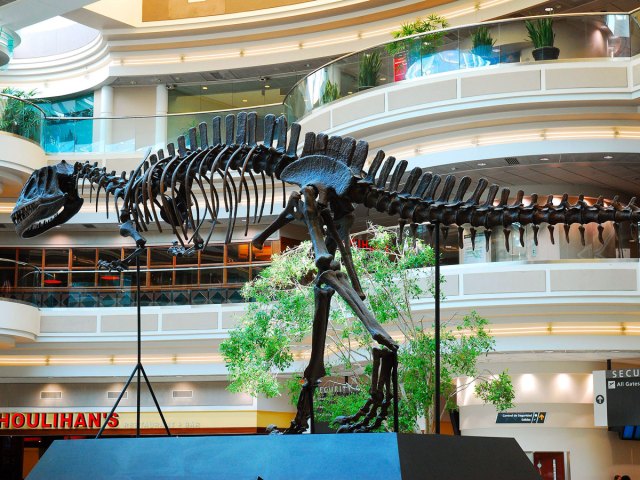 Flying far ahead of the pack to claim the title of the world's busiest airport is Atlanta Hartsfield-Jackson International Airport. The main hub for Delta Air Lines, Hartsfield-Jackson welcomed a staggering 93.7 million passengers in 2022. Impressively, it has held the title of the world's busiest airport every year since 1998, with the exception of 2020 (when flight schedules were reduced due to the pandemic). Flights connect to over 150 domestic destinations and over 75 international destinations across 50 countries. On average, Atlanta's airport operates 2,700 daily arrivals and departures. The airport also provides 63,000 jobs and features over 300 shops and eateries. The in-house art program, Airport Art, boasts more than 1,000 works, making it one of the largest collections of public art in the southeastern United States.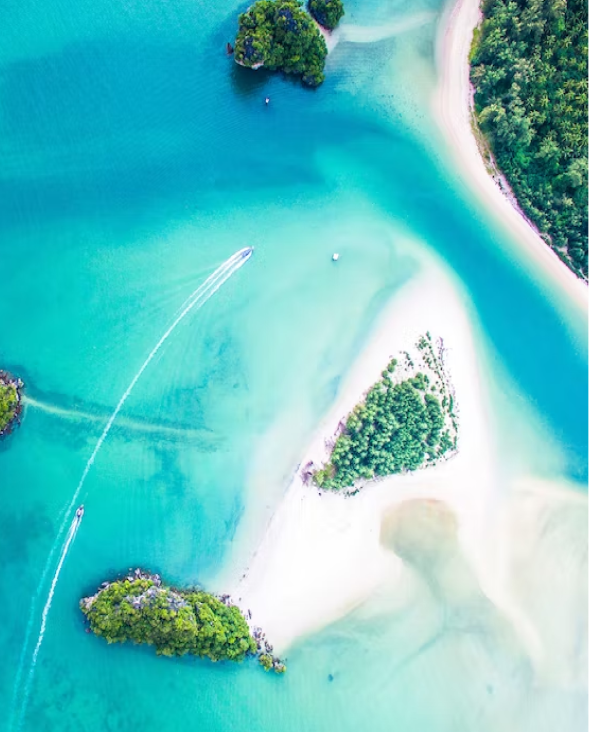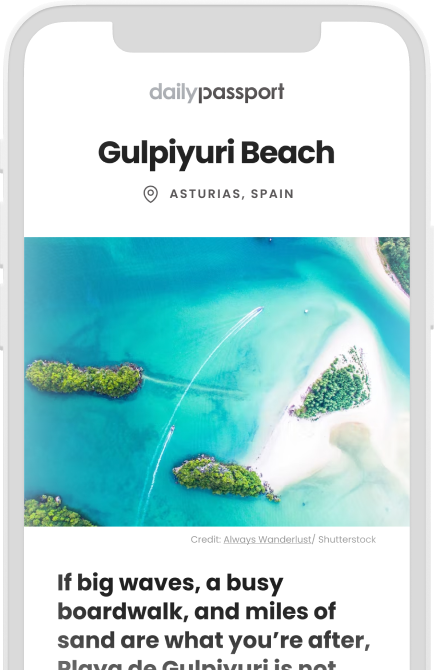 The world is waiting.
Daily Passport is your ticket to the four corners of the earth. Start exploring today.
Please enter valid email.
By subscribing you are agreeing to our Privacy Policy and Terms of Use.