You don't need to travel all the way to Europe to find a fairy-tale castle. Although castles aren't nearly as common in the U.S. as they are across the pond, there are still a handful of notable castles to discover from coast to coast — as long as you know where to look. We've narrowed your search down to a list of the 13 most incredible castles you can visit without leaving the U.S.
Belvedere Castle – New York, New York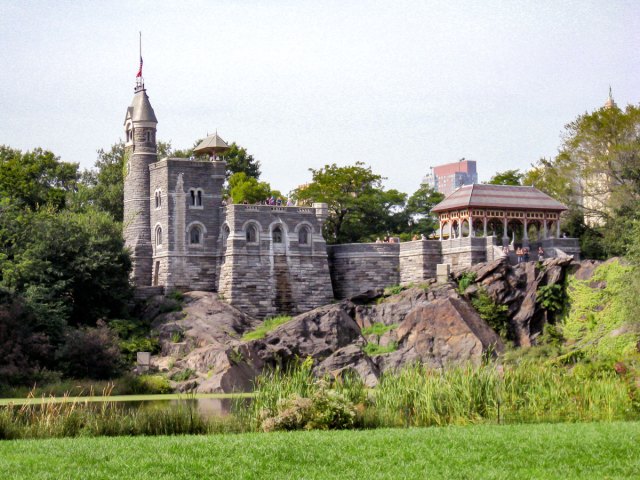 If you're not a New Yorker, you may not have realized there's a castle tucked into the city's most famous park. Belvedere Castle was built by Calvert Vaux in 1869 as a way to welcome visitors to the sprawling park he helped design. The miniature castle atop Vista Rock looks out onto Central Park's Great Lawn and gives visitors the opportunity to take in fantastic views. In fact, the view is so great that it gave the castle its name — the name Belvedere means "beautiful view" in Italian. But the castle isn't just beautiful to look at — it's also functional. The National Weather Service takes advantage of its location to take measurements of wind speed, rainfall amount, and temperature for its forecasts.
Montezuma Castle – Camp Verde, Arizona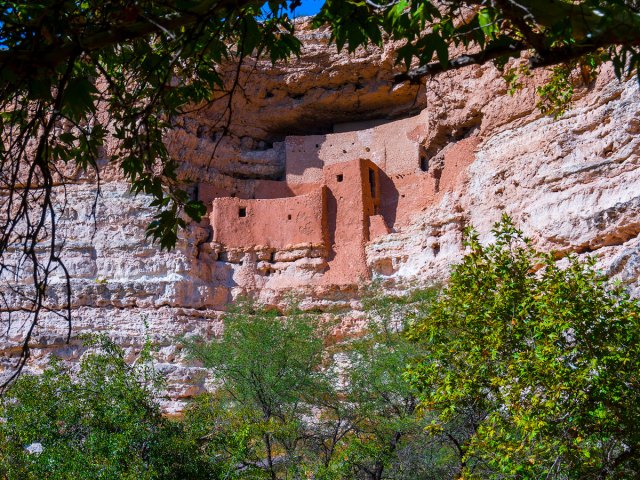 This Arizona "castle" is probably unlike any castle you have ever seen. For starters, it's tucked into the side of a cliff, where it has been sitting for more than 800 years. Built by the Sinagua peoples around 1100 CE, the pueblo palace contains about 45 to 50 rooms, but unfortunately visitors won't be able to get inside to count them. Since 1951, Montezuma Castle has been off-limits to the public, as looters and time have rendered it too fragile for it to be safe. You can still climb up to peer in the windows, though, as you imagine what life must have been like back when it was built.
Castello di Amorosa – Napa Valley, California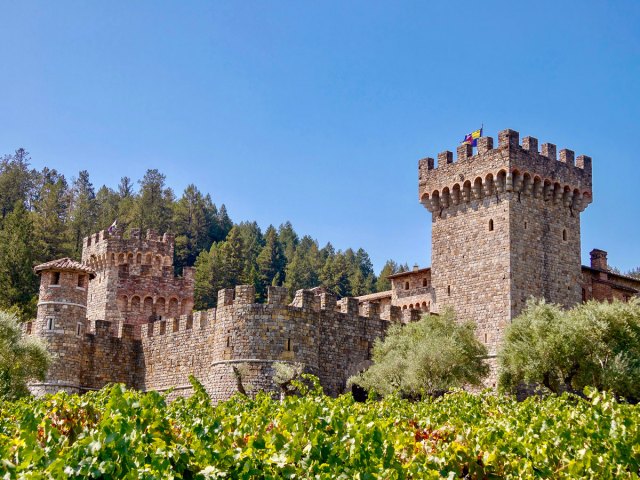 If you've always wanted to visit Italy but your budget doesn't allow for it, then consider heading to Castello di Amorosa in California's Napa Valley wine country. Visiting this castle is like strolling through Tuscany hundreds of years ago — but many visitors don't realize that it was completed far more recently, in 2007, after a 14-year-long building period. Built by Dario Sattui, the great-grandson of an Italian immigrant, this 107-room castle is a love letter to Italian culture, as well as a thriving vineyard and winery.
Scotty's Castle – Death Valley, California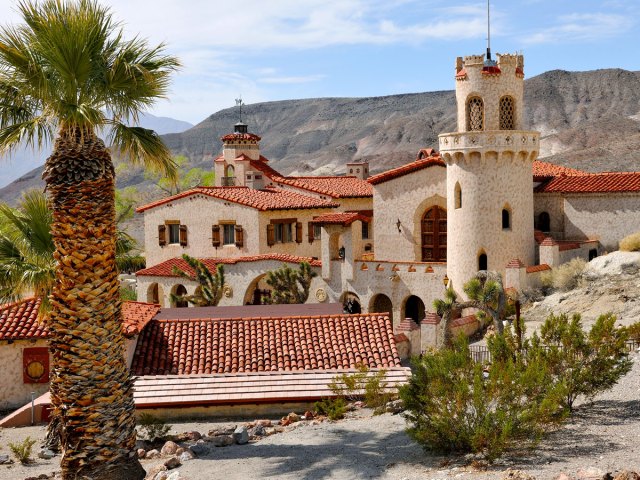 Located in California's Death Valley, Scotty's Castle has an interesting history — one marked by falsehoods. According to legend, the castle was built by Walter Scott, also known as "Death Valley Scotty." He told everyone that he had built the castle with a fortune he had gained from a collection of secret mines nearby. In reality, though, the castle was built by wealthy couple Albert and Bessie Johnson, who used it as a vacation home. Scott was a friend of the family, though, and the castle today bears his name — even if records show no evidence that he ever actually visited it.
Bannerman Castle – Pollepel Island, New York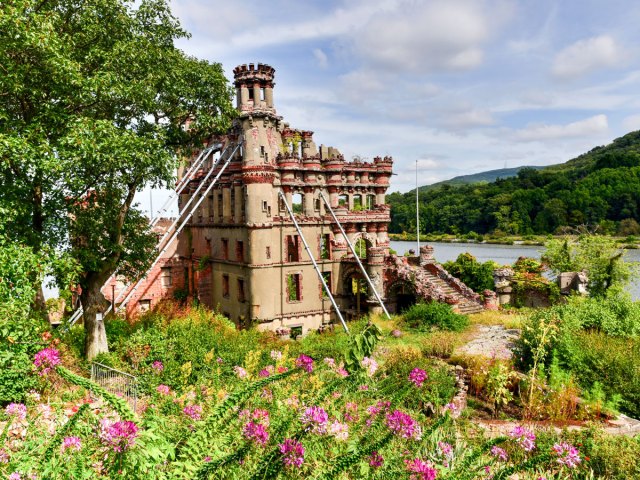 Of all the castles in the United States, Bannerman Castle arguably looks the most like an authentic castle from Europe, if only for the fact that it is now in ruins. The castle was built in 1901 by Francis Bannerman VI on Pollepel Island, an island that was once considered to be haunted. This was an ideal place for the owner of a military surplus company to build a fortress in which to store all the weapons he stockpiled during the Civil and Spanish Wars. Unfortunately, there may have been some sort of curse on the island after all — in 1967, the castle was destroyed by a fire, turning it into a collection of beautiful ruins.
Iolani Palace – Honolulu, Hawaii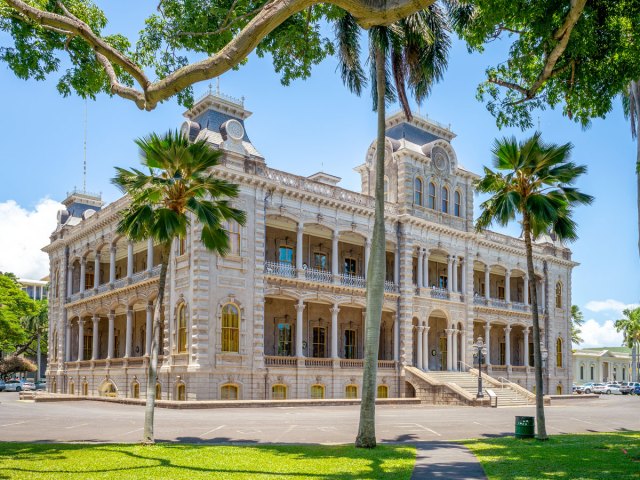 While most of the castles in the United States were built by wealthy private citizens, Iolani Palace in Honolulu, Hawaii, is the only one that served as an official royal residence. It was built in the early 1880s by Hawaii's King Kalakaua, one of the last monarchs to reign over the islands. The very last was his sister, Queen Liliuokalani, who ruled Hawaii after him and lived in the palace he had built. After the monarchy was overthrown in 1893 with the goal of annexation of Hawaii to the United States, the castle was kept up and restored, so now it still looks much like it did back then.
Boldt Castle – Heart Island, New York
The history of Boldt Castle is a sad one. Millionaire George C. Boldt, who was also the proprietor of the Waldorf Astoria Hotel in New York City., wanted to build a "full-size Rhineland castle" on Heart Island in New York's Alexandria Bay as an expression of his love for his wife. He was planning to gift the castle to her, in 1904, Boldt's beloved wife tragically died. Bereft, Boldt immediately stopped construction on the castle and never returned to the island. The castle sat there, unfinished, for more than 70 years, until the Thousand Islands Bridge Authority bought the property in 1977 and began restoring it for future generations.
Lyndhurst Mansion – Tarrytown, New York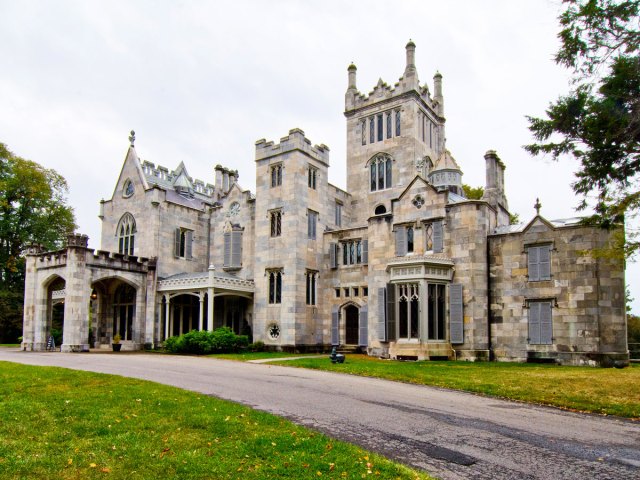 Occupying a 67-acre park on the banks of the Hudson River, the Lyndhurst Mansion is one of America's most outstanding examples of Gothic Revival architecture. Its construction spanned more than a century, with three wealthy New York City families contributing to the castle standing today.
First commissioned in 1838 by former New York City Mayor and U.S. Congressman William Paulding, the estate was once dubbed "Paulding's Folly" due to its elaborate and exaggerated turrets and unbalanced dimensions. In 1864, wealthy merchant George Merritt took over the mansion and brought back its original architect, Alexander Jackson Davis, to update and expand the grounds. He also planted Linden trees around the house, spawning the present-day name, Lyndhurst Mansion.
Finally, railroad tycoon Jay Gould purchased the property in 1880 and spent summers there with his family until his death in 1892. Gould's daughters, Helen and Anna, maintained the mansion and added a pool and bowling alley. Eventually, they turned it into a community space for disadvantaged youth and American military soldiers. In 1965, the castle opened as a museum and historic site.
Coral Castle – Miami-Dade County, Florida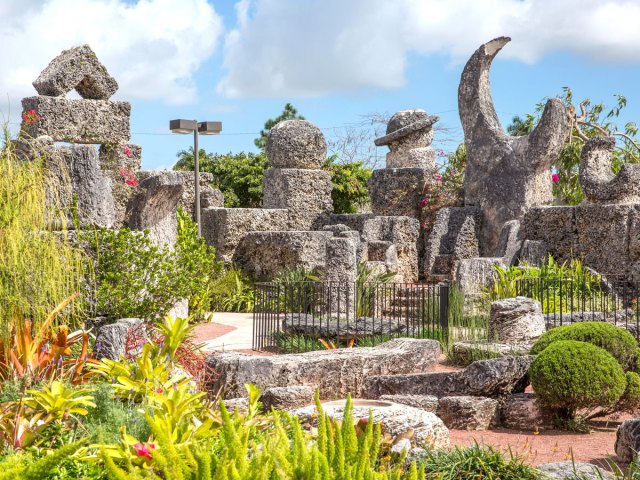 The unconventional Coral Castle, located in unincorporated Miami-Dade County near Leisure City, attracts many visitors due to the bizarre story of its construction. Legend has it that eccentric engineer Edward Leedskalnin single handedly built his mysterious abode secretly and at night, without the use of modern construction. Between 1923 and 1951, Leedskalnin claimed to have moved 1,100 tons of stones and hand-carved them to create his fantasy castle, dedicated to his former fiance Agnes Scuffs, who he said broke his heart.
No one officially witnessed the construction of the castle. When Leedskalnin was questioned how he was able to build the two-story estate and stone sculpture garden, his response was simply that he "knew the secret of the pyramids," according to the castle's website. Perhaps even more miraculously, the builder started his project in Florida City, but decided to relocate to Homestead in 1936 after learning of the planned construction of a subdivision in Florida City. He disassembled his home, moved it with trucks, and reconstructed it again — where it remains standing as a peculiar tourist attraction today.
Fonthill Castle – Doylestown, Pennsylvania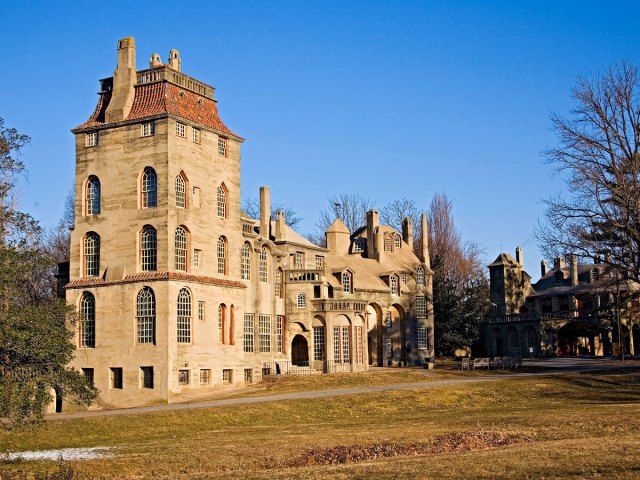 Fonthill Castle, the estate of Henry Chapman Mercer, sits on a manicured lawn surrounded by soaring trees in a small borough located 33 miles north of Philadelphia. Mercer — an accomplished archaeologist, anthropologist, ceramist, scholar, and antiquarian — lived in Fonthill Castle after its completion in 1912, but the purpose of its construction was mainly to showcase his collection of handmade tiles, prints, and artifacts collected from his world travels.
The castle's architecture blends Medieval, Gothic, and Byzantine styles, resulting in an eclectic appearance further embellished by Mercer's own art and creativity. An impressive 44 rooms, 18 fireplaces, 32 staircases, and 200 windows compose Fonthill Castle. The primary building material — concrete — is used liberally from the foundation to the stairs and even the built-in furniture. A visit to the castle is best combined with a stop at the Mercer Museum, located a mile away from the castle.
Gillette Castle – Lyme, Connecticut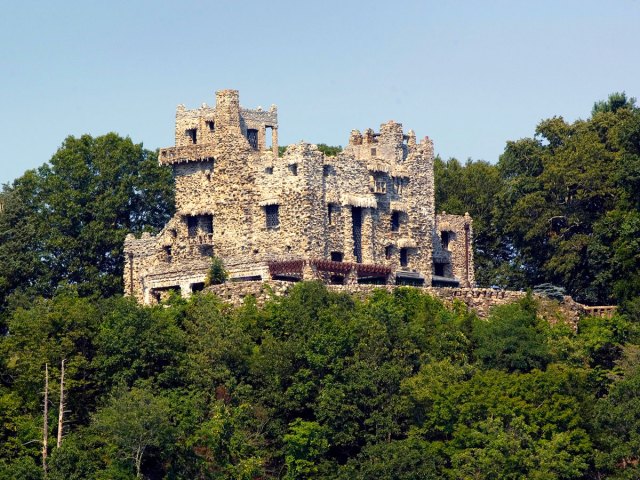 If you thought Gillette Castle looked like a medieval European fortress, you'd be right. William Hooker Gillette — the son of U.S. Senator Francis Gillette and an actor, director, and playwright in his own right — designed this spectacular abode to closely resemble a medieval European castle. The main structure took five years to build from 1914 to 1919, and many additions and updates were added in the years following.
Located on the southernmost hill in the group known as Seven Sisters, Williman fondly referred to his 184-acre estate as the "Seventh Sister." Some of the castle's outstanding features include 47 doors (none of which are exactly alike), a train and three miles of train tracks, built-in couches, and wood-carved light switches. While exploring the grounds, visitors can also hunt for hidden mirrors and secret tunnels.
The Breakers – Newport, Rhode Island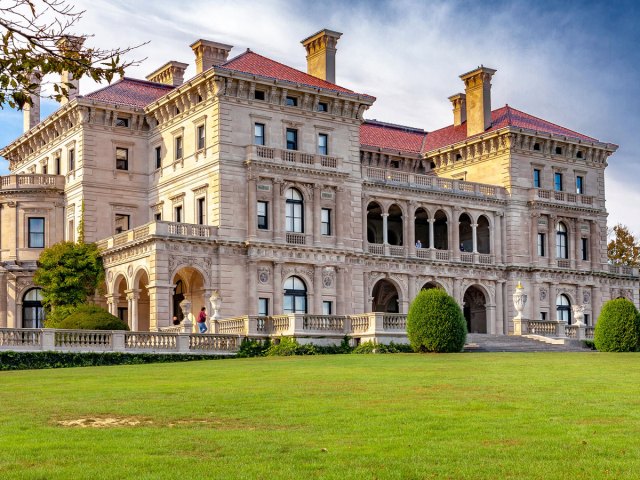 Newport is famous for its lavish mansions built during the Gilded Age by the country's wealthiest families. Many were used as summer cottages by financiers from New York City and the surrounding areas, but most were abandoned or demolished in the 1920s with the start of the Great Depression and World War I.
Today, many of these mansions are maintained by the Preservation Society of Newport County, and the Breakers is by far the most visited. Built by Cornelius Vanderbilt II, the 62,482-square-foot oceanfront mansion boasts a castle-like Italian Renaissance exterior, a grandiose open-air courtyard, European-made tile mosaics, crystal chandeliers, gold trimming throughout, and even diamonds embedded in the walls. Today, you can visit and tour the Breakers and imagine the lavish lifestyle of the 19th century's social elite.
Hearst Castle – San Simeon, California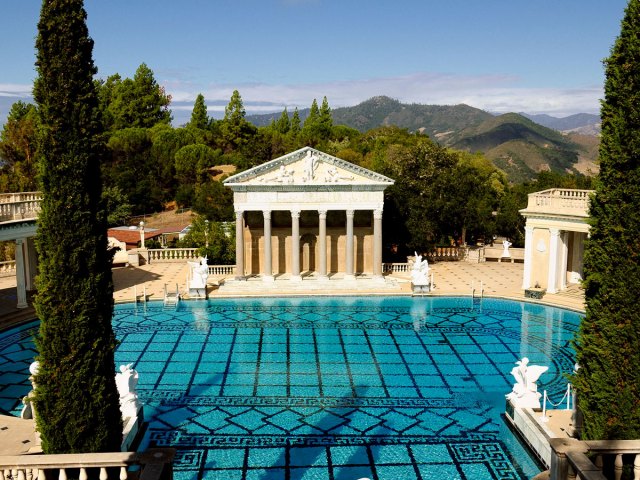 Perched amongst the elevated ranchlands of California's Big Sur region, Hearst Castle served as a retreat for the iconic newspaper publisher William Randolph Hearst. In 1919, Hearst inherited 40,000 acres of farmland from his father George Hearst, and he dubbed it La Cuesta Encantada ("The Enchanted Hill").
The construction of Hearst Castle spanned decades and included 165 rooms, the largest privately owned zoo in the world at the time, two pools constructed with imported statues of Roman deities, and over a hundred acres of gardens, paths, and pools. Hearst and architect Julia Morgan had still not completed their masterpiece in 1947, when the tycoon had to leave the residence due to failing health. Today, visitors come to this hilltop mansion not only to soak up the castle's grandeur, but also to enjoy the serene views over rolling green hills and the Pacific Ocean.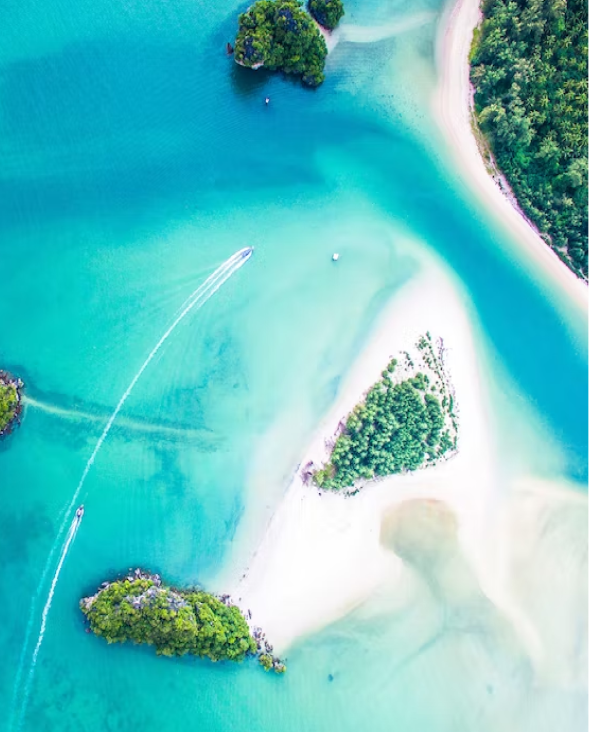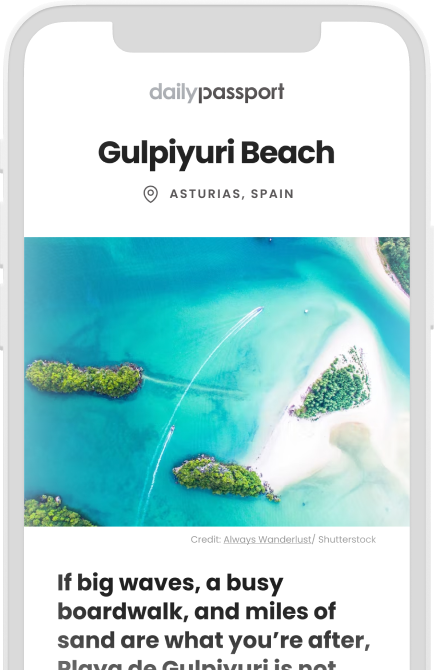 The world is waiting.
Daily Passport is your ticket to the four corners of the earth. Start exploring today.
Please enter valid email.
By subscribing you are agreeing to our Privacy Policy and Terms of Use.