Tourists flock to London to visit iconic landmarks such as Big Ben, Buckingham Palace, Westminster Abbey, and the Tower Bridge — and for good reason. These fascinating, history-filled sites are an essential part of any first-time visit to the English capital. But if you've already checked these attractions off your list, London offers a wealth of hidden treasures that are every bit as interesting. From quirky museums to serene gardens, here are 15 under-the-radar London landmarks to check out.
Wilton's Music Hall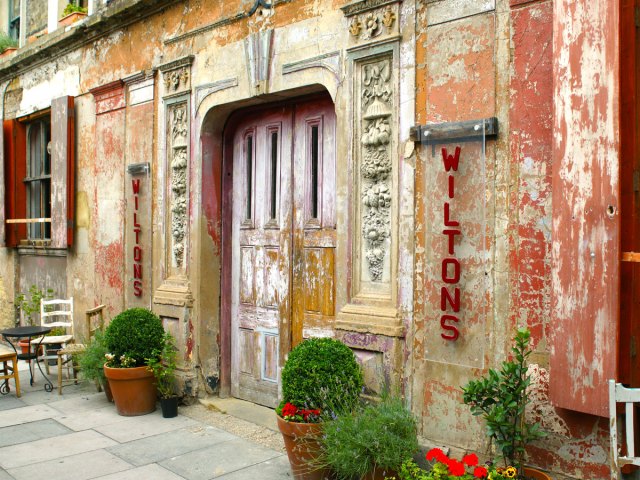 Wilton's Music Hall in London's East End is the world's oldest surviving grand Victorian music hall. Opened in the late 1850s, the storied venue brought the glitz and glamour of the West End to a working-class audience in the East End. Performances typically included sing-alongs, variety routines, and musical comedy shows. During the Victorian era, Wilton's was London's premiere venue for live performances, but after a fire in 1877, the building was repurposed to become a Methodist mission and then a warehouse.
Troubled by the hall's planned demolition in the 1960s, some of the era's top showbiz personalities, including Spike Milligan and Peter Sellers, fought to save the iconic structure. Today, the building again serves as a venue for theater performances and concerts and retains much of its original charm and character.
Old Operating Theatre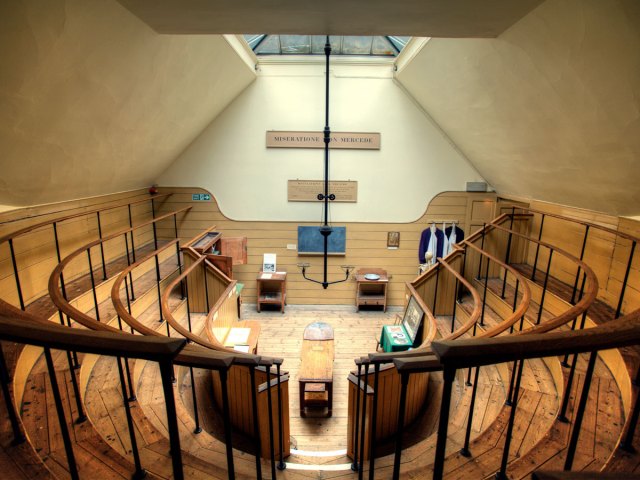 The Old Operating Theatre lay hidden for many years until it was uncovered during construction on St. Thomas' Church in the London borough of Southwark. The area was actually the original site of the old St. Thomas' Hospital, and the operating theater took surgery out of the ward and into a dedicated space in the attic. Before the days of antiseptics and anesthesia, operations were bloody and painful, so conducting the procedures far from other sick patients was crucial to maintaining an orderly facility.
The theater also served another purpose, however. It was a teaching space, so the tiered seating would have been occupied by medical students keen to observe techniques. Today, the building operates as a museum, which visitors can reach via a spiral staircase, and serves as a reminder of the advances of modern medicine.
Brixton Windmill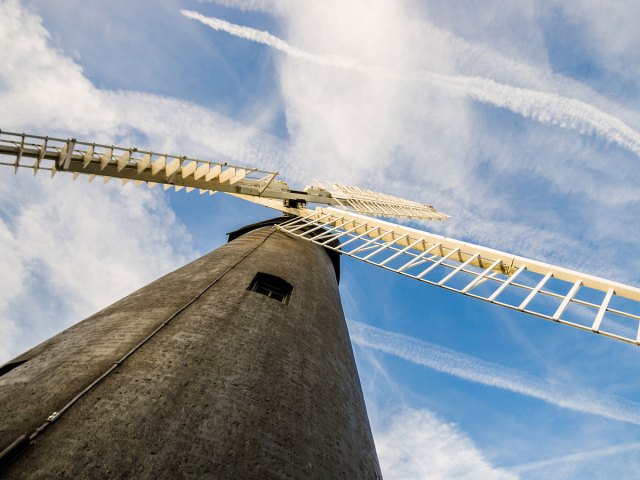 Before London became the sprawling city it is today, it was a series of villages. One of those villages, Brixton, retains its historic windmill. While such structures are common in the English countryside, they're rare in urban locations. The one in Brixton used to be known as Ashby's Mill and was built in 1816. Its sails harnessed the power of the wind to mill flour until the 1860s, when the business moved to a watermill in the Surrey village of Mitcham. But when the lease expired, Ashby's moved back to its original site, using steam and then gas to modernize and increase productivity.
The mill did considerable trade supplying London's bakeries and restaurants with flour until it finally closed in 1934. These days, it's the centerpiece of a city park, restored by a committed team of volunteers. Guided tours of the structure take place on open weekends from April to October, when you can learn about the business and watch flour being milled.
Postal Museum
London's congested streets created a bit of a headache when it came to ensuring that postal deliveries made it on time, so engineers came up with an unusual solution — an underground railway. From 1927 to 2003, the "Mail Rail" carried millions of letters across the capital, from Paddington in the west to Whitechapel in the east. Though it's no longer in use commercially, the train reopened in 2017 as a visitor attraction run by the Postal Museum.
Take a ride on a tiny train to experience the tunnels for yourself. Interactive exhibits give visitors the opportunity to sort the mail on a moving train — courtesy of a realistic simulator. Above ground, you can learn more about the Royal Mail's history and how stamps are designed.
Eltham Palace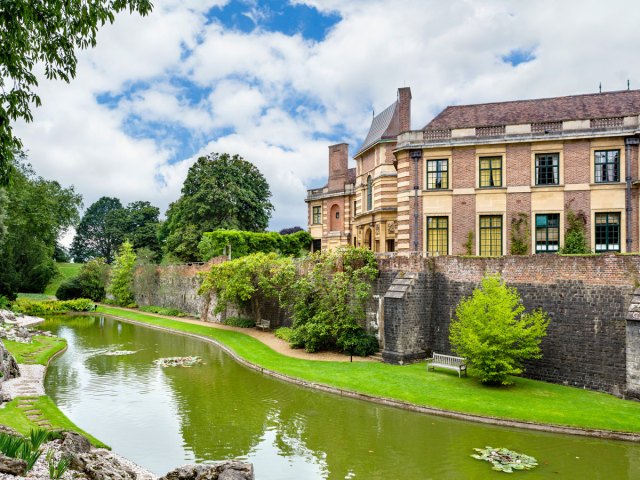 While a steady stream of tourists makes it to Buckingham Palace, Eltham Palace receives considerably fewer visitors. Located south of the Thames in the borough of Greenwich, this historic gem in suburbia began as a 13th-century manor house and was later gifted to the royal family. King Edward IV was the monarch responsible for adding the Great Hall, which is all that remains of the medieval estate.
King Henry VIII expanded Eltham so it could accommodate his large entourage, but the greatest transformation came in the 1930s. Wealthy couple Stephen and Virginia Courtauld are to thank for the extravagant Art Deco-style interior; they took a maximalist approach to design, even creating a rainforest-themed room for their pet lemur Jongy.
"God's Own Junkyard"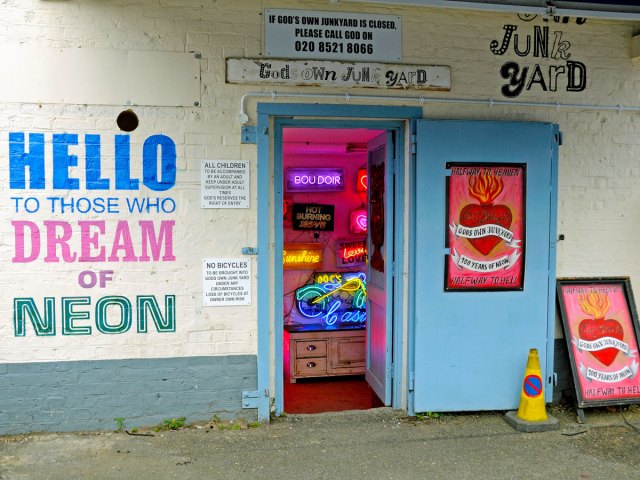 London's answer to the Neon Museum in Las Vegas can be found in Walthamstow, one of the city's easterly neighborhoods. "God's Own Junkyard" is a treasure trove of salvage; the collection includes neon signs, movie props, and fairground lighting. Many of the pieces are the work of the late Chris Bracey, an exceptionally talented lighting designer whose art was featured in movies such as Batman (1989) and Bladerunner (1982).
Bracey learned his extraordinary craft from his father, who was London's first neon sign maker in the 1950s, and later opened his premises to curious members of the public in 1978. Tucked away on the Ravenswood Industrial Estate between a car mechanic and a microbrewery, the collection was soon credited as being one of London's quirkiest, most remarkable, and colorful attractions.
Postman's Park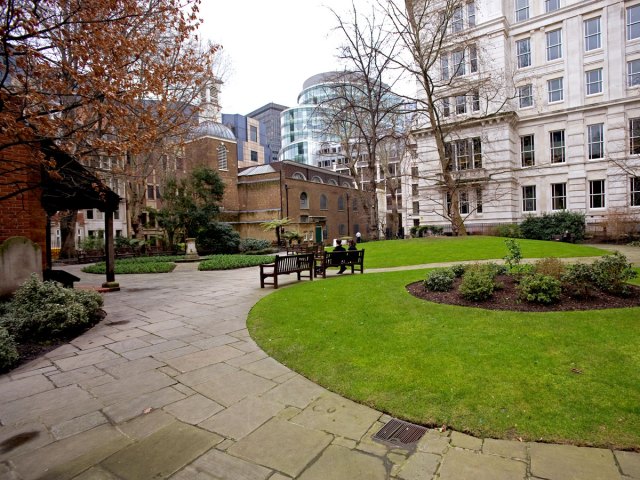 Postman's Park was built at the end of the 19th century on top of what was once the former St. Botolph's Without Aldersgate Church. The peaceful greenspace is best known for George Frederic Watts' Memorial to Heroic Self-Sacrifice, which was unveiled in 1900. A series of memorial stones have been added over the years to commemorate acts of bravery and courage by ordinary folks. Each stone is dedicated to someone who lost their own life while trying to save another.
Another unique garden in the park is the grounds of the former church of St. Dunstan-in-the-East. Sir Christopher Wren, the architect responsible for St. Paul's Cathedral, designed some of it. During World War II, the church suffered extensive damage. Wren's steeple and tower survived, but the Church of England decided not to repair and reopen the building. Instead, the bombed ruins were redeveloped as a beautiful garden.
Russell Square Cabmen's Shelter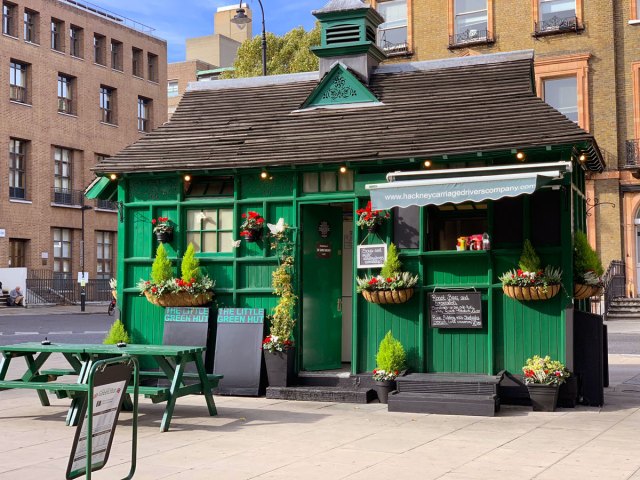 There are few London sights as iconic as the capital's black cabs. But while you'll see them on every street, you'll have to put in a little more legwork to track down the 13 remaining cabmen's shelters. These little green huts were a response to a tricky problem: In bad weather, cabbies often took shelter in pubs. As driving while intoxicated was prohibited, the idea was born to create somewhere for cab drivers to get an affordable meal and a cup of tea during their shift.
The first shelter opened in St. John's Wood in North London in 1875. More followed, though since then, many of the structures have fallen victim to road widening and traffic management schemes. Today, some of the shelters remain; Cabmen's Shelter in Russell Square is one of them. Other shelters still serve cabbies at Grosvenor Gardens, Embankment Place, and on Warwick Avenue. Most of the shelters enforce a cabbies-only rule inside, but if you can manage, it's worth a peek.
Highgate Cemetery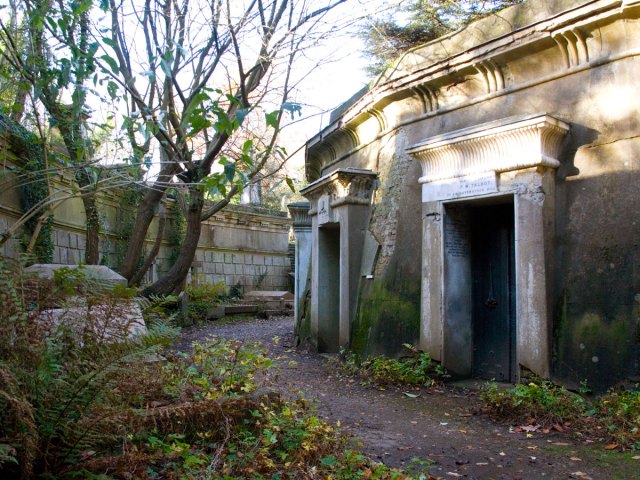 Highgate Cemetery is a bit of a trek from central London but well worth the effort, particularly if you take one of the excellent guided tours along the tree-lined paths. The cemetery is home to the graves and tombs of many notable Londoners; Karl Marx was buried here, as were scientist Michael Faraday, authors Douglas Adams and Beryl Bainbridge, artist Lucian Freud, pop impresario Malcolm McLaren, and comedian Max Wall.
Another notable cemetery can be found in Kensal Green. This atmospheric place was styled after Père Lachaise Cemetery in Paris. It is the final resting place of authors Anthony Trollope, Wilkie Collins, and William Makepeace Thackeray; Niagara Falls tightrope-walker Charles Blondin; Victorian engineer Isambard Kingdom Brunel; and the inventor of the computer, Charles Babbage.
Museum of the Home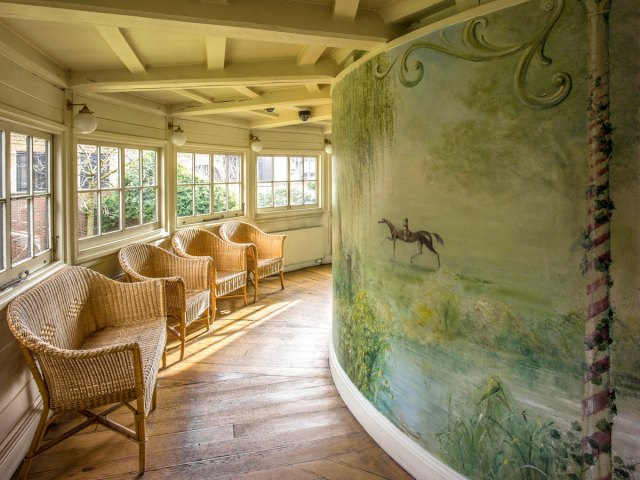 Formerly the Geffrye Museum, the Museum of the Home reopened in 2021 following a refurbishment and rebrand. Located in Hackney, East London, the building houses a fascinating collection of exhibits that chart the changes in Britain's domestic interiors over the past four centuries. Faithfully recreated room sets bring history to life, from a garish 1970s living room to a genteel parlor that looks just as it would have in 1695.
The museum also has a series of gardens that exemplify fashions such as Elizabethan knot gardens and the informal cottage gardens embraced by the Arts and Crafts movement. You might even be inspired to create a heritage space for your own home after your visit.
Kyoto Garden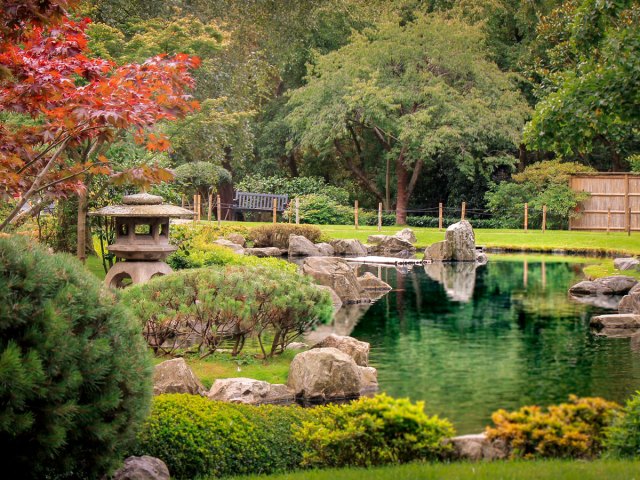 One of London's most unusual gardens lies in Holland Park in West London. As its name suggests, the Kyoto Garden takes its inspiration from Japan, but what you might not realize is that it was a gift from the city of Kyoto to mark the friendship between the two countries. This serene oasis features tiered waterfalls, a koi-stocked pond, and, of course, the stone lanterns and colorful maples commonly found in Japanese gardens.
The garden is a joy to wander through, though you'll need to share the tranquil space with a muster of peacocks. Holland Park is also home to the Fukushima Memorial Garden. It's a place for quiet contemplation and reflection, designed to demonstrate Japan's gratitude to the British for their support following the devastating earthquake in 2011.
Dennis Severs House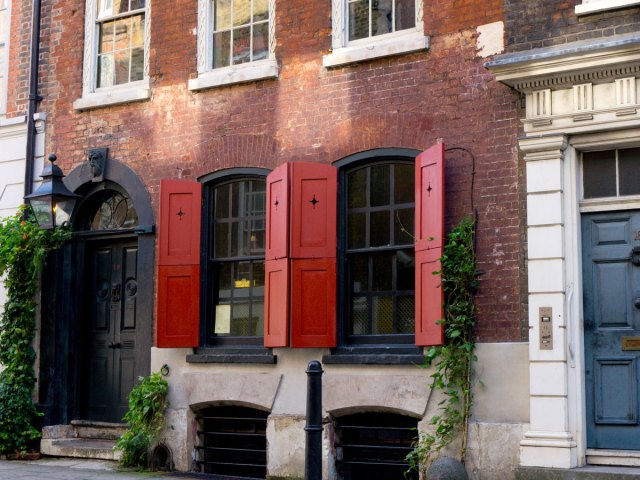 London has a wealth of Georgian architecture. Among the best preserved streets to see this iconic style are Roupell Street near Waterloo, Little Green Street in North London, and East End addresses, such as Fournier Street and Elder Street. But if you're keen to peek beyond the façades, you'll need to head to Dennis Severs House on Folgate Street near Spitalfields Market. This house, open to the public as a museum, dates to 1724.
After Californian-born Dennis Severs bought the property in 1979, he set about transforming it into an accurate representation of what it would have looked like as the home of an imaginary family of Huguenot silk weavers. Weekly candlelit tours are a multi-sensory experience which evoke the past. Make your way to nearby Brick Lane afterward for further insight on how immigrants have shaped this multifaceted neighborhood.
Word on the Water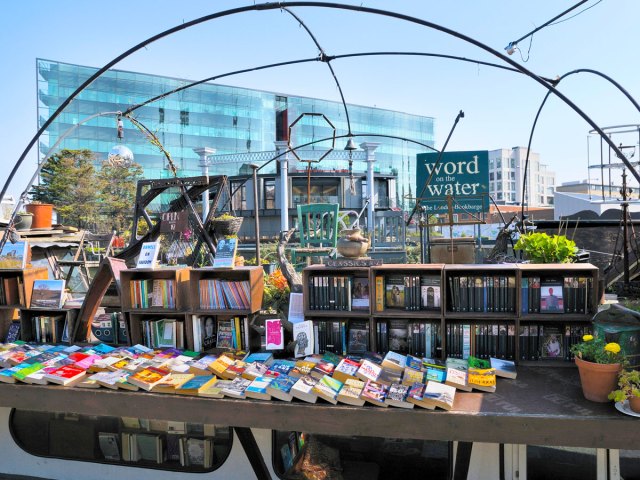 This century-old Dutch barge was repurposed as a North London bookstore. Tethered on the Regents Canal close to Kings Cross Station, every inch of this historic vessel is now crammed with new and used books. This is a place to come without a plan. Browse Paddy's collection and you might stumble on something unexpected: cult, classic, children's, and contemporary books are all here waiting for you to peruse. Special events, from poetry readings to live music performances, are a reminder of why this place is so much at the heart of its community.
Afterward, wander over to Coal Drops Yard, where you'll find plenty of places to sit and read. Consider buying your coffee from Redemption Roasters, a café chain with a social conscience. They roast their coffee inside Her Majesty's Prison The Mount and help offenders reintegrate after serving their sentence by training them as baristas.
Barbican Conservatory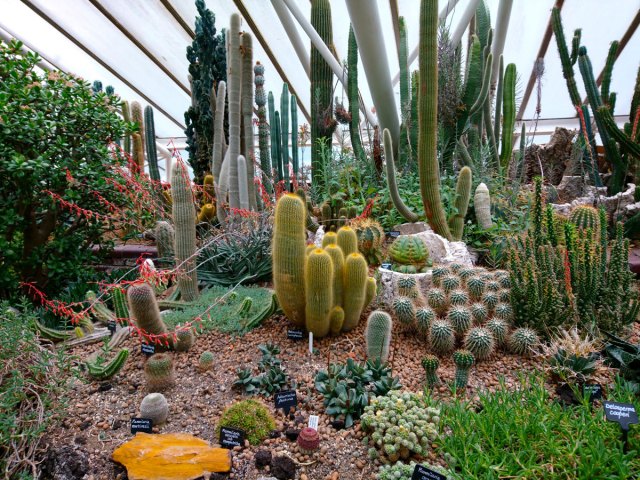 The Barbican was flattened during World War II, and if you want to get acquainted with its brutal yet bold postwar architecture, consider taking one of the fascinating tours of the complex. After you're done taking in the history of the place, pop in to the Barbican Conservatory, a green oasis amidst all that concrete. This rainforest under glass is as verdant as its more-famous Kew counterpart, the only one larger in London.
Lush plants include palm and banana trees and plenty of floral displays to evoke a sense of being far from England. Check out the terrapins in the water, though you'd be wise to keep your distance; these bad boys were evicted from Hampstead Heath after some antisocial behavior, leading local wits to dub them the "terror-pins."
The Monument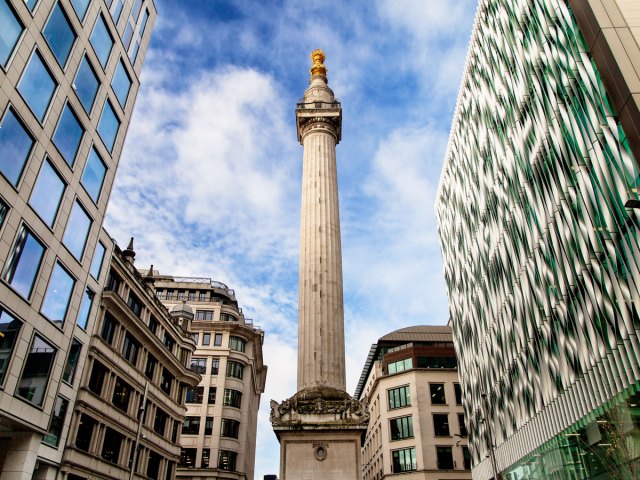 The Great Fire of London ripped through the city in 1666, leaving a trail of destruction and shattered dreams in its wake. The Monument was constructed the following decade to honor those who were lost but also to celebrate the beginning of a new chapter in the city's history. It is located at the corner of Monument Street and Fish Street Hill.
The height of the column is exactly the same as its distance from the site of Thomas Faryner's bakery, where the fire started. It's possible to climb the 311 steps to the top of this landmark. Video images are displayed for those who don't want to head to the top, but it's worth the effort for the view of the London cityscape, including skyscrapers such as the Shard, the Walkie Talkie, and the Gherkin.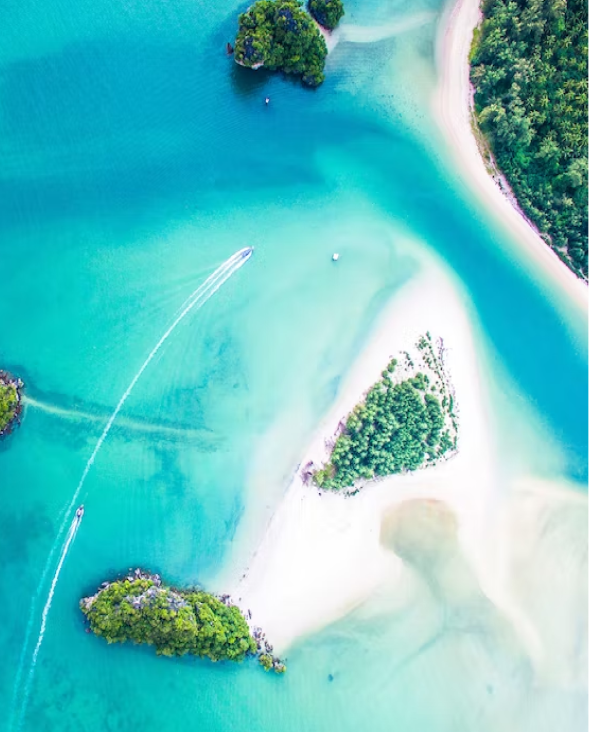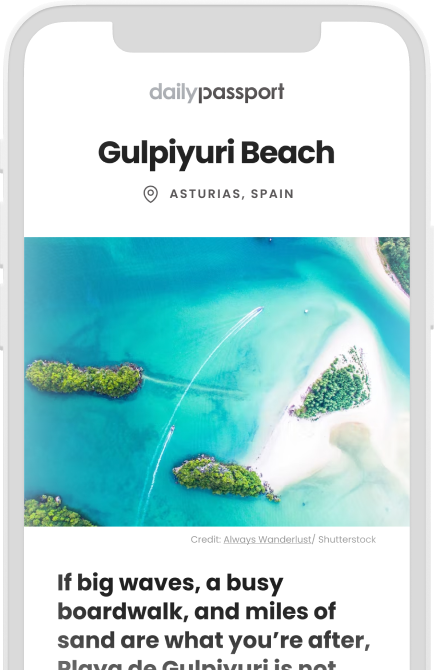 The world is waiting.
Daily Passport is your ticket to the four corners of the earth. Start exploring today.
Please enter valid email.
By subscribing you are agreeing to our Privacy Policy and Terms of Use.